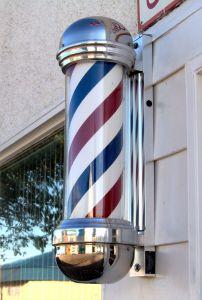 Whether you are an antique buff looking for unique seating for a family room, a coin-op collector wanting to add the perfect touch to a game room or simply want to enjoy a comfortable chair from years gone by, an antique barber chair may be just the chair for you.
Ancient Barbers and Their Chairs
Since ancient times barbers have cared for the needs of people. Until the late 1700s, barbers not only cut hair and shaved faces, they also did surgical procedures on wounds, performed bloodletting and pulled teeth.
The chairs used by the barbers of early times ranged from upside down wooden pails and inverted baskets to stylized chairs of the times and the folding barber chairs of the Civil War. In reality there is not a lot of known information regarding barber chairs before the 1850s. The following are several types of early seating used by barbers:
A J. Amman 15th century wood engraving of a barber giving a haircut from the "Project Gutenberg's Illustrated History of Furniture" by Frederick Litchfield
A mahogany Queen Anne style barber chair
A salon chair from the Victorian era
Antique Barber Chairs
Many of the wooden barber chairs of the early1800s were elaborately carved with ornate designs and decorative plush upholstery. In the1850s the barber chair industry began to take shape as companies started to make chairs specifically for barber shops. The early chairs of this period were usually crafted from wood had offered the following features:
Taller than a regular household chair
A headrest in a fixed position
Reclined several degrees
A type of foot rest or stool
In the last two decades of the 1800s, there were many mechanical advances made in the barber chair industry including:
Fully reclining chairs
Chairs that could swivel a full 360 degrees
Hydraulic systems that allowed the chairs to be raised and lowered
In the 1900s the trends in barber chair styles and materials changed with the times. Slowly the beautiful ornately carved wood gave way to chairs made of porcelain covered cast iron.
Eugene Berninghaus Company
The first manufacturer of barber chairs in the United States was Eugene Berninghaus. Opening his business in 1875 in Cincinnati, Ohio, Berninghaus made barber chairs and other tonsorial furniture and accessories. As his business grew, Berninghaus named his most popular barber chair the "Hercules" models. The Hercules models were made of wood and cast iron with a choice of leather or mohair plush upholstery. The wood choices included:
Birdseye maple
Oak
Cherry
Mahogany
Walnut
Perhaps one of the most well known models of Berninghaus barber chairs is the "Hercules # 58" hydraulic barber chair manufactured in 1899. It was one of these barber chairs that M.G.M. used in their famous 1960 film on time travel "Time Machine".
The Koken Manufacturing Company
In 1874, Ernest Koken of St. Louis opened his company selling decorated shaving mugs to barber shops. Shortly after he added used chairs to his inventory and sold them to the barbers. After taking a financial partner, Louis Boppart, Koken began manufacturing barber chairs and is responsible for much of the growth of the industry. Several of his patents include:
1881 first patent for reclining barber chair for shaving
1885 barber chairs that revolved
1888 barber chairs that fully reclined
1892 first hydraulic lift chair (pedal style)
Koken barber chairs quickly became known as the industry standard and were regarded as:
The highest quality
The classiest look
The best guarantee
More Manufacturers of Antique Barber Chairs
Emil J. Paidar Co
Theodore H. Kochs
Reliance
Hanson
Gibbs
Examples of Barber Chairs from Years Past
The following are beautiful examples of barber chairs from years gone by:
---
Today most collectors searching for an antique barber chair to add to their treasures want a chair dating from 1880s to the 1950s.