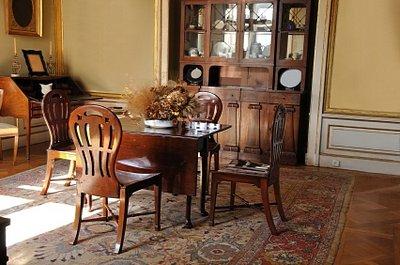 An antique china hutch makes an elegant, traditional piece of furniture in almost any style of home. This is a large, versatile home furnishing that can serve a number of purposes.
How to Use an Antique China Hutch
Traditionally, a china hutch was used to display one's collection of fine china or other decorative tableware along the top shelves that are encased behind glass doors. This was not only a classy way to display beautiful kitchen porcelain, the hutch would also protect the fragile plates, bowls and other fancy tableware items.
A china hutch can be used for extra storage for just about anything that will fit in its drawers. However, since the cabinets on top have glass doors, most people choose to use this space to display some kind of collection. It could be anything from fragile glass figurines to the shiny steel barrels of a handgun collection. A china hutch can be displayed in many places throughout the home, including the dining room, living room, bedroom, hallway or foyer.
How to Identify an Antique
Old china hutches are made out of some type of hardwood. While most of them have glass doors on top, some do not. Some china hutches have open shelves on the top. Many also have mirrors along the back walls of the top shelves that help display collectibles on all sides.
Wood
A china hutch that is considered a true antique will be made from one of the following hardwoods:
Maple
Oak
Mahagony
Cherry
Rosewood
Walnut
Most modern wood furniture is made from pine that has a hardwood veneer on the surface. An antique hutch will also have hand carved wood designs that have small imperfections.
Finish
The finish on an antique hutch will have an oily smell from the old-fashioned varnish and shellac that always used to be oil-based. You might notice brush strokes and other small imperfections like runs and drips in the finish of antique wood furniture, because everything was applied by hand instead of machines.
Styles
Vintage china hutches come in a variety of styles, shapes and sizes. Some are designed to display items on the shelves and others are completely closed behind wooden doors keeping the contents safely hidden inside. There are different numbers of doors for some designs such as two door, three door or four door. You should determine how much space you have before deciding on the style, as some china hutches are much wider than others. Manufacturers of antique china hutches include:
Sheraton
Chippendale
Hepplewhite
Other factors that affect the design of old china hutches are American, English or French styles. French styled china hutches are the most ornate and embellished.
Queen Anne Style
Features of a traditional Queen Anne style hutch include:
Elaborate brass hardware
Raised Cathedral styling
Plate grooved shelves
Mirrored back walls
Doors with raised panels
Ornate moulding
Dovetail doors
Glass sided display
Mission Style
Mission style hutches have more of a straightforward, simple design. Common features include:
Buffet style square base
Reverse raised panel doors
Dentil trim
Flat mission molding
Square door panels
Pewter or wrought iron hardware
Victorian Style
Like everything else from the Victorian era, this style hutch will have elaborate wood carvings and feature:
Dark finishes
Crown moulding
Scalloped edges
Beveled glass
Brass hardware
Where to Buy
You can start searching for antique china hutches in classified ads, estate sales and local antique stores. There are also good online resources for finding this type of antique furniture such as:
Ask as many questions as the seller can answer about the hutch to help determine if you are getting a genuine antique. Remember to look for signs that the furniture is hand made, as opposed to machine made. Perfect carvings and embellishments are signs of machine made of furniture. Particle board and hardwood veneers are also signs of modern made furniture.