The Joy of Vintage and Antique Dollhouses
Antique dollhouses come in a range of styles, and many special ones can be quite valuable. Learn about some of the most notable manufacturers of old doll houses, and tour some very special examples.
Bliss Antique Doll House
According to Sondra Krueger, dollhouse collector and owner of Sondra Krueger Antiques, the oldest American company to make doll houses was Bliss Manufacturing Company. Founded in Pawtucket, R.I. in 1832, Bliss is famous for making wood dollhouses covered in printed paper. You can identify a Bliss doll house because the name is often embossed over the door. This Bliss Bow Front dollhouse was created in 1895. Krueger estimates the value of this house at $4,500.
Bliss Bow Front Dollhouse Interior
When it comes to dollhouse value, the condition and detail of the interior is just as important as the outside of the house. In the case of the Bliss Bow Front doll house, the inside is bright and cheerful with beautiful detailing. The wallpaper is still brightly colored, and you can see the attention to detail in the fireplace mantle. Each individual tile is represented.
Bliss Keyhole Doll House
One of the great charms of 19th century toys, including antique dollhouses, is the fine craftsmanship. The turned wood on the porch and the detail in the windows and door of this smaller doll house are classic Bliss quality. Size does affect value, and all other factors being equal, larger dollhouses are worth more than smaller ones. Krueger estimates the value of this smaller Bliss doll house at about $2,400.
Bliss Fire Station Dollhouse
Rarity is another important factor in antique dollhouse values. This circa 1900 fire station is quite rare, and the fireman's wagon that you see with it is rarer still. You can just barely see the alarm bell up in the tower. Krueger estimates the value of the fire station and the wagon together at $2,900.
C. Hacker Antique Dollhouse
Bliss isn't the only notable dollhouse manufacturer. Christian Hacker was a German toy company that made wooden dollhouses from 1835 through 1927. Many of their designs were three stories and featured a mansard roof. This Christian Hacker house has bay windows and opens up into four rooms. Many Christian Hacker dollhouses are labeled on the underside.
C. Hacker Antique Doll House Interior
The interior of this house has four rooms and a different wallpaper for each room. The windows have lace curtains and shades. The intricate details and overall condition of the dollhouse make it especially valuable. Krueger estimates value for this house is $5,900.
Hacker Doll House With Elevator
Here is another classic example of a Christian Hacker dollhouse. This incredible antique doll house comes complete with a clockwork elevator that is hidden behind two doors in the house. The attention to detail is incredible - even the ceilings are painted. Christian Hacker dolls' houses often had built-in cupboards and stove in the kitchen. The estimated value of this beautiful house is $5,900, according to Krueger.
Gottschalk Three-Story Dollhouse
Gottschalk was another well known German company. This house is three stories high with a total of nine rooms. Each room is beautifully detailed with wallpaper, light fixtures, and flooring. Some of the rooms have wall clocks. There is furniture in each room. This example has multiple factors that make it especially valuable. Its rarity, large size, beautiful craftsmanship, and excellent condition combine to give it an estimated value of about $19,500 fully furnished, according to Krueger.
Interior of the Gottschalk House
Inside, the Gottschalk house offers a wealth of tiny details and beautiful workmanship. Each room has papered walls, miniature portraits, area rugs, real curtains, and more. Here is the house opened up so you can see the glorious details in each room.
Gottschalk Parlor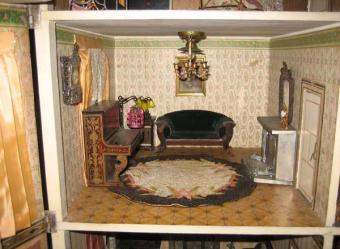 It takes close inspection to really appreciate the details that can add to the value of antique dollhouses. This is an image of the parlor of the previous house. Note the stenciled piano and beautiful rug on the floor, as well as the ornate clock and trim around the doorway.
Gottschalk National Guard
Gottschalk also made other incredibly detailed doll buildings. The National Guard building is as detailed as any of the houses. Note the brickwork and turned columns on this gorgeous antique example. The building opens in two directions. Krueger estimates the value of this antique toy house is $12,500.
Doll House With Storage
Although many old doll houses are freestanding, there are also designs that fold for storage. This doll house was made in 1922 by Albin Schönherr. You can take it apart completely and store the pieces in the compartment that it sits on. Krueger estimates the value of this unique house at $2,900.
Antique Dollhouse Dolls
Antique dollhouses offer a fascinating glimpse at the lives of people of the past, but they are only the beginning. You can furnish your doll house with miniature antique furniture and doll accessories, and you can even find antique miniature porcelain dolls to "live" in it. This is a wonderful hobby that offers plenty of opportunity to build a lovely and valuable collection.