Adding an antique floor mirror to your home decor brings a touch of yesteryear to your interior that's both beautiful and functional. Upgrade your aesthetic with an ornately historic item that'll be perfect for group photos and daily 'fit checks.
Look Back Into the Looking Glass
Through the millennia, mirrors have evolved from highly polished pieces of metal and images reflected in pools of water to the modern technological methods of making reflective glassware. One of the biggest advances in mirror making occurred in 1835 when a German chemist, Justus von Liebig, invented the chemical process of using metallic silver to coat a glass surface to make it reflective. His process quickly replaced the common practice of backing glass with a thin metal sheet of amalgam and tin, which was introduced in Venice in the 16th century.
As mirror making skills of 16th century Venetian craftsmen spread, mirror production increased in Paris and London. By the late 17th century, mirrors became a form of household decoration, and commonplace by the 19th. In fact, the Venetian forerunner to today's modern mirror making techniques is particularly well-known for the way it degrades over time, leaving the iconic fuzzy dark-silver patches on the mirrors of old.
Standing Floor Mirrors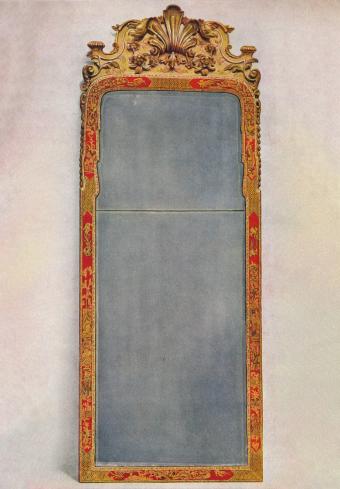 Mirrors of the 17th and 18th centuries ranged from small decorative handheld mirrors and wall mirrors to large mirrors that rested on the mantel as well as magnificently decorated floor mirrors ( which were sometimes called standing mirrors). Typically, these mirrors encased in elaborate frames were displayed by leaning them against a wall. These frames were generally exquisite, made from:
Silver
Tortoiseshell
Ebony
Ivory
Wood veneer with beautiful detailed marquetry of olive, walnut, and laburnum woods
Painted wood frames with highly detailed classical ornamentation or floral designs
Gilt
Trumeau Mirrors
A popular French floor mirror style that was born out of the architectural conventions of the 18th century, Trumeau mirrors have seen a continued popularity in mirror designs throughout the 21st century. Originally, these mirrors were used to occupy the thin space of wood between windows or door frames, which was incidentally called 'trumeau' in French.
While these mirrors were first designed to be wall mirrors, extant pieces have since been removed from the walls of historic estates and resold as floor mirrors. Nowadays, they're simply propped up against the nearest hard surface; but, if you feel like elevating your interior, you can integrate your wall mirror into your wallscape in whatever way you see fit.
Typically, these mirrors were built with beautifully painted or gilded scenes above and below them to exemplify these delicate aesthetics. Similarly, they often featured carved motifs like scrolls, ribbons, and garland. Given that they fit in between rectangular sections of the house, these specific floor mirrors were typically made in elongated, rectangular shapes.
Cheval Floor Mirrors
In the 19th century, French mirror makers produced mirrors that were circular, leading to the introduction of the cheval floor mirror. A cheval floor mirror is a full length rectangular or oval mirror that's freestanding. The framed mirror is built to be either stationary or adjustable and is held by a footed second frame. Antique cheval floor mirrors range in style from the simple turned wooden frame of an English mahogany mirror from the mid-19th century to an elaborately painted George III style Japanned cheval from the same time period. The many styles of antique cheval mirrors include:
Art Deco
Gothic
English Regency
Empire
Queen Anne
Biedermeier
Italian Empire
French Second Empire
Napoleon III
How Much Do Antique Floor Mirrors Cost?
Surprisingly, mirrors in general cost a shocking amount, and the larger the size, the more expensive they're going to be. So, when it comes to antique floor mirrors, you're going to have to pay around $1,000-$2,000 at the very least for a high quality 19th century mirror. Gilded ones from the 18th century can run you even higher amounts, somewhere in the $5,000-$10,000. Similarly, these early mirrors were usually made out of mercury or tin and have a very distinctive sheen as they age, upping their market value.
Granted, not every antique floor mirror is in perfect condition and highly decorative. You can find mirrors from the early 20th century with very basic frames listed in the low-hundreds.
If you're thinking about purchasing one of these, here are a few antique floor mirrors from the past few centuries that've recently come to auction:
Where to Find an Antique Floor Mirror Online
If you are looking for an antique floor mirror to add to your home decor, an excellent place to start your search is 1stdibs. 1stdibs provides a collection of fine antiques, searched by category, and links to the specific antique store where the item is offered. Additional places to find antique mirrors include:
Ruby Lane - Ruby Lane is an auction website that bridges the gap between high-profile auction houses and user-curated marketplaces; it's super easy to use and has a varied assortment of historic floor mirrors.
eBay - When it comes to user-curated auction sites, eBay is by-far the most prolific. However, it's important to carefully comb through a seller's listing and reviews to make sure that you're not getting marketed a replica or historic-inspired floor mirror.
Etsy - Etsy is operates like eBay but gets its functionality and graphics from the 21st century. Easy to use and filled with high-quality goods. Etsy is a great place to start looking for antique and vintage floor mirrors to add to your closet or bedroom.
Get a Glimpse of Your Daily Outfit in Historic Style
If you don't have a lot of space in your home, you're probably really aware of what things you can and can't add to your domestic sphere. However, antique floor mirrors give you the chance to indulge your historic sensibilities while also economizing on space with a practical, yet beautiful, tool.