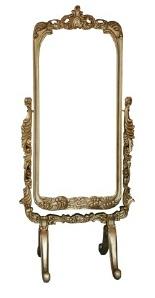 Adding an antique floor mirror to your home decor brings a touch of yesteryear that is both beautiful and functional.
Antique Mirrors: An Overview
Through the millenniums mirrors evolved from highly polished pieces of metal and images reflected in pools of water to the modern technological methods of making the mirrors of today. One of the biggest advances in mirror making occurred in 1835 when a German chemist, Justus von Liebig, invented the chemical process of using metallic silver to coat a glass surface to make it reflective. His process quickly replaced the use of backing glass with a thin metal sheet of amalgam and tin introduced in Venice in the sixteenth century and was the forerunner of today's modern mirror making techniques.
As the mirror making skills of the 16th century Venetian craftsmen spread, mirror production increased in Paris and London. By the late 17th century mirrors became a form of household decoration.
Standing Floor Mirrors
Mirrors of the 17th and 18th centuries ranged from small decorative handheld mirrors and wall mirrors to large over the mantel mirrors and magnificent floor mirrors, sometimes called standing mirrors. These mirrors were displayed by leaning them on the wall. Frames of the times were generally exquisite, made from:
Silver
Tortoiseshell
Ebony
Ivory
Wood veneer with beautiful detailed marquetry of olive, walnut and laburnum woods
Painted wood frames with highly detailed classical ornamentation or floral designs
Gilt
Antique Cheval Floor Mirrors
In the 19th century French mirror makers produced mirrors that were circular in shape leading to the introduction of the cheval floor mirror. A cheval floor mirror is a full length rectangular or oval mirror that is freestanding. The framed mirror is either stationary or adjustable and is held by a footed second frame.Antique cheval floor mirrors range in style from the simple turned wooden frame of an English mahogany mirror from the mid 19th century to an elaborately painted George III style Japanned cheval from the same time period. The many styles of antique cheval mirrors include:
Art Deco
Gothic
English Regency
Empire
Queen Anne
Biedermeier
Italian Empire
French Second Empire
Napoleon III
Examples of Antique Floor and Cheval Mirrors
The following links take you to several wonderful examples of floor and cheval mirrors from years past.
Additional Styles of Floor Mirrors from Centuries Past
Although antique leaning floor mirrors and cheval mirrors are generally the most popular types of floor mirrors, there are many other styles that are highly sought after by antique collectors. The following are several examples of other types of floor mirrors.
Finding an Antique Floor Mirror Online
If you are looking for an antique floor mirror to add to your home decor, an excellent place to start your search is 1stdibs. 1stdibs provides a collection of fine antiques, searched by category, and links to the specific antique store where the item is offered. Additional places to find antique mirrors include, Ruby Lane, TIAS and eBay.