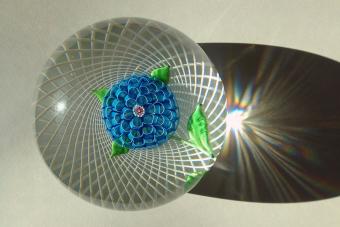 Antique glass paperweights make for beautiful and practical examples of multimedia art from a bygone era. Believe it or not, some of these miniscule paperweights can even command thousands of dollars at auction, and collectors are always searching for pristine artifacts to take home. Take a look at how these antique glass paperweights are collected and why collectors' captivation for these items has yet to slow down.
History of Antique Glass Paperweights
With the dawn of industrialism in the 19th century, a need for some device to help maintain the letters, bills, accounts, payroll papers, and other ephemera that littered the desks of the industrial executives arose. The lack of air conditioning in these massive manufacturing plants and mills created a natural wind tunnel for air to pass through open windows and disrupt the important stacks of papers lying about. In order for the workers to still stay cool but to also combat the flying paper problem, people began using heavy items to secure their papers in place. In the 1840s, glass factories in France began to enclose decorative items in these glass spheres and marketed them as beautiful paperweights; exquisite examples were shown at the Great Exhibition of 1851 at London's Crystal Palace, which took the world by storm. Thus, the glass paperweight industry was born.
Antique Glass Paperweight Styles
There are several distinctive styles of glass paperweights, and among those most collected are:
Bohemian - These paperweights were popular during the Victorian period and often manifest as cut spheres of ruby glass.
Crown - These paperweights were designed with twisted ribbons of color and lace which radiated from the crown to the base.
Lampwork - Lampwork paperweights have objects like flowers or butterflies made out of colored glass embedded inside a clear glass dome.
Millefiori - These paperweights contain cross sections of tiny, multicolored rods put together to resemble flowers.
Sulfide - These paperweights have a cameo-like portrait set inside the dome.
Swirl or Ribbon - Opaque rods or bands of up to three colors decorate the inside of these paperweight domes.
Victorian - Dome glass paperweights with advertisements or portraits inside of them were popular during the Victorian period.
Identifying Antique Glass Paperweights
Generally, glass paperweights are difficult for the untrained eye to distinguish from vintage or modern glass paperweights. According to Christie's Auction House, some antique paperweights include tiny canes that are used to help identify the maker and the date, such as ones arranged to read out a year and a company or maker's initials. Similarly, some brands like Clichy and Saint Louis had distinctive characteristics that make them more easily identifiable. However, it's best to have your antique paperweights assessed by an expert before making any concrete judgements.
Antique Glass Paperweight Makers
While antique glass paperweight manufacturing was a global industry, the most renowned makers were located in France and are considered by collectors to be of the highest quality. Some of these notable makers that collectors look for include:
Baccarat
Saint Louis
Clichy
Pantin
Boston & Sandwich
Bacchus
New England Glass Co.
Collectors Market and Antique or Vintage Glass Paperweights
Collectors approach collecting antique glass paperweights by dividing all of the historic examples into three separate, stylistic evolutionary periods: Classic, Folk Art and Advertising, and Contemporary. If you're specifically interested in antique glass paperweights, you'll want to look for artifacts that fall within the Classic and Folk Art and Advertising Periods.
Classic Period
Paperweight collectors call the 1840s through the 1880s the Classic period. While the glass paperweight trade centered itself in France during this period, there was manufacturing occurring in both England and the United States at the time. Traditional styles from companies like Clichy and Baccarat define this period's look.
Folk Art and Advertising Period
Beginning in the 1880s, the Folk Art and Advertising period continued through the 1940s. Large glass companies were in decline, but small artisans and family-owned companies multiplied, helping to keep the trade alive. During this period, people began to see companies using paperweights for advertising and artisans exhibiting new techniques like using powdered glass to make decorations.
Contemporary Period
Contemporary glass paperweights are categorized as weights made in the post-war era. These mid-century modern paperweights can reflect similar styles as those of antique paperweights, but also display contemporary earthy tones and unique artistic perspectives.
Types of Antique Glass Paperweights for Collectors
Most collectors amass collections which fall into one of these four categories.
Type Collections - Accumulating the best example you can find of each style of paperweight.
Theme Collections - Collecting glass paperweights with a common theme such as a certain motif.
One Type - Collections which exhibit just a single type of paperweight; specificity is key with these collections.
Casual - Personal style and preference guides these collections, and they often have little rhyme or reason.
Costs Associated With Glass Paperweight Collecting
Antique glass paperweights are not priced for the casual collector; these pieces are often listed at auction for thousands of dollars. Of course, paperweights without scratches, dents, or chips are going to be worth the most amount of money, but on the whole, these antiques aren't for those operating on a budget. For example, one website has an 1848 Baccarat paperweight listed for a little over $4,500 and another has a 19th Century Clichy Millefiori paperweight listed for almost $950.
Helpful Sites for Collectors
If you're interested in connecting with other glass paperweight collectors or you're trying to find out more information about a piece that you have, check out these digital resources.
Antique Glass Paperweights Will Blow You Away
While you may not be able to find many paperweights at your local antique stores, you can often find them listed in digital auctions and through individual sellers. Since these pieces fall on the more expensive side, you'll want to make sure you really fall in love with a specific one before you settle on buying it. Now for more beautiful glass, learn about valuable marbles and see if they appeal to the collector in you too.