Pictures of Antique Mason Jars
Antique Mason Jars Are Common
Antique Mason jars are nostalgic reminders of times gone by. In Grandmother's time hundreds of these jars filled with colorful vegetables, preserves, and jams lined the cellar shelves. They gave testimony to long hours of labor in a steamy, summer kitchen.
Many of these jars are not only still around but thousands of them, like the ones you see here, are still in use. People who enjoy canning often pick up used jars at garage sales, thrift shops, and flea markets because they are inexpensive. They never suspect that they may be using a jar that is seventy-five years old.
Kerr Self Sealing
The Kerr Self Sealing Mason jar was developed by the Hermetic Fruit Jar Company, founded by Alexander Kerr in 1903. The Self Sealing jar was one of the first products that the company released. Kerr patented the first canning lids that had a permanently attached gasket, the type still used today. Another of their patents is the wide mouth jar, which was soon copied by Ball and other canning jar companies.
Hazel-Atlas Mason Jar
The Hazel-Atlas Glass Company developed two jars in their nearly one hundred year history. These were the EZ Seal and the Strong Shoulder jars. The Strong Shoulder can be identified by a slightly raised line that goes around the upper part, the "shoulder" of the jar. The company went out of business in 1964.
Atlas Strong Shoulder Mason Jar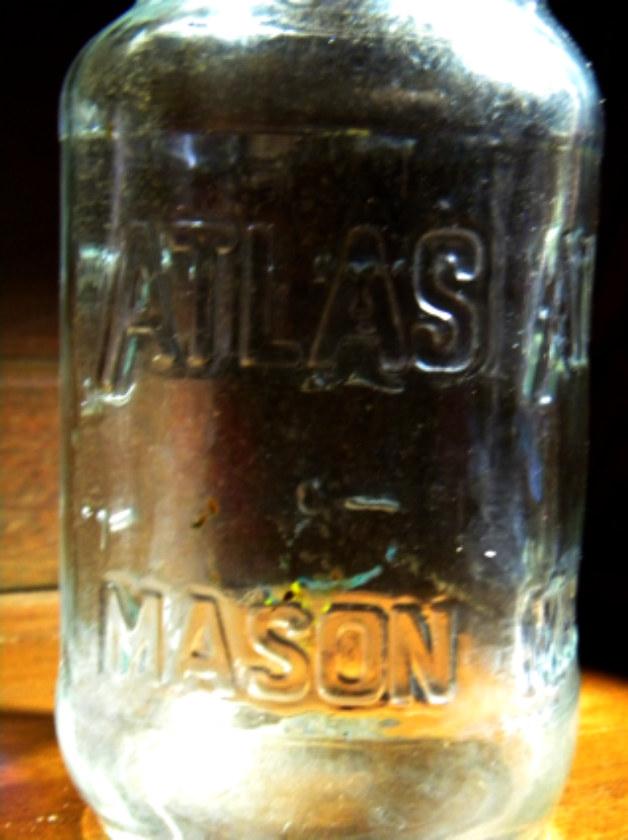 Here you can see the lip on the shoulder of the Atlas Jar. This raised lip helped to keep the jar from cracking.
The Square Mason Jar
Many companies made a square Mason jar. These were designed to allow the homemaker to get more jars onto pantry shelves without wasted space. The were introduced to the general public in the 1920s and were popular through the 1950s. There were not so many of the square jars made so they tend to be a little higher in value.
Golden Harvest Canning Jar
This Golden Harvest Mason jar was produced by Ball in the 1980s. These jars generally have an embossed fruit or cornucopia design on one side and Ball on the other. The Ball Company no longer makes home canning equipment.
Ball Perfect Mason 1942-48
This Ball Perfect Mason Jar dsiplays the rounded square shape that Ball developed to save glass during World War II. When you see this shape on a Mason jar you can be pretty sure that it was made during the War years and shortly thereafter. (1942-1948)
Freezer Jars
Freezer jars were designed to be used in the freezer. They were clearly marked with a fill line to allow for head-space. They are straight sided in order to allow the frozen contents to be removed easily.
A display of antique Mason jars, a casserole in a Corningware dish, or a collection of cookie jars are all great ways to decorate your home in a practical way.