Antique rocking chairs can make a beautiful addition to your porch or parlor. While Victorian era rockers are usually easiest to find, there are so many varieties to choose from. With so many styles and periods to choose from, there's a perfect rocking chair for just about every type of lounger out there.
Types of Antique Rocking Chairs
The first documented rocking chairs were crafted during the 18th century, and these colonial era chairs were originally built as stationary chairs with rocking components added to them. This Frankenstein modification might not have been the most comfortable way to recline, but improvements in this style weren't seen until the early 19th century. By this time, rocking chairs had become a staple of the American household, and furniture designers around the world began experimenting with new and interesting ways to enhance these pseudo-recliners. What resulted was a rich array of interestingly shaped and unconventional chairs that collectors can choose from.
Bentwood Rocking Chairs
One unique style was manufactured by the Thonet Brothers Manufacturers in Vienna, Austria during the mid-19th century. These Bentwood rocking chairs were distinguished by the company's interesting construction methods; they bent soft beech wood to form each of their furniture pieces, which created a sinuous curvature that people were captivated by. Thonet rockers from both the 19th and early 20th centuries are beloved and their designs are widely copied, both in newer antiques and contemporary chairs.
Wicker Rocking Chairs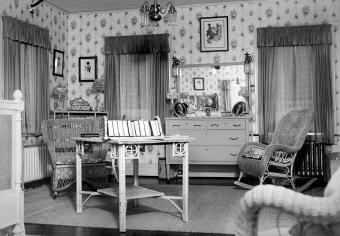 Wicker furniture is one of the oldest types of wooden furniture styles available, and after the first was constructed in 1860, many a rocking chair was crafted out of this particular material. Yet, not all of these antique wicker rocking chairs were made out of natural fibers, as they'd been made for many decades prior. Around World War I, machines twisted paper to form artificial wicker reeds, which was then molded into the particular shapes needed to complete these popular chairs. When it comes to these chairs as a collector's item, it's important to take notice of the designs woven into wicker rocking chairs. For instance, star-shaped or heart-shaped patterns, as well as figures such as boats, are more desirable than those with the typical polygon shapes.
Windsor Rocking Chairs
In the 18th century, Windsor chairs were in widespread use in rural areas of England and became commonly associated with garden chairs. These particular pieces of furniture have spindles running down their backs and armrests, and if they were equipped with rockers, their legs were fitted into them. Across the pond in the United States, the Windsor-inspired chair became one of the most important chair styles of the 18th century, and this popularity continued well into the 20th century with many collectors owning Windsor rocking chairs from several different centuries.
Platform Rocking Chairs
The platform rocker is a type of chair that has a seat and a base that're internally separated from one another, allowing the seat itself to rock while the base remains stationary. These unusual rockers solved several problems people had with conventional rocking chairs, one of which was the chairs creeping across their floors as they rocked in them. Additionally, these chairs had springs in them which allowed movement and a more comfortable seat.
Sewing Rocking Chairs
Sewing rockers were small rocking chairs with the distinctive characteristics of lacking arms or having very low arms. Some of these chairs were upholstered and others were simply wood. Thanks to their armlessness, these chairs were commonly used by the lady of the house for mending chores as well as nursing babies as they gave them greater mobility. As a common feature of the Victorian bedroom set, you'll most often find these chairs from the Victorian period.
Gungstol Rocking Chairs
The Gungstol rocker was a particularly unusual designed rocking chair in that it had three legs on each side. These additional legs allowed any occupant to rock vigorously without worrying about tipping over. It was first made in Sweden in the mid-18th century and produced for over two hundred years. Despite their delightful appearance, these unique chairs aren't an easy type of antique rocking chair to find, and you'll have to really put in some work to hunt one of these down.
Upholstered Rocking Chairs
Upholstered rockers were popular Victorian era chairs. Generally considered "parlor" chairs, these rockers were upholstered in luxurious textiles and decorative fabrics and were decorated with intricate carvings and embellishments as well. Interestingly, they came to be known as Lincoln rockers following President Abraham Lincoln's assassination at Ford's theater where he was seated in one that evening. Despite this macabre connection, these chairs were incredibly popular and continued to be manufactured well into the 20th century, with chairs varying in the amounts of upholstery ranging from just the seat and back to the entire chair itself equipped with a chair skirt and everything.
Mission Style Rocking Chairs
Following the Victorian period, there was a cultural shift towards a more austere, functional rather than superfluous design, and the Mission style was born out of this transition. Misson rocking chairs were similar to Victorian rockers in that they usually had upholstered seats and sturdy backs and arms, but they differed in their simple, yet elegant, construction which was lacking in carving or decoration. Often, you can find Mission rockers with leather upholstery instead of embroidered or woven fabrics, as they were wont to do in the previous decades. However, thanks to this streamlining, these chairs fit right at home in many modern spaces.
Where to Buy Antique Rockers
Given that furniture is a hugely popular antiques category, most antique stores and antique auctions will have historic pieces of furniture. Now, it's not uncommon to find a few rocking chairs in these places, but it's not altogether guaranteed. You may have to be diligent in your search and check often to find exactly the style and condition of the chair that you're looking for. However, this in-person searching can be really useful since a major benefit of finding one locally is that you'll save money on shipping costs and be able to physically examine it's functionality.
If you can't find one locally, all isn't lost just yet. Thankfully, as always, Google is here to help. If you absolutely can't find the chair you want in-person, then you should check out these online auction houses and retailers:
Quick Tips for Caring for Your Antique Furniture
Whether you just acquired that antique rocking chair from the thrift shop or you've had it in your family for generations, it probably needs a little TLC. Unlike some types of antique furniture, older rocking chairs don't typically need to be handled with a lot of delicacy. In fact, as long as their pieces are still tightly joined and there's been no rotting, you can still take your chair for an afternoon spin. However, if you want to ensure that your chair stays in tip-top shape for the next hundred years, there's a few maintenance and caring steps you shouldn't skimp on:
Keep the chairs out of direct sunlight and heat
Keep the chairs out of the wet and damp
About once a week, wipe down your chairs with a microfiber cloth to remove dust and debris.
Depending on the amount of use, every few weeks you should nourish your chairs with a good wood oil and polish.
Rock the Night Away
When it comes to antique rocking chairs, the possibilities are as limitless as your imagination. From design, to time period, to wood finish, these historic rockers are practically customizable; and, with just a few clicks, you'll be rocking the night away in style.