Victorian Era Ornate Designs
For more than two centuries people have enjoyed serving tea using beautiful antique silver tea sets. In 1790 the first three-piece silver tea set was introduced consisting of a tea pot, a creamer and sugar bowl.
Victorian Era Designs
During the Victorian era many tea sets were very elaborate in design and ornamentation. Popular styles of the times included rococo and neoclassical.
Silver Creamers
Before the mid eighteenth century tea sets, as we know them, did not exist. Up until then tea was taken without cream or sugar so there was no need for those serving pieces. In most cases, local silversmiths made creamers and sugar bowls to match existing silver tea pots when the owners wanted to add them to their serving pieces.
Silver Embellishments on China
Many early teapots were made of china and embellished with beautiful silver appointments.
China Cup with a Silver Tea Pot
For centuries people have enjoyed pouring their tea from silver tea pots and drinking it in fine china teacups.
Lovely Five Piece Tea Service
A silver tea service adds elegance and beauty to any occasion. The lovely tea sets are often handed down as a family heirlooms.
Moroccan Tea Set
Moroccan tea sets often consist of a silver and brass tea pot and a set of tea glasses atop a three-legged tray called a sinya.
Types of Silver Used
Antique and vintage tea sets were made from several different types of silver and silver plating including:
Sterling silver
Silver plate
Quadruple Silver Plate
Nickel silver
Coin silver
Hallmarks and Maker's Marks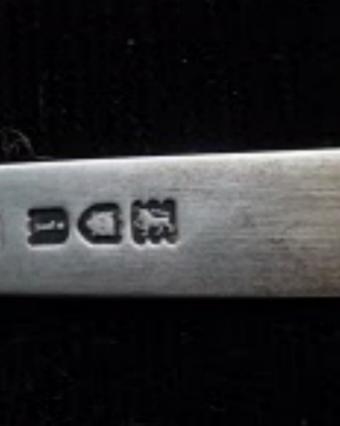 Silver marks, makers' marks and hallmarks are commonly found on vintage and antique silver and silverplate pieces.
Classic Antique Silver Tea Sets
The number of pieces in a silver tea set varies with the minimum number being three which includes a tea pot, a creamer and a sugar bowl. Larger sets often include:
Kettle
Coffee pot
Waste bowl or slop bowl
Serving tray
Serving tongs for sugar cubes
Sugar spoons
Visit the LoveToKnow slideshow Whimsical Teapots to view an enjoyable collection of unique tea pots.