Pictures of Antique Stained Glass Windows
The Ascension of Christ
Antique stained glass windows are a beautiful architectural feature of many Victorian homes. This lovely art form has been around for a thousand years, beginning with the first large church buildings. By the 10th century many European cathedrals had depictions of biblical scenes like this one.
Stained Glass Window from Abbey
Some of the most beautiful stained glass windows are in Gothic style churches. Abbot Suger, who rebuilt the Abbey of St. Denis, believed that the presence of beauty would bring men's souls closer to God.
Victorian Alcove
During the Victorian era stained glass windows in homes became popular. The colored glass allowed for both privacy and visual interest in otherwise dark hallways and rooms.
Intricate Stained Glass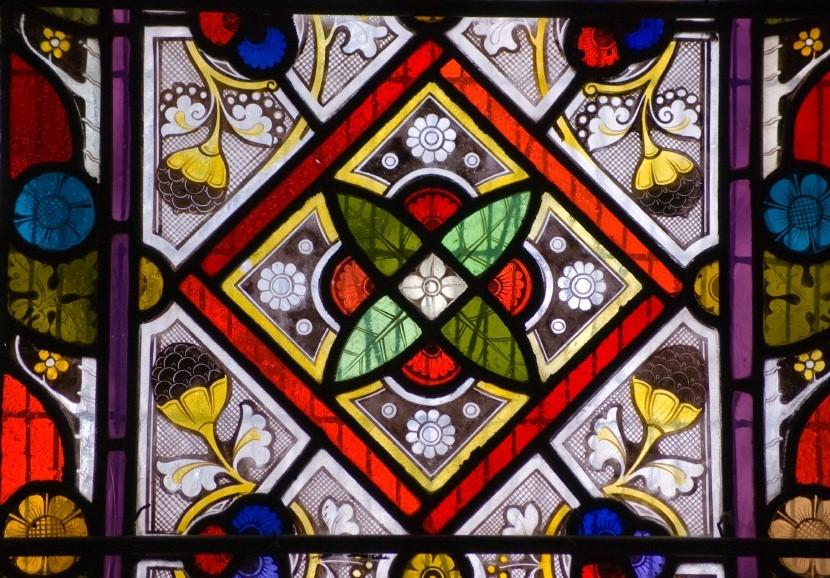 Wealthier homes might have very intricate stained glass windows in some areas of the house. These windows were often decorated with flowers and Art Nouveau design elements.
Simple Stained Glass Windows
Windows in farmhouses in the Midwest especially were often just panes of colored glass set into a window frame.
Victorian Transom
In some Victorian homes stained glass would be used over a doorway or another window as both a transom and a design element.
Stained Glass Sidelights
Sidelights on doors would often use a variety of shapes of the same colored glass along with a simple design. This allowed privacy to the homeowner as well as a beautiful display of light.
Antique Stained Glass Windows
Antique stained glass windows from the early part of the 20th century took on simple Arts and Crafts designs. These colorful windows were an integral part of the Bungalow design made popular by Frank Lloyd Wright. Leaded glass was also often part of the design in the Arts and Crafts window.
These beautiful windows can often be found at architectural salvage companies, antique stores, and online on sites like eBay. They can be used to replace and existing window or as a light catcher hung in a window.
However you use them you can be sure that they will bring beauty to your home.