Antique stoneware crocks once played an integral role in kitchens by allowing foods like butter to be stored and pickled vegetables to be made in watertight containers before the invention of refrigeration. Today, antique crocks are a decorative collector's item loved by many. With a few tips, you can identify your antique crock to learn more about its history and value.
How to Identify Antique Stoneware Crocks
Most antique stoneware will have some clues on it to help you identify where and when it was made or who made it. You'll need this information to understand how much your crock is worth. However, this information also makes collecting the pieces more enjoyable.
What Is Stoneware?
According to antiques appraiser Dr. Lori Verderame, "stoneware" is the term used to describe any clay with a less than two percent waterproof rating. Because of this vague definition, stoneware can be made from a variety of clays and come in many colors or textures. However, antique stoneware was typically colored with a brown or gray salt glaze featuring blue decorations.
How to Identify the Design of a Crock
Antique crocks were made by hand, so the design on the crock should be rather crude, or something that could easily be made by hand.
Really old designs were etched into the clay, then filled in with something like a cobalt blue color.
Birds, trees, and flowers were common designs on early crocks.
Take the crock outside or use a flashlight to look at the design closely in a different light to see the details.
How to Identify the Maker of a Crock
Most potters, even bigger pottery companies, "signed" their work using some type of maker's mark like the overlapping M and C you'll usually find on McCoy pottery. If you can find and read the maker's mark, you'll have a better chance of identifying the age and value of your crock.
The maker's mark, or stamp, is usually found on the bottom of the crock.
A maker's mark can be a logo, letter, symbol, or name of the manufacturer.
Master artists would often sign the bottom of the crock.
If you can't read the mark well, try making a rubbing by placing a piece of paper over it then rubbing charcoal, chalk, or a crayon across the paper.
The Marks Project is an online dictionary of all American ceramic marks and signatures from 1946 on, so it could help you determine if your piece is newer.
Other Antique Crock Markings
Aside from the maker's mark, a maker's signature, and the painted design, you might see other markings on your crock.
A single number painted, stamped, or impressed on the crock typically indicates its size. A three would mean 3 gallons or 3 quarts.
The style, font, and placement of the number can sometimes help you identify the maker.
Some manufacturers used side wall stamps to impress their name on the side of the crock rather than the bottom.
How to Identify the Age of a Crock
Most stoneware was imported from Europe until the end of the American Revolution, around 1783, and most of this came from Germany or England. In the early 1700s, American potters started making their own stoneware crocks. New York, New Jersey, and Pennsylvania were the first states to start making stoneware.
American potters didn't start using salt glazes on crocks until sometime after 1775.
The cylinder shape of crocks wasn't mainstream until about 1860.
If there is a maker's mark and pattern name on the bottom, it was made after 1810.
If the word "limited" or "Ltd." is on the bottom, it was made after 1861.
If the mark says "Made in" a specific country, it is likely from the 1900s.
If the mark says "Nippon," it was made in Japan before 1921.
If it has a sticker on top of the glaze, it's from the late 1800s or later.
Antique Crocks vs. Modern Reproductions
The manufacturing process of crocks and maker marks offer clues to a crock's authenticity. Since antique crocks are so collectible, there are many reproductions on the market. Before you make your purchase, be sure to examine its characteristics.
A shiny, glass-like surface with occasional bumps indicates that the crock was salt-glazed and antique, since reproductions are often totally smooth.
Simple decorations, which appear to be painted on freehand, are authentic, whereas printed or stamped designs are often reproductions.
Decorations that are painted on top of the glaze are a sign of reproduction.
Precisely printed or stamped numbers and letters can indicate a reproduction.
A thick wall, which may bow out in the center, is indicative of an antique.
Reproductions rarely have distinguishing marks or signatures.
Popular Antique Crock Makers
There are far too many antique crock makers to list them all, and each is most popular in the area where it was made. These are some of the biggest names in antique crocks for collectors. The Old and Sold Antiques Auction & Marketplace has a list of U.S. stoneware makers from New York and all of New England.
Red Wing Stoneware
Red Wing Stoneware began making crocks in the late 1870s. Early crocks with side wall stamps are more valuable than those without it. Prior to 1896, all designs were drawn by hand on the crocks. After 1896, they were stamped. Their signature red wing design wasn't added until about 1906. The Red Wing Collector's Society, Inc. has a free online list of images of decorations, side wall stamps, and bottom markings from Red Wing stoneware crocks.
Monmouth Pottery Company
From 1894 to 1906, Monmouth Pottery Company made stoneware in Monmouth, Illinois. They used salt glazes, Albany slip glazes, and later a Bristol glaze. Their most iconic design featured two men standing inside a giant crock. In 1902 they started using a maple leaf logo.
Western Stoneware Company
In 1906, seven companies joined together to form Western Stoneware Company. They used a maple leaf logo with the name in the center. The logo might include a number from 1 to 7 indicating which factory made the piece. The other companies that joined Western Stoneware are: Weir Pottery Co., Macomb Stoneware Co., Macomb Potter Co., Culbertson Stoneware Co., Clinton Stoneware Co., Fort Dodge Stoneware, and Monmouth Pottery Co.
Robinson-Ransbottom
Started in 1901 as Ransbottom Brothers Pottery, the company merged with Robinson Clay Products in 1920 to create Robinson-Ransbottom Pottery. You can find "RRP" in their logo. They were best known for their cobalt blue crown mark. There were different versions of the crown mark used, so you may see various numbers or words inside the crown.
Antique Crock Values
The value of an antique crock will depend on many factors, including the desirability of the manufacturer and the designs printed on the crock. The value of antique stoneware crocks ranges from $500-$400,000. You can visit an antique stoneware expert auction house like Crocker Farm to see images, descriptions, and values of different types of crocks. When determining a crock's value, keep the following in mind.
Crock Condition
Chips, cracks, and extreme wear will bring the final value of the crock down. In most cases crazing, or a crackled appearance, does not affect value and may actually contribute to the authenticity of the antique vessel. Another factor in the condition of a crock is its completeness. Many crocks came with lids. If the crock still has the original lid, it will tend to be more valuable. Similarly, the presence of original handles and other pieces will contribute to its value.
Crock Size
Although crocks are useful and collectible in any size, some shapes and sizes are more sought after than others. Large examples, which were rarer than smaller crocks, will fetch more from collectors.
Crock Design
Some cobalt designs on crocks are exceptionally detailed and beautiful. These generally command higher prices than others. As a general rule, the more blue design you see, the more you can expect to pay. However, only original blue designs enhance the value of the crock. Check carefully to make sure the blue decorations weren't added after the piece was fired.
Crock Location
A crock will often be more valuable in the area where it was made. Local potteries will generally command a higher price in their own area because there is a higher concentration of collectors. Additionally, crocks are heavy and can be costly to ship.
Where to Buy Antique Crocks
Whether you prefer to shop online or browse the aisles at your local antique store, you'll have lots of options. These vessels were kitchen essentials throughout the 18th, 19th, and early 20th centuries, and antique examples abound.
Shopping for Antique Crocks Locally
While you may find the best crock selection online, the weight of these items can make shipping expensive. Some collectors prefer to shop closer to home. You can find crocks at antique stores and flea markets, as well as estate sales, auctions, and garage sales.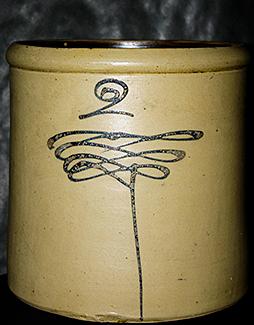 Antique Crock Collecting
Although they are popular for their simplicity and craftsmanship, antique stoneware crocks are also very practical in today's home. Use your crock to display kitchen utensils by the stove, keep magazines handy near to your favorite chair, coral kids' toys, or store kindling next to the fireplace. No matter how you choose to use or display your antique, you'll love the timeless beauty it brings to your home.