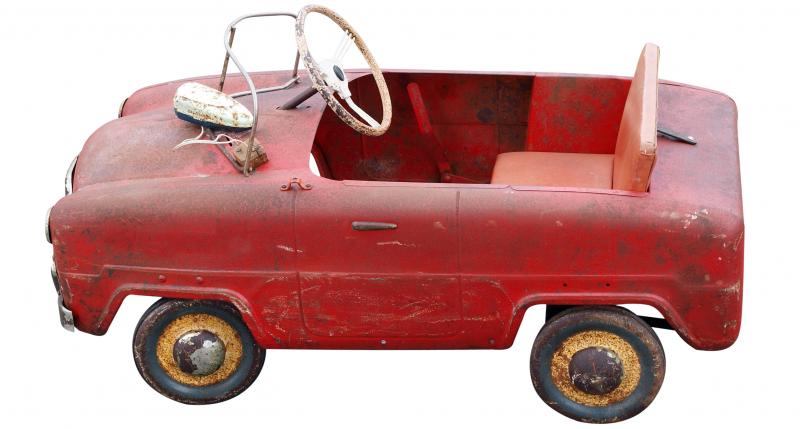 Once the prized riding toy of children of decades past, antique toy pedal cars are popular among toy collectors, classic car owners and just about anyone with a love of nostalgic toys.
Toy Pedal Cars: A Brief Overview
In the late 1890s and early 1900s as automobiles became more popular, toy manufacturers soon realized that smaller versions for children would make great riding toys.
Powered by leg power, the first pedal cars, modeled after the cars of the day, soon became the toys of the children of the wealthy upper class. The miniature models of full size gas powered cars reached the first peak of their popularity in the late 1920s and early 1930s.
The little replicas were designed with many of the same features as the larger cars including:
Custom paint jobs
Working lights
Movable windshields
Working horns
White wall tires
Hood ornaments
Chrome detailing
Movable ragtops
After World War II, pedal cars were more in demand than ever before. With the economic prosperity that followed the war, combined with the lower prices of these ride on toys, more families could afford pedal cars for their children.
Although manufacturers still produced realistic versions of full size cars, they also made variations of the pedal car that included:
Pedal fire engines
Pedal trucks
Pedal planes such as the Red Baron and Shark Attack
Pedal tractors
In the later part of the 1970s, the rugged steel bodied pedal cars gave way to the modern plastic versions of pedal powered vehicles.
Restoration Parts for Antique and Vintage Pedal Cars
For many pedal car owners, part of the enjoyment of having a car is in the restoration of the vehicle. Just like full sized cars, owners buy restoration parts and bring back these toys of yesteryear to their original condition.
For collectors that are not mechanically inclined, there are companies that specialize in restoring pedal cars. Many companies provide both of these services and may also offer fully restored cars for sale.
Examples of Popular Antique Toy Pedal Cars
Naturally, everyone has their own personal favorite model pedal car. Perhaps it is one that is a replica of your very first car or a car you always wished you had owned. Maybe it is one that brings back fond memories of a grandparent or a first love. The following links are to some of these fabulous riding toys from the past.
Pedal Car Resources
Pedals and Pumps provides great pictures of the restored pedal cars in his collection There is also a link to a fantastic slideshow of original old photographs of children playing with their pedal cars.
Amazon offers many books on pedal cars and pedal car restoration. The following are several of the many titles:

Pedal Car Restoration and Price Guide by Andrew G. Gurka
Pedal Cars by Larry Bloemker
Pedal Cars - Volumes 1 through 5 by Neil Wood
Pedal Cars Chasing the Kidillac by Jane Dwyre Garton

The Pedal Car Club - A place to buy, sell and exhibit pedal cars
Pedal Car Reproductions
Pedal Cars Galore offers a wide assortment of reproduction pedal cars, planes and trains. Their riding toys are made in made in Korea or China. Although reproductions resemble the original pedal cars, there are often variations necessary to meet the current safety standards.
For many people antique toy pedal cars bring back memories of their childhood.