Antique weathervanes were vital to early Americans who depended on crops to sustain them. However, these utilitarian antique weathervane designs were some of the earliest American folk art and a prized collector item.
Antique Weathervane Manufacturers and Notable Artisans
Antique weathervane collectors seek creations by various artisans worldwide. Copper weathervanes were often created using sections made of iron and/or zinc. Many times, these were painted, while others were allowed to age with a patina finish. A few American weathervane artisans and companies that produced weathervanes now sought by collectors include:
J Harris & Co, Boston, MA
JW Fiske, New York, NY
Jewell & Co, Waltham, MA
Cushing & White (or LW Cushing & Sons), Waltham, MA
J Howard, West Bridgewater, MA
Dempster Mill Manufacturing Company, Beatrice, NE
History of Weathervanes
According to Collectors Weekly (CW), the first known weathervane was mounted on top of the Tower of the Winds temple in Ancient Greece. The Triton figure was a life-sized bronze weathervane depicting his wand held straight up into the wind.
Weathervanes and Wind-Clocks
Records show weathervanes were used in 11th century England and grew in popularity by the 17th century. CW reports that many of the weathervanes during that century were also attached to wind-clocks and were a favorite among merchants who used the devices to keep up with ship arrivals.
Documented First American Weathervane
The New England Historical Society documents coppersmith Shem Drowne as the creator of the first American weathervane. It was a gilded archer installed on the royal governor's house. His other notable creations include a rooster weathervane that now rests on First Church in Cambridge and a copper swallowtail banner weathervane featured on Boston's Old North Church.
Shem Downe's 1742 Golden Grasshopper Weathervane
The Society reveals the true story of Shem Downe's 1742 golden grasshopper weathervane resting on Faneuil Hall. The Society states the grasshopper's belly contains a time capsule added to over time and contains various mayors' messages, newspapers, coins, and other historical items added each time the weathervane was repaired or restored.
Evolution of Decorative Antique Weathervanes
The rooster or cock were the most popular English weathervane designs often referred to as weathercocks. These weathervanes were considered Christian motifs reference Jesus saying Peter would deny him three times before the cock crowed. The grasshopper and Christian symbol of the fish were long time favorites up until the American Revolutionary War.
Post Revolutionary War Coppersmiths New Designs
After the American Revolutionary War, coppersmiths and artisans branched out in their newfound freedom to create new designs. The farmers preferred weathervanes featuring farm animals, coastal villages prized nautical and sea motifs. Other popular motifs include all kinds of animals, birds, and patriotic themes like flags.
Popular Antique Weathervanes Collector Items
Americana weathervanes feature patriotic icons and motifs, such as flags and eagles. Other popular motifs include arrows and various farms animals, such as pig, cow, horse, and rooster. The most popular collectors' choices are horses and roosters. These two animal motif weathervanes are also the most common designs, making it possible for more collectors to find one in good condition.
Antique Horse Weathervanes
The horse weathervanes are popular choices for farms, ranches, and anyone who raises horses. In fact, antique horse weathervanes have fetched hefty prices. The horse and jockey is a popular with collectors.
Antique Cow Weathervanes
Cows are another popular weathervane. Farmers, especially dairy farmers, used the cow motif as a nice motif for a barn weathervane.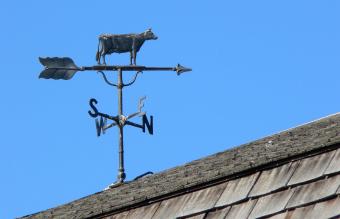 Antique Weathervane Value
The value of a weathervane is determined by an appraiser based on several factors. These include but aren't limited to things like the surface condition and any customized decorations or special motifs.
What You Can Expect to Pay for Anique Weathervanes
You can find antique weathervanes on eBay and other auction and resell websites. Some of these weathervanes sell for a couple of hundred dollars to several thousand. Other antique weathervanes sell from $5,000 to $24,000+ depending on quality, artisan/manufacturer, and demand. In 2011, Skinner, an auction house sold a rare full-bodied, 1910 open touring car weathervane for $941,000. The most famous antique weathervane sold is the JR Mott Ironworks molded and gilded copper 62" high Indian Chief. This very rare weathervane from the late 19th or early 20th century sold in a 2006 Sotheby's auction for $5.84 million!
Identifying the Weathervane Manufacturer
Identifying the manufacturer of a weathervane will usually require an expert since prior to the 1800s, few manufacturers used markings. This lack of documentation makes authenticating the manufacturer challenging. However, an antique expert/appraiser can identify antique weathervane manufacturers by knowing the history of the weathervane. Other identifying traits include outstanding design attributes and features, type of material and any kind of markings.
Later Manufacturers' Markings Help to Identify
Well known weathervane manufacturers during the 1800s, especially the latter decades, included markings or their names on their products. This makes identifying weathervanes from that century easier. For example, David Wheatcroft Antiques explains how J Howard & Co weathervanes are distinguished by the company's use of cast zinc. The company used zinc just for the front end of the design. This feature makes it easier to identify the manufacturer.
A few of the most notable manufacturers that used markings or their company name on weathervanes include:
Materials Used for Weathervanes
Some of the most commonly used materials for manufacturing weathervanes include aluminum, tin, zinc, and iron. These metal weathervanes typically are less expensive than copper ones, brass and steel ones. Wood was also used and typically hand-painted. A few weathervanes featured gold gilding.
What to Look for Materials of Authentic Antique Weathervanes
The aging processes for authentic antique weathervanes have specific features for the type of material it is. The weathering process is typically seen more pronounced on one side. This is the result of exposure to weather elements.
A few examples of telltale marks of an antique weathervane include:
Copper weathervanes should have a patina finish.
Iron weathervanes should show signs of the oxidation process and be rusty. You should also look for pitting in the metal.
Wood weathervanes should resemble driftwood and feature aging signs of cracks with hard edges worn smooth and often rounded from the weather.
Original Finish Most Valuable Weathervanes
Weathervanes that sport their original finish are the most coveted among collectors. An antique weathervane should not be refinished or retouched if you wish to maintain its collector value. It's the various telltale signs of weathering that serve to add value and authenticity to the weathervane.
Ask for History of Antique Weathervane
Counterfeit antiques are found in weathervane resells. You can lessen the chance of buying a reproduction by asking questions about the history of the weathervane you're interested in buying or bidding on. If you're working with an antique dealer or auction house, that information is usually available. If you can't authenticate a potential purchase through the history, you run the risk of buying a reproduction.
What You Should Know About Collecting Antique Weathervanes
When shopping for antique weathervanes, you want to know the history and quality. They may not cost as much as one of the most expensive items on Antiques Roadshow, but you can expect to pay several thousands of dollars for an authentic antique weathervane.