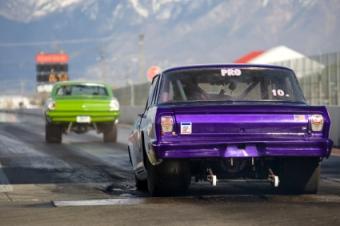 Drag racing memorabilia has origins in the illegal youth racing movement of postwar 1940s and 1950s. In these early years of automotive "hot rodding", high-school kids of that generation worked on "souping up" old car engines in order to improve power and performance. Many of these kids developed such impressive mechanical skill that they could enhance an automobile's performance to the degree that these old cars would reach almost 100 mph in less than one-quarter of a mile.
The Culture Behind Drag Racing Memorabilia
In the early 1950s, mainstream media caught on to this youth movement. Fictional novels such as Hot Rod hit the mass market. Media focus on this mostly rural activity suddenly propelled it into the spotlight and turned drag racing into a national phenomenon.
Soon thereafter, investors looking to profit from this growing cultural movement began building legal drag-racing strips. These were simply made of a strip of asphalt stretching approximately ½-mile long. Races ran every weekend, and teenage mechanics would show off their "tuning" skills through head-to-head high power racing. The key for these teenage enthusiasts was always to reduce the overall weight of the car, and increase engine power by any means necessary.
Mechanics at the Heart of Racing
In the earliest days of this sport, 1930s hot rodders with a penchant for performance-tuning cars spent their weekends barreling their modified automobiles through the dry lakebeds of southern California. These young mechanics, who would later use their mechanical skills to serve in the military during WWII, unintentionally founded a cultural movement that inspired generations of teen mechanics to tune automobile engines, and to race those vehicles in one-on-one competitions.
Drag Racing: A Passion
To find an example of one of these passionate youths, look no further than the NHRA (National Hot Rod Association), an organization established by Wally Parks in 1951 as a way to provide racers with legal and safe locations to race. Wally himself attended the early California teenage racing scene in the 1930s. In 1949 he worked to establish "Speed Week" at the Benneville Salt Flats - the first time racers drove against a stopwatch.
Parks also later became editor of hot rod magazine. The path of Wally Parks life is a reflection of the passion that is shared among all enthusiasts who follow the sport, and who generally are the collectors of memorabilia.
Famous Drag Racers
For most collectors, some of the most valuable memorabilia are items that identify the life and career of some of the early racers of the movement. A few examples of these early racers include:
"Dyno Don" Nicholson: Nicholson started racing on the dry lakebeds of El Mirage California in the late 1940s and went on to drag race for the next sixty years.
Gene Mooneyham: Gene was a successful drag racer with a career that ran through the earliest days of the sport in the 1950s and 1960s.
Arnie "the Farmer" Beswick: The most well known Pontiac drag racer in the world, Arnie utilized a series of modified Pontiac models during his career throughout the late 50's and early 60s. He quickly became known as "Mr. Pontiac."
Leo Payne: A leading drag racer from the 1950s through the 1970s, Leo was the first to top 200 mph at the Bonneville Salt Flats in 1969.
Shirley Muldowney: Nicknamed the Queen of Drag Racing, Shirley Muldowney was the most famous female drag racer of the 60s and 70s. She later became the first three-time Top Fuel world champion.
The Value of Drag Racing Memorabilia
Since the sport of stretches through so many decades, memorabilia available to collectors is vast. There are entire categories of memorabilia based on specific niches such as driver, car make, or region of the country. Below are a few examples of some of the most valuable memorabilia recently sold on Ebay.
Diecast Models:
A 1:24th scale 1998 Mustang Funny Car Diecast Model sold on May 15th, 2008. This is a replica diecast model of the car driven by Whit Bazemore. It is an official NHRA licensed product with a limited production quantity of 9500 models.
Price: $56.00
Magazines and Periodicals:
A lot of 10 Drag Racing USA magazines spanning from 1969 through 1972 sold on May 11th, 2008. These represent the years when the drag racing sport was spiking in popularity and many of the most famous drivers were racing.Price: $45.99
Unique Drag Racing Items
Some of the most valuable are those functional items from the earliest days of the sport. For example, a vintage pair of Simpson nitro drag racing hood goggles sold on May 21st, 2008. The goggles themselves are not in perfect condition, and even one of the lenses is cracked. However, the uniqueness and rarity of the goggles increased their value tremendously.Price: $394.99
Successfully Collecting Memorabilia
Even today, most collectors are mechanics or car enthusiasts who follow the sport for many years. They are also typically part of the "hot rodding" culture themselves. However, anyone can start collecting valuable memorabilia if they know what characteristics to look for in these vintage items such as the age of the item, the location where it originated, and whether it is connected to any of the famous early drag racers.
Any collector interested in getting started in this genre of memorabilia should invest in both a collector's guide as well as a book that outlines the history of the sport. Having both sources of information at your fingertips, you can easily succeed at obtaining some of the most highly collectible drag racing items from any local yard sale, estate sale, or auction.