Price Guide to Antique Tools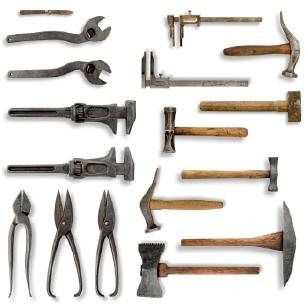 Experienced antique tool collectors know that having a price guide to antique tools is a valuable resource when adding pieces to their collections. They also know that a price guide is just as important when selling their tools regardless of the venue.
Antique Tool Price Guides: An Important Resource
Antique tool collectors know the importance of having a reliable and current price guide. This is the book they rely on for guidance while searching through antique shops, flea markets and garage sales. It often accompanies them to auction houses and rests on their desks as they browse auction websites.
Newcomers to the world of antiquing may wonder what makes antique price guides so important to antique buyers and sellers. The importance lies in the information found in antique price and identification guides. Most antique price guides provide a range value of an antique or collectible.
Knowing the current retail value range of an antique tool allows the buyer to make an informed decision regarding purchase price. It also gives the seller a chance to price the tool fairly. Tool price guides generally include values for tools in various conditions ranging from excellent to poor.
Most antique tool price guides provide illustrations or photographs of many items. Detailed descriptions are also given to assist in identifying tools.
Depending on the individual price guide, some or all, of the following information may also be included.

Information on well known tool companies such as Stanley, Disston Saws or L. Bailey Victor Tool Company
Charts and tables such as patent dates or company logos
Information on how to tell a copy, reproductions or counterfeit item
Popular Antique Tool Price Guides
The following are a few of the excellent antique tool price guides available.
A Price Guide to Antique Tools - fourth edition by Herbert P. Kean is a comprehensive guide to antique tool values. The prices provided in Mr. Kean's book are determined by factoring in sales of live and internet auctions, private sales and general market trends. With more than 12,000 prices, tools of all kinds, from flea market finds to rare tools, are included. Special features include:

An illustration, line drawing or photograph of almost every tool found in the book
A chapter on American wooden planes from more than 400 makers that includes a simplified grading system.
Simplified explanations of how to judge a tool's condition for each group of tools

With more than 56 antique tool categories, Antique Tool Collectors Guide to Value by Ronald S. Barlow is an excellent reference book for antique tool collectors.
Antique Trader Tools Price Guide by Clarence Blanchard includes over 700 color photographs. Tools covered in this book range from the later part of the 18th century to the mid 20th century.
The Stanley Little Big Book - Comprehensive Pocket Price Guide for Stanley Planes and The Stanley Little Big Book - Comprehensive Pocket Price Guide for Rules & Other Stanley Tools are both offered at The Fine Tool Journal.
The Catalogue of Antique Tools by Martin J. Donnelly
Additional Resources for Locating a Price Guide to Antique Tools
There are several websites that provide free antique price guides for tools that are antique or collectible.
---
A current price guide to antique tools is one resource that every collector should utilize. .