A touchstone of life in the 1980s, Ronald Reagan's Hollywood and presidential career left a lasting cultural impact that's easily seen through all of the memorabilia that's made its way into the 21st century. In fact, with such a politically and culturally active lifestyle, there's a ton of Ronald Reagan memorabilia for modern collectors to find and enjoy.
Ronald Reagan: Actor and President
Ronald Reagan had an impressive career which spanned over 50 years and began when he became a sports announcer in Des Moines, Iowa in 1933. In 1937, he filmed his first picture for Warner Brothers, Love is on the Air. This was just the beginning of his Hollywood career and adulthood, but soon into his middle age, he had aspirations for political office.
In 1967, Ronald Reagan was inaugurated as Governor of California and in 1980, he was elected as the 40th President of the United States by an incredible majority. Throughout his career, Ronald Reagan has had more than 60 streets, schools, libraries, hospitals, and other places of interest named after him; a tribute to a cultural icon. With his seemingly inescapable presence in the second half of the 20th century, it's no wonder that Ronald Reagan memorabilia has become a popular collectible among certain collectors.
Ronald Reagan Memorabilia That Collectors Look For
All past presidents have a cult following - some more so than others--and presidential collectors love nothing more than snatching up memorabilia related to their icons. Given his Hollywood history, it's no surprise that Ronald Reagan would cultivate a public persona that survived long after his death.
Autographed Memorabilia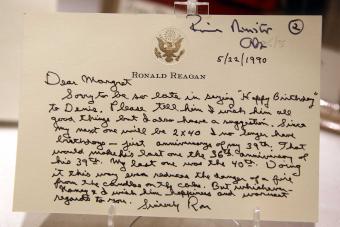 For fans of the 40th President of the United States, the most valuable memorabilia is something signed by him. This is especially true considering that he's been dead since 2004 and hasn't signed anything new since then, and people with an affinity for presidential items are willing to pay thousands of dollars for things with his signature. For example, one copy of The Diaries of Ronald Reagan that Regan himself signed is listed on his foundation's website for $4,000. Given his notoriety, you can find all sorts of things with his signature on them, including items like:
Hats
Posters
Books
Prints
Shirts
When it comes to autographed memorabilia, it's very important that you only purchase items that've been authenticated by a professional organization, since presidential autographs are notoriously counterfeited. For the highest quality verification, you should look for certifications from PSA's authentication and grading services. They're the leading authentication service in the world, and a ton of auctions will use them to verify their autographed items before putting them to sale. In fact, according to their website, typed documents with Ronald Reagan's written signature during his presidency are worth about $2,000 and an autographed letter written entirely in his own hand during his presidency is worth about $6,000. Thus, autographs from the incumbency are worth the most out of all of the signatures signed in his lifetime, and PSA or other authentication companies will be able to give you an accurate assessment of their value(s).
However, given the nature of leading a major nation, it's common practice for presidents to have their signatures stamped by people in their office or signed by a secretary who learned how to copy their signature. Unfortunately, there's no definitive way to know if a signature was signed by autopen or someone imitating it for them, so it's best to always refer to an authentication service before buying or selling any presidential autographs.
Collectible Campaign Items
Ronald Reagan's political campaign was a major shift in popular culture, and the ramifications of its famous television ad and slogan helped catapult it into the American consciousness. Given another president's invocation of Reagan's famous phrase in a 21st century election, it's unsurprising that memorabilia relating to the campaign that inspired it would increase in value. On the whole, memorabilia relating to his campaign is actually pretty cheap--perhaps hinting at the fact that people kept a lot of it during his race and are now reselling or that his campaign committee made an abundance of merch.
Either way, you can pick up a bunch of his campaign items for pretty low prices, somewhere between $5-$25, such as these that've recently come to auction:
Items From His Acting Career
As it's often mentioned, Ronald Reagan had a lucrative acting career during the 1940s and 1950s, starring alongside such talents as Olivia DeHavilland. Thus, hardcore Reagan collectors take great joy in finding items from his many Western films of this period. Although Ronald Reagan was an active actor during the Golden Age of Hollywood and appeared in dozens of Hollywood westerns, he wasn't the household name that many other actors were. Due to this, there isn't as much memorabilia from his acting career as those of other Hollywood alum. Despite this lack of memorabilia, the things that are available aren't particularly expensive to purchase:
However, when his autograph comes into the mix, the prices go up significantly. Take this certified autographed fan letter from 1946 that recently sold for $150, for example.
Places to Find Reagan Memorabilia for Sale
Given the digitally integrated buying experiences of today, most Ronald Reagan memorabilia can be found online. Here are a few of the places with the most varied assortments Ronald Reagan collectibles for sale:
Lori Ferber Collectibles - Lori Ferber Collectibles is a lovely site focusing on presidential memorabilia that and features such items as Ronald Reagan Inaugural Ball tickets, 1980 Republican Convention key chains, and much more. You'll also find an informative page of presidential trivia as well as books on presidential memorabilia on the website.
Etsy - Etsy is a hopping place for all sorts of Reagan memorabilia, from the supportive to the mocking, meaning that whether you have positive or negative feelings about the ex-President, you can find something to suit your fancy there.
eBay - By far, eBay has some of the largest collections of assorted Reagan memorabilia, ranging from autographed items to assorted paper ephemera relating to the Reagan administration.
When it comes to selling Ronald Reagan memorabilia, keep in mind that there's not a huge collectors' market, nor do many of the items sell for substantial amounts. Thus, you shouldn't expect your buttons, hats, and books to rake in thousands of dollars at auction. However, anything with a (verified) signature is worth having an appraiser look at, as it might be a smart idea to place it in an auction house rather than on online auction websites.
Ronald Reagan Memorabilia Collections to Visit
There are a great many places to view public collections of Reagan's memorabilia, on top of the many places there are to purchase items to begin or expand your own collection. With so many locations named after Ronald Reagan, you may like to visit a few and view the public collections for yourself. Here are a few to try:
Ronald Reagan Presidential Library
Located in Simi Valley, California, the Ronald Reagan Presidential Library is open seven days a week with the exceptions of Thanksgiving Day, Christmas Day, and New Years Day. At the library, you can see 50 million pages of presidential documents, over one and a half million photos as well as thousands of audio and video tapes.
Permanent galleries that you can visit include:
Berlin Wall
Air Force One
Oval Office
M-1 Abrams Tank
F-14 Tomcat
F-117 Nighthawk Stealth Fighter
Marine One
Gold star Families Memorial Monument
In addition, there are several temporary exhibits and a museum shop where you can find commemorative items to add to your collection.
Ronald Reagan Boyhood Home
Historians and collectors alike will enjoy a visit to the Ronald Reagan's boyhood home. Located in Dixon, Illinois, Reagan called the now completely restored house home from age nine to 12. Belonging to the National Register of Historic Places, the charming building also has a visitor center, a gift shop, and space to relax at Reagan Memorial Park. Hours of operation vary throughout the year. Visit the website for complete information.
The Ronald Reagan Trail
While you're in Illinois, take a trip on the Ronald Reagan Trail. This self-guided tour begins in Tampico, where Ronald was born. There's also a small museum there for you to visit. The trail goes through 12 cities that each made a contribution to the life of the president.
When Reagan Memorabilia Trickles Down Into Your Collections
Many collectors love having items that are directly or indirected connected to famous people such as Madonna, Lucille Ball, or even the Beatles; but those with either a sense of humor or a fascination with past presidents will enjoy collecting the wealth of Ronald Reagan memorabilia out there.