Unlike some other deep-cut players from the Baseball Hall of Fame, Shoeless Joe Jackson is well-known by non-baseball fans not for his baseball career but for the devious scandal which cost his team the World Series. Thanks to this debatable criminal connection, Shoeless Joe Jackson baseball memorabilia and collectibles are a hot commodity among sports collectors. Banned from playing professional baseball after 1921, memorabilia related to his short run in the majors makes for an incredible find.
Baseball Gets Scandalous in 1919
In the aftermath of the 1919 World Series, Shoeless Joe Jackson and seven other Chicago White Sox players were accused of fixing the game so that their team would lose the World Series and gamblers heavily invested in the outcome would have substantial payoffs in what would come to be known as the Black Sox Scandal. Even though the team members were acquitted in a public trial in 1921, the organized baseball commissioner ruled that each of them was banned from playing the game professionally for life. Many of the members engaged in civil suits against the White Sox team, though Jackson's was the only to go to trial. Nevertheless, Jackson was unable to play baseball again, and would not outlive the public scrutiny over his supposed involvement in the racketeering initiative. Despite never being allowed to be nominated for the Baseball Hall of Fame, Joe Jackson's infamy for his involvement in the scandal lives on, perhaps more significant than most other pro-ball players' fame does for their actual performances on the field.
Shoeless Joe Jackson's Impressive Career
Prior to the Black Sox Scandal, Shoeless Joe Jackson was well-known for his impressive performance on the field. Jackson held, and still holds, several Major League Baseball records. Some of his accomplishments include:
Being named 33rd on the all-time list for non-pitchers
Holding the White Sox record for the most triples in a season
Holding the White Sox record for career batting average
Having a .408 average in 1911 - the highest average for a rookie that year
Being nominated as a finalist for the Major League Baseball All-Century Team
Shoeless Joe Jackson Collectibles
Joe Jackson played for three different teams during his short career: the Philadelphia Athletics (1908-09), the Cleveland Naps (1910-1915), and the Chicago White Sox (1915-1920). You can find various items connected to his time with all three of these teams in auctions across the internet, with items related to the White Sox and the Black Sox Scandal having the greatest amount of collector interest. Among the rarest of these collectibles are:
Black Betsy Bat
In 2001, it was reported that Jackson's famous 1919 in-game bat, "Black Betsy," sold in an eBay auction for a record-breaking $577, 000 to a private collector. Made of hickory and weighing 40+ ounces, this bat remains to be the most valuable collectible connected to Joe Jackson and his estate ever sold at auction.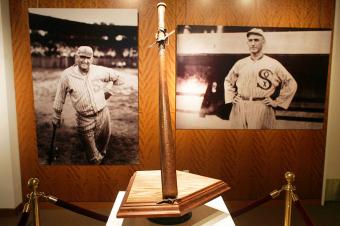 Joe's Glove
Shoeless Joe's glove was deemed "the place where triples go to die." Next to Black Betsy, one of Jackson's gloves would be extremely valuable. Although there was some controversy in the mid-2000s over a supposed endorsed and stamped glove of Jackson's being listed on eBay for nearly $10,000, it was quickly proven to be a fake. However, if one were to appear and come to market, it would fetch a similarly impressive amount of money as well.
Bobblehead Dolls
A perennial favorite, the bobblehead dolls or nodders, is a great first-time investment for both serious and casual collectors. These items are usually inexpensive, and they're often given away at special games at your local MLB baseball field. Shoeless Joe collectible dolls feature Joe in various uniforms, most frequently in the Brandon Mill and White Sox outfits. Intriguingly, these kids' toys can sell for impressive amounts of money. Many early 2000s editions can sell for $100-$200, such as this Nodders bobblehead that's listed for $100.
Baseball Cards
Some of the most coveted items in baseball collecting are rare baseball cards. One of the most expensive items to acquire is the 1919 Joe Jackson baseball card. Expect to pay several thousand dollars for this Shoeless Joe Jackson collectible if you can even find one. Joe's 1909 Rookie card is also incredibly valuable, with estimates reaching the $600,000 mark, and is a great find for any collector who has the finances to add one to their collection.
Photographs and Posters
Photos of the baseball greats are always collectible items since they let you get a glimpse of the person behind the famous facade. Finding original photos, especially signed ones, is a difficult thing to do, particularly if you're trying to find them in the wild somewhere. If you're actively looking for some of these, then official auction houses like Sotheby's and online retailers like eBay are good places to find authentic and certified signed items. Reprints are also collectible, though considerably less expensive and have a low resale value. Favorite photos include Joe and Ty Cobb posing holding their bats, Babe Ruth and Joe, and the 1919 White Sox team picture. In fact, thanks to Jackson's illiteracy, finding anything with his signature on it is rather unusual. Most recently, a signed photograph of Jackson sold to an anonymous buyer for $179,000.
Collector Plates and Mugs
An easy and inexpensive way to start a Shoeless Joe Jackson collection is to purchase collector plates and mugs. These items retail for under $30.00 and have various photos or pictures on them, illustrating some of Jackson's most illustrious career moments. One such popular plate you might find in a local thrift store is a plate depicting Jackson in the outfield printed in the 1990s.
Newspapers
No Shoeless Joe Jackson baseball memorabilia and collectibles set would be complete without an original, or at the very least, a copy of the Chicago newspaper with the White Sox scandal in it. Currently, one of these prints is listed on eBay for $475. Another newspaper that a serious collector would be interested in is an issue that features Jackson's 1915 trade to the White Sox.
Shoeless Joe Jackson Gets His Fifteen Minutes On TV
Even in death, Joe Jackson can't avoid having his name attached to a scandal of some kind. In the early 2010s, the members of the infamous pawn and loan shop featured on the History Channel's Pawn Stars series chose to purchase a book with Jackson's signature printed inside. Of course, Jackson's illiteracy did raise some concerns, but the staff overlooked those and invested $13,000 in the book anyway. Unfortunately, much like the Black Sox Scandal, this was a gamble that didn't pay off. After being sent to two different professionals for authentication, the signature was deemed a forgery.
Hit a Home Run With These Collectibles
As with any new collection, you should start with finding the things that you enjoy the most, and if you're a baseball fan of any kind, you should look forward to working your way up to adding a piece of Shoeless Joe Jackson memorabilia to your things. Thanks to his infamous career-ending exploits, finding any real Jackson memorabilia is like hitting a grand slam for a serious collector. If you practice hard enough, that collector might be you some day.