Antique Cookie Jar Pictures
1930s Antique Cookie Jar
Antique cookie jars as they exist today began to be manufactured in the late 1920s. These early cookie jars were often created from bean jars and other molds and then decorated.
Cookie jars are a hot collectible, adding color and nostalgic charm to any kitchen.
Hopalong Cassidy Cookie Corral
Hopalong Cassidy was a popular character and this Hopalong Cassidy Cookie Corral jar, circa 1950s, is very desirable to collectors.
It has a heavily raised design and a decal of Hopalong Cassidy. It is considered rare.
Turnabout Bear
There were several different Turnabout designs made. This Turnabout Bear has a boy bear's face on one side and a girl bear's face on the other. The boy is wearing pants and the girl is wearing a dress.
Turnabouts were manufactured by McCoy Pottery and used a cold paint method. Sadly, the paint was not durable and few have much paint left at all.
Carved Wood Cookie Jar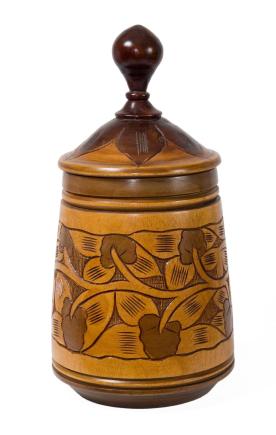 This hand carved antique cookie jar is a beautiful example of wood carving. It is in wonderful condition. Artisan is unknown.
Lefton Cookie Jar
Lefton did a series of cookie jars and other accessories that were named, "Hat Lady" and "Dainty Miss". These are sometimes mistaken for Hull items but they do not have the more refined features of the Hull characters.
Hull Little Red Riding Hood
Hull manufactured this popular Red Riding Hood cookie jar. You can see how the basic features and paint differs from the Lefton figural jars.
Roseville Pottery Cookie Jar
Roseville Pottery manufactured this Hey Diddle Diddle themed cookie jar in 1955. In the mid 1950s fairy tale and nursery themes were very popular. Collecting antique cookie jars is an enjoyable hobby for many people. These beautiful cookie jars are actually works of art.
Special thanks to Anne Trodella of Skinner, Inc who provided the images of the Turnabout Bear and the Hopalong Cassidy Cookie Corral.