Vintage Higgins Glass is a functional and beautiful expression of modernist art. The movement stressed freedom of expression, experimentation, and an often radical departure from--and rejection of--the traditional. Within the visual arts, color and shape were no longer merely for the depiction of nature but rather were seen as essential elements in their own right, and Higgins glass certainly figures prominently within this movement. With its high level of practicality and a visual aesthetics reminiscent of Kandinsky, Mondrian, and Malevich at the height of their respective careers, the glass art of Michael and Francis Higgins remains highly sought after by both museums and private collectors all over the world.
Modern Miracles With Everyday Glass
That was how Michael and Francis Higgins saw their work when they founded The Higgins Studio in 1948 in their apartment in Chicago, Illinois. Under the couple's combined brilliance, the two rediscovered and refined the ancient art of glass fusing. Essentially, glass fusing involves a process where a design is created on an enamel coated piece of glass. This glass is then covered by a second piece of enameled glass. The two pieces of this "glass sandwich" are then set upon a mold and heated. As the temperature increases, the glass drops into the mold, taking on its shape while the design is fused between to two outer pieces of glass. For added complexity in color and texture, additional pieces of glass can be added.
Ashtrays, bowls, plates--all sorts of everyday items--took on a new life in the kilns behind the Higgins' sofa. There was a dazzling array of geometric shapes and curved lines in those designs, and their use of color was bold and vibrant. This mixture of art and practicality soon led to orders, not only from individual buyers but from major retailers as well, such as Marshall Field and Co.
Hitting the Big Time
Almost a decade after starting work, Michael and Francis entered into a partnership with the Dearborn Glass Company. This allowed them to move their operation out of their apartment and into a more traditional setting. It also gave them nationwide exposure through Dearborn's marketing of their line of "Higginsware," which primarily included: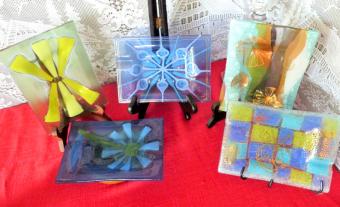 A full range of tableware
Lamps
Ashtrays
Rondelays
Candle holders
In addition to these, the Higgins Studio also created clocks, bookends, paperweights, glass-topped ceramic dishes, tables, Christmas ornaments, jewelry, "dropout" vases, wall plaques, mobiles, free-standing sculptures, mirrors, church windows, room dividers, and even exterior building ornamentation.
1966 saw a break between Dearborn and the Higgins Studio. The Higgins worked briefly with Haeger Potteries but soon decided to return to private studio work where they were free to create in their own way and at their own pace. So in 1966, the Higgins Glass Studio relocated to Riverside, Illinois, where it continues its work today under the ownership of longtime Higgins protégés, Louise and Jonathan Wimmer.
Popular Patterns to Collect
Known for its bright colors and swirling designs, Higginsware is groovy at the worst of times and totally far out at the best. Unlike traditional glassware, Higgins products don't often have easily discernable patterns, but they're all unique unto themselves. These are some popular patterns of Higginsware that you can find printed onto all sorts of vibrant pieces.
Arabesque - The arabesque pattern is known for its paisley-style print made up of a lime green background and blue and orange swirling motifs. Orange dots peek through open spaces in the design.
Birds - Higgins' iconic birds pattern shows two brightly colored angular birds resting on brassy branches and sitting under a bright yellow sun.
Bird Cages - Similar to the birds pattern, birdcages feature a serious of multicolored birds of different shapes and sizes locked away in golden cartoon bird cages.
Gemspread - Gemspread pieces were created using a unique technique created by Higgins which involved designs being made out of small colored glass chips being added to the piece. Take this large Higgins server with a yellow gemspread sun from 1965, for example.
Rondelay - Before beaded curtains became all the rage of the 1990s, Michael and Frances Higgins were designing beautiful glass hanging screens. These rondelay pieces, comprised of colorful glass circles, were connected with copper rings and hung in long lines from the ceiling.
Stardust - Starbursts were incredibly popular during the Atomic era, and the Higgins couple brought this inspiration into their workshop with their own stardust pattern. Triangular rays spread out from the circular center of these glass pieces, and various colors highlight the ray's movements.
Peacock - Spin art was taken to a new level with Higgins peacock patterned glassware. These pieces feature multicolored streams of glass carefully cast from the center of the piece towards the ends, creating a peacock-esque feathered quality.
A Piece for Every Taste (and Every Wallet!)
The Higgins Studio was nothing if not prolific. That means that there are pieces available today for almost everyone and in almost every price range. Of course, some are extraordinarily rare and very valuable, but for the most part, you can feasibly own a piece or two without breaking the bank. Generally, these valuable pieces can be found in the collections of the Smithsonian Institution, the Metropolitan Museum of Art, and the Corning Glass Museum.
Yet, there are still many pieces out there from their days with the Dearborn Glass Company that can be found online, at retailers and at modernist collectible shows and online auctions. With a little work, you can still find the perfect Higgins piece for you.
Vintage Higgins Glass in Your Home
Higgins put a great premium on practicality, and their pieces can certainly still be used for their originally intended purpose. However, sometimes you have to look past the customary use of these items to find a place for it in your home's decor. An oversized vintage ashtray, for example, could make a great chip bowl while a cigarette box can be turned to all sorts of other things such as candy dishes, change bowls, or even a statement piece set on your dresser vanity. The key thing to remember is that whatever use you find for your vintage Higgins glass piece, whether it's the piece's original use or something new that you come up with, you'll be making a striking addition to your home's decor.