12 Vintage Holiday Decorations to Use This Christmas
Vintage Holiday Decorations for the Modern Home
If you love the charm of vintage holiday decorations, you're in luck. These festive classics are perfect for adding a beautiful nostalgic touch to your celebrations this year. Find out where to find them and how to make them work in today's home.
Beautiful Vintage Artificial Trees
Today's artificial trees often look very much like their real counterparts, but that wasn't always true. Vintage fake trees came in beautiful shades of pink, silver, lime, green, baby blue, and more. These can add a fun pop of color to your holiday decor. You can find artificial trees from the 1950s and 1960s on eBay and in vintage shops.
Classic Car Ornaments
If you love classic cars, you can bring the fun of vintage cars into your holiday decorations. Look on sites like Etsy and eBay for vintage car ornaments, or you can buy modern reproductions. Either way, you'll love this look.
Handmade Kit Ornaments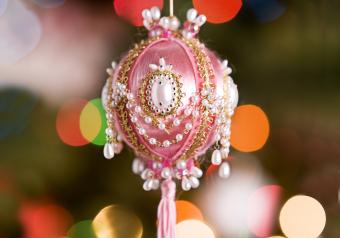 In the 1960s and 1970s, making your own beaded Christmas ornaments from a kit was a fun and creative way to celebrate. You can buy a vintage ornament kit on eBay or at a thrift store, where they often sell for about $15. Alternatively, you can find completed ornaments from the era at many second-hand stores during the holidays.
Collectible Santa Mugs
If you love hot cocoa or want to display some festive mugs on a kitchen shelf or sideboard, vintage Santa mugs are a great option. These were made by the thousands in the 1950s - 1980s, so they are easy to find on auction sites and in shops. They're affordable too, often selling for under $10 each. Look for the charming "winking Santa," who has one eye closed!
Antique Cookie Cutters
You can find adorable, vintage cookie cutters at any antique shop. For a unique and playful holiday decoration, string them up with red ribbon to make a garland. You can put it on the tree, hang it in the kitchen window, or use it to add vintage charm anywhere else in your home.
Bottle Brush Trees and Figurines
Make a forest of 1950s-era bottle brush trees for a charming centerpiece or tabletop decoration. Add in figurines like elves, reindeer, and Santa to make the collection even more festive. You can find these little items at flea markets, antique stores, and more.
Pink Vintage Ornaments
The tree isn't the only place you can hang ornaments. Suspend beautiful vintage pink examples from white ribbons in your kitchen window or over a mantel. This is a great way to display your grandmother's beautiful treasures or the ones you picked up at the antique store.
Advent Calendars From the Past
Vintage advent calendars are a wonderful, interactive way to show off your holiday spirit. Hang them on the wall, use them as a centerpiece, or display them on the mantel. These aren't as easy to find as other holiday collectibles, but you'll see them if you keep an eye out at your favorite vintage store.
Antique Sled Decoration
Pick up a vintage or antique sled to use as an outdoor decoration this year. It doesn't matter if it's in rough shape; just attach some evergreen boughs and ribbons, and you'll have a vintage outdoor statement piece.
Vintage Nativity Set
Vintage nativity sets, featuring figures of the Holy Family, shepherds, farm animals, and more, were once a common way to decorate for the holidays. Today, you can find these sets in second hand stores. Even if they are in rough condition, they make a charming decoration on any surface.
Bubble Lights and C9 Bulbs
Run a strand of traditional electric Christmas lights in addition to energy-saving LEDs. Then you can use vintage C9 bulbs with glitter and pretty designs, as well as beautiful bubble lights. You'll love the warm glow! Just keep safety in mind and remember to unplug the lights when you aren't home.
Vintage Winter Sports Gear
Put old skis, snowshoes, and skates to good use by turning them into a door decoration. Look for inexpensive gear that may be worn or no longer useable, and transform it into a vintage decoration by adding pine boughs, ribbons, glitter, pinecones, and other decorations.