Most vintage milk glass baskets found today were manufactured in the 1950s and 1960s. Although some were made in the mid-1800s or even earlier, their age makes them difficult to find. Mid-20th century versions were made by several different companies in a number of different designs. These items are increasingly sought after for collections.
About Milk Glass: Identification and History
Milk glass is an opaque, white glass that was became popular in the early half of the 1800s to stand in for porcelain dinnerware. It was inexpensive to make using a pressed glass technique and soon became so popular that milk glass was being used for everything from hair receivers to salve jars.
Old vs. New Milk Glass
You can learn to identify milk glass as you shop for antiques. The earliest pieces used iridized salts as an ingredient. These can be identified by the opalescence and delicate, fiery glow around the edged of the pieces. These early examples of milk glass have a distinctive look and can't be reproduced. The collector with some experience will be able to instantly spot the difference between 1850 and 1950 milk glass.
Milk Glass Colors and Shapes
The popularity of milk glass grew throughout the Victorian era and well into the 1900s, finally dropping out in the early 1980s, nearly 140 years after it was first released. During that time, milk glass was made into a variety of shapes and colors. While there are several colors, all of them will be opaque and milky. Some of the colors of milk glass are:
Pink
Blue
Green
Black (Victorian and rare)
Companies reused molds for decades, so it can be difficult for the novice collector to determine the differences between antique and vintage milk glass. A cookie jar that was made in the 1950s will look different from one that was made in 1902.
Companies that Produced Milk Glass Baskets
During the 1950s and 1960s, milk glass baskets were found in almost every home. These are a few of the companies that produced them.
Fenton
Fenton Art Glass Company produced several vintage milk glass basket designs. Items that are recognizably Fenton but have no logo are generally considered to be produced prior to 1970.
Among them are the following:
Daisy and Button crossed handle basket is on a scalloped pedestal with scalloped edges.
Silvercrest basket has a clear handle and a ruffled edge.
Silvercrest Spanish Lace has a raised lace design all over it.
Hobnail basket has a ruffled edge and hobnail design.
Plumcrest has a plum colored edge and handle.
The Hobnail Moses basket has a pattern of raised bumps.
Westmoreland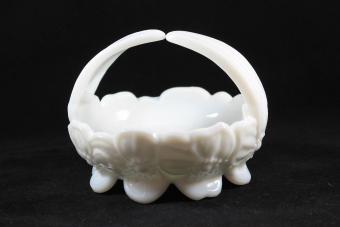 Westmoreland Glass Company was founded in 1899 and produced a variety of glass products, including vintage milk glass baskets, until 1984. Among the designs are these notable examples:
Paneled Grape pattern features a split handle and scalloped edges.
Paneled Grape with Painted Rosebuds has hand-painted details.
The Tall Paneled Grape design has a strong vertical element to the panels.
Rose and Trellis has a delicate design featuring flowers.
English Hobnail is a special pattern featuring diamond-shaped hobnails.
Hen on Nest is a covered basket with a chicken on a nest.
Other Companies
There were hundreds of other companies that produced these baskets. Some can be identified, and some cannot. Some of the companies that produced baskets included the following:
Fostoria
Imperial
Jeanette
Kanawha
Kemple
LE Smith
McKee
Morgantown
Evaluating a Vintage Milk Glass Basket
Like all antique and vintage items, milk glass is evaluated on several levels. Investing in a good milk glass collectibles reference guide will help you to identify the maker, age, and other specifics of the milk glass baskets you find. Milk glass baskets range in value from around $10 for a common example from the 1960s to over $100 for very old baskets or those with special details. There are several factors that can affect the value of milk glass baskets.
Condition
You should gently run the tip of your finger over the milk glass basket. Try to feel for any rough spots, chips, or cracks. These will bring the value of your basket down. Staining, yellowing, or other marring to the object will make it less desirable to the collector.
Age
It is difficult to tell how old some of the milk glass baskets are. Companies often reused molds for decades. Look for color differences that might indicate that iridized salts were used in production.
Provenance
Provenance simply refers to the story behind the object that might set it apart from the rest. Was it owned by Eleanor Roosevelt? If so, it will sell for much more than it would have if your grandmother owned it.
When buying an object that is marked up due to unusual provenance, be sure to get a Certificate of Authenticity. This is an official certificate that states the object is as it is represented.
Desirability
Value will depend on how much a collector wants what you have. This can change from area to area. In one part of the country, Fenton Spanish Lace might be very rare and collectible, driving the price up much higher than in other areas. Some baskets have beautiful hand-painted details that can make them more desirable.
Rarity
Vintage milk glass will command a higher price if is rare because not many were made or because of age. Expect a lower price if the pattern was so popular millions were made and thousands are still in existence.
Still Useful as Decorative Objects
Vintage milk glass baskets are fantastic collectibles as well as decorative objects. They can be used for candy dishes, potpourri baskets, and even to hold jelly on the breakfast table. They are sturdy and will last for decades with proper care.