China collectors are interested in vintage Wedgwood china, not only for the beauty of the pieces but for the opportunity for investment. Learn how to identify Wedgwood china patterns and find out how to tell if your china might be valuable.
A History of Wedgwood
The story of Wedgwood china is fascinating, and it will give you a greater appreciation for the many lovely designs. Josiah Wedgwood was born into a family of potters in 1730, and by the time he was six years old, he was apprenticed. He learned his craft well, and as an adult he began experimenting with different formulas for porcelain and had made several technological advances in the process of design transfer. His abilities got him noticed, and in 1765 he made a complete set of dishes for Queen Charlotte. His business grew rapidly with the notoriety from his claims of being the potter to the Queen.
When Josiah Wedgwood died in 1795, he left his business to his sons. They were uninterested in running it, and over the next century, although the china manufactured was of the highest quality, the business struggled. In the early 20th century the company began to flourish, and in 1966 the stocks were introduced to the London Stock Exchange when the company went public.
Identifying Vintage Wedgwood China
Wedgwood china is a relatively easy china to identify because the company has almost always marked their designs. These tips will help you identify it.
Look for the Wedgwood Mark
Almost all Wedgwood is stamped, although there have been several different stamps over the more than 250-year period. Wedgwood almost always has a makers mark with a signature rather than just a symbol. It will normally say one of the following:
Wedgwood England
Wedgwood, Made in England
Wedgwood of Etruria & Barlaston
It may also have an urn with the word "Wedgwood" underneath it. The urn is the only image depicted in the Wedgwood markings.
Learn to Read the Date Stamp
After 1860, Wedgwood began to use a three-letter stamp to indicate the date the piece was manufactured. The first letter stands for the month, the second for the potter, and the third for the year. However, understanding how this works can be a challenge. This table can help.
| Month | Letter Code |
| --- | --- |
| January | J |
| February | F |
| March | M (1860-1863), R (1864 and after) |
| April | A |
| May | Y (1860-1863), M (1864 and after) |
| June | T |
| July | V (1860-1863), L (1864 and after) |
| August | W |
| September | S |
| October | O |
| November | N |
| December | D |
The year codes begin with 1860 and O and continue on until Z in 1871. At that point, the letter code begins again with A in 1872. This means some letters are used for more than one year.
Finding Your Wedgewood Pattern
Once you know the date of the piece, you can work on identifying the pattern. Wedgwood made dozens of china patterns over the more than two centuries the company has been in existence. For Wedgwood patterns after 1962, you can often find the pattern name printed on the back of the piece. For others, it's a good idea to consult a pattern book with every pattern listed, such as Wedgwood: A Collector's Guide by Peter Williams. You can also check to see if you have any of the following popular and valuable patterns.
Jasperware
Developed by Josiah Wedgwood in the 1770s, this beautiful pattern has a matte base layer with raised, usually white, decorations. The base layer is often light blue, but it can also be green, black, dark blue, yellow, and other shades.
Queen's Ware
Patterned after the tea set Josiah Wedgwood made for Queen Charlotte in 1765, Queen's Ware is another very popular pattern. It's a lustrous and elegant cream-on-cream design that is a classic choice.
Fairyland Lustre
Susannah Margaretta "Daisy" Makeig-Jones was a designer who worked for Wedgwood in the early part of the 20th century. She created the iconic Fairyland Lustre pattern in 1915, which features hand-painted decorations and an iridescent glaze.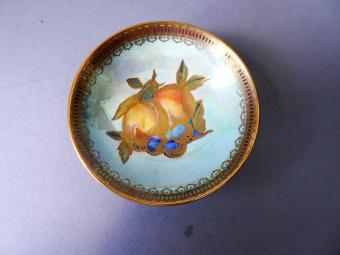 Majolica
Wedgwood majolica features nature-inspired designs, often in a tone-on-tone color scheme. Many of these were made during the late 1900s, and they often have an Art Nouveau style that is appealing to collectors.
How Much Is Wedgwood China Worth?
You can find some newer, less collectible Wedgewood pieces for under $10, but the most desirable items sell for hundreds or thousands. The value of Wedgwood china depends on several factors. Here are a few to consider.
Is It Antique or Vintage?
From a purist's point of view, antique Wedgwood china was created before 1910. Antiques are described as being at least 100 years old in most genres. Often times novice collectors will say they have an antique Wedgwood plate when they really have a vintage pattern. Vintage Wedgwood china patterns would describe any pattern that was manufactured between 1910 and 1985. It is important to note the difference because obviously an antique pattern from the early 1800s would be rarer and more costly than a vintage pattern from the 1930s.
Tableware vs. Studio Pieces
There are exceptions, but in general, studio pieces are more valuable than tableware. If it's a dinner service, tea set, or similar collection, it will still have value. However, if you have a studio piece made by an artisan, it will be worth more. Most studio pieces are numbered. Many of the Fairyland pieces are considered studio Wedgewood.
Condition
Like any fragile item, Wedgwood china is prone to breakage over the years. If you have a piece in good condition, it will be worth more than a similar piece with damage.
Wedgwood Values for Comparison
To get a sense of your piece's value, you can compare it to recently sold pieces that are similar in style and condition. This isn't as accurate as getting a professional appraisal, but it can give you some useful information. Here are a few recently sold Wedgwood pieces and their values:
Caring for a Wedgwood Collection
Wedgwood is an heirloom and will be treasured for generations. Take careful care of your collection and it will delight your children and grandchildren years to come. Here are some tips to help:
It is important to keep your china away from direct sunlight and in a protected area where it won't be accidently chipped or cracked. A glass-front cabinet will help protect your pieces and display them nicely.
If you plan on using them, always wash the dishes with a gentle soap and rinse thoroughly in warm, not hot, water. A folded tea towel in the bottom of the sink will keep your dishes from hitting against the sink and cracking. Allow them to air dry away from direct sunlight before putting them away.
You can also store your delicate pieces in soft, flannel bags. These keep them dust free and will pad and protect them from accidental chips.