Every bibliophile has fantasized about twirling around book stacks on an antique library ladder like Belle in Disney's famous film, Beauty and the Beast. While bookkeeping technology has come a long way since the 19th century, these elegant tools have lasted as fundamental pieces of the library aesthetic. Yet even though these ladders aren't easy to come by, they're now being used for unique purposes in, and outside of, the library.
You Can Thank the Victorians for Library Ladders
While the idea of using a tool to reach the top of high shelves had been around for hundreds of years, it wasn't until the mid-19th century that manufacturers began to create elaborate wooden stepping stools and ladders for library use. This allowed libraries to expand their shelves and their collections significantly, while also safely helping patrons find the specific books they were looking for. These first ladders were actually rather small, between 5' and 8' tall, and often looked more like a large stepping stool in their appearance. It wasn't until the 20th century that the iconic rolling ladder was seen as a commonplace feature on library floors. Nowadays, library ladders are still frequently employed, but they're made out of sturdier materials and have greater maneuvering capabilities than these older ladders did (like rolling around corners).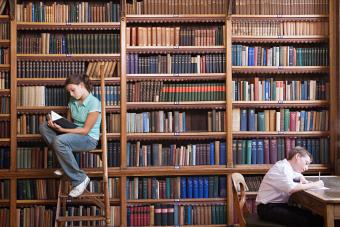 Investigating the Antique Library Ladder
Since the craftsmanship required to build the more elaborate library ladders is immense, only a few of these historic manufacturers are still in business. Alaco Ladder Company and Putnam Rolling Ladder Company are two of these talented mainstays and depending on which of these companies manufactured your antique library ladder will determine what it was made out of, how big it is, and it's type.
Types
Library ladders actually come in a wide variety of styles, ranging in size and function, with some of them even having places to rest books and handrails for safety. Here are a few of the different types of antique library ladders that were manufactured in the 19th and 20th centuries.
A-Frame Ladder - These ladders are shaped like the capital letter A, and they come in both a stationary and a rolling model.
Rolling Ladder - These ladders are equipped with wheels at the bottom of their frames to allow them to be rolled across the floor, and later to fit into preset tracks that were built into the floor's foundation.
Spiral Ladder - Spiral library ladders are ornately designed and are considered rarer by antique collectors, since most libraries used less decorative aids.
Straight Ladder - Perhaps the best-known of all the antique ladder designs is the straight ladder, which includes planks on a straight frame and is leaned forward to rest against the wall; these ladders can be rather dangerous, especially before they were designed to hook into the bookshelves in the library's stacks.
Materials
If a library ladder could be made out of a specific material, it's likely that it was made out of that material at some point in the past. Ranging from the natural to the metallurgical, here are some of the different materials that these antique library ladders were manufactured out of.
Oak
Mahogany
Cherry
Walnut
Teak
Maple
Ash
Birch
Steel
Iron
Brass
Bronze
Chrome
Pewter
Antique Library Ladder Values
Unfortunately for the library-loving, dark academic aesthetes out there, antique library ladders are neither easy to come by nor are they cheap to acquire. Since these ladders can be tens of feet tall, they're difficult to transport, and so shipping costs run particularly high for online buyers, making these purchases an impressive financial feat. For example, a late-19th century folding library ladder is listed for about $4,000 at one auction, while a unique spiral library ladder from the early 20th century sold for nearly $1,500 in another online auction. In general, these antique library ladders are evaluated between $1,000 - $7,000 depending on their size, age, and cost of materials used. However, you can sometimes find vintage library ladders that were crafted out of aluminum or cheap wood at local antique stores and thrift shops, and these are less-costly options for someone who wants a library ladder in their life but doesn't want to put their bank account in the red for one.
Incorporating Antique Library Ladders Into Everyday Life
If you happen to already have an antique library ladder in your possession, but no vast collection of old tomes to accompany it, then there are many different ways you can get real use out of it. Contemporary interior design suggests that you take these antique items and retrofit them for a modern purpose. You can turn these old library ladders into an indoor garden or a blanket, towel, and/or photo display for example. Since many of these antique library ladders were manufactured out of wood, they can easily be painted or stained to better suit your home's theme, and these rustic tools can bring the best kind of vintage feel to anyone's home.
Climbing Into the Vintage Aesthetic With Antique Library Ladders
Antique library ladders can be both intricately designed and simplistically crafted, and with the multitude of ways they can be adapted to actually contribute to modern living makes these tools a unique collectible. However, they do run on the expensive side, so you'll want to be sure to save up so that when you find your perfect antique library ladder you can immediately take it home.