Antique spinning wheel identification can seem incredibly daunting for people considering that spinning wheels look so similar to the untrained eye. Yet, if you arm yourself with the knowledge of a few simple characteristics you can better prepare yourself to investigate these charming textile machines. While spinning natural fibers into threads can be a tiresome process, understanding the origins of the antique spinning wheel covered in cobwebs in your grandmother's garage doesn't have to be.
Brief History of Spinning Wheel Technology
Spinning wheels have been used in one form or another for centuries, as their pulley-based system was the main way for humans to spin natural fibers into actually usable threads. Some important developments in the spinning wheel's history that The Spinning Wheel Sleuth notes include the addition of bobbin/flyer mechanisms in the 16th century, "which make spinning continuous and therefore faster," and the introduction of the foot-pedal in the 17th century. With the industrialization of the textile industry came the decline of widespread use of these spinning wheels, and the introduction of synthetic fibers sealed the spinning wheel's fate. However, the modern craft movement has encouraged a new generation of people to learn this textile art.
Parts of a Spinning Wheel
These are some of the most important elements you'll come across on an antique spinning wheel. The presence, or lack thereof, of these parts can be an early indication of the age and style of an antique spinning wheel.
Drive Wheel/Flywheel - The spoked wheel that extends horizontally or vertically and creates the spinning motion
Treadle/Pedal - The foot pedal at the base of the spinning wheel which, when pressed, activates the drive wheel
Flyer & Bobbin - The u-shaped part of the spinning wheel which holds a bobbin (that collects the spun threads)
Mother of All - The front panel so-to-speak of the spinning wheel which holds an adjustment knob, the flyer, bobbin, and maiden bar
Maiden Bars - The vertical bars which hold the flyer mechanism in place
Antique Spinning Wheel Identification
Here are a few different identifiers to help you better assess the age and region that an antique spinning wheel might have originated from.
Expert Advice
Unfortunately, identifying the manufacturer of an antique spinning wheel will require much more effort than a simple Google search. Antique spinning wheels were not always marked with a maker's mark, and some of these marks come from companies that have been out of production for decades or even centuries. This requires assistance from a specialist, such as Greenville, SC's own Spinning Wheel Antiques & Appraisals. Getting into contact with a spinning wheel or textile appraiser will be an important first step in dating your wheel.
Signs of Age and Use
If you're unsure whether or not your antique spinning wheel really is antique, then you can look over the spinning wheel's different parts and determine if they're uniform in nature or asymmetrical. Since production standards were not in effect when most antique spinning wheels were created, asymmetrical pieces can be an early indication of the wheel's genuine age. Similarly, you can look at parts that would be heavily manipulated like the treadle and flyer and see if there are any obvious signs of wear.
Antique Spinning Wheel Styles
If you can't find an appraiser to look over your antique spinning wheel, there are things you can assess on your own that will give you an estimation as to your antique spinning wheel's style, and when and/or where it originated from.
Saxony Spinning Wheels
These spinning wheels were the first to include a treadle and bobbins and the earliest evidence of these can be traced back to 1533.
Norwegian Spinning Wheel
Norwegian wheels bear a strong resemblance to Saxony wheels, although they include four legs and a bench frame
Charkha Wheels
Charkha, a tabletop style of spinning, is the oldest form of spinning and originated in India. This tabletop would eventually be made upright and become the conventional spinning wheel we know today.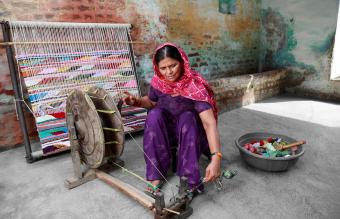 Irish Castle Wheel
Castle wheels shifted the flyer from sitting in front of the wheel to above the wheel and allowed these machines to take up less space.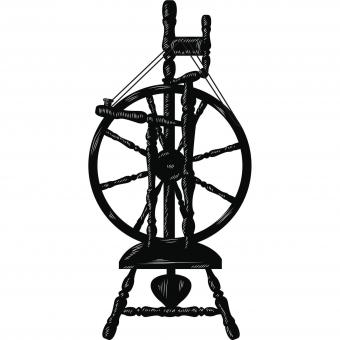 Walking Wheel/Wool Wheel
The disproportionately large-wheeled walking wheels (meant to be operated while standing) were brought to the American colonies during exploration and were used well-into the 19th century, until textile mills made the spinning process more efficient.
Spinning Jenny
These large spinning wheels from the late-18th century showcase a hand crank and multiple spools, and were an early move towards textile industrialization
Antique Spinning Wheel Values
The spinning wheel market is incredibly unique because of its nicheness, but quality antique spinning wheels can be worth a significant amount of money, in part because of how many pieces are required to make the mechanism work. One of the most expensive spinning wheels ever sold was a charkha spinning wheel presented to a supporter of Indian independence by Mahatma Gandhi which was appraised at $75,000. You can also find a plethora of antique spinning wheels and spinning wheel parts on sites like Ebay and Etsy, and most of these wheels are priced between $200-$450.
Antique Spinning Wheels and Their Uses
If you happen to find, or already own, a working antique spinning wheel then now might be the time to take up new hobby. However, if your grandmother's spinning wheel from the garage is in serious disrepair, you can always repurpose its parts to create a cottage-style wall-decoration for your home.