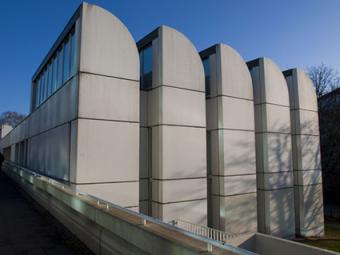 The modern design concept of form follows function is one of many key concepts developed at the German design school known as Bauhaus. Founded in Weimer in 1919, by Walter Gropius, the school embraced modern technology and the use of machinery to mass produce appealing and practical products. By uniting arts and craftsmanship with technology, Bauhaus became the most influential educational establishment in the fields of architecture, art, and design.
Revolutionary Thinking
As an architect himself, Walter Gropius brought about a new way of teaching design and engineering concepts by combining them with the fine arts of painting, sculpting and artisan crafts. Strong emphasis was placed on learning the principles of composition, color theory and craftsmanship.
Gropius' ultimate goal was unity; to create an environment in which artists could work alongside architects and designers while utilizing the new machine technology to mass produce useful, functional, attractive products.
Instruction was provided by masters of the highest skill level in numerous artistic genres. Key faculty as noted by The Art Story.org include:
Paul Klee
One of the founding members of the German expressionist movement, Der Blaue Reiter (The Blue Rider), Klee was instrumental in using abstract, expressive pictoral symbols and signs in his paintings. Klee frequently experimented with artistic techniques and expression through color.
Josef Albers
Albers was one of a handful of former Bauhaus instructors who helped bring modernism to America through his teachings at Black Mountain College and Yale University. Albers believed that color, rather than form, is the primary medium of pictoral language. Albers demontrated a vast range of visual effects achieved through color and the spatial relationship of a single geometric shape in his series of paintings titled "Homage to a Square."
Wassily Kandinsky
Kandinsky is considered one of the pioneers of abstract art, who viewed painting as a deeply spiritual experience. Kandinsky aimed to communicate a universal visual language of spirituality through abstract forms and colors.
Laszlo Moholy-Nagy
Moholy-Nagy was also instrumental in bringing Bauhaus teachings to America by establishing the Institute of Design in Chicago. He believed artists should transform into designers through specialization and experimentation with new technologies. His interest in photography encouraged the notion that an artist's perception of vision had to specialize and modernize, renouncing the classical training of perspective drawing and learning to see again through the use of a camera.
Architectural Influences
During its brief 14 year history, the Bauhaus school moved to two more cities in Germany, Dessau (1925- 1932) and Berlin (1932-1933). Bauhaus in German translates to "house of building" and the Bauhaus building in Dessau is a prime example of modern, functionalist design. Founder Walter Gropius believed the building should be at the center of the teaching of all the arts so he designed a complex consisting of three asymmetrical wings to connect different workshops and dormitories within the school. Ample light is provided by walls of glass - now a typical feature of modernist architecture.
Design elements from the Bauhaus site in Dessau and the Bauhaus Archiv in Berlin such as white reinforced concrete brick walls, steel framework, clean lines and large expanses of glass can be found in the architecture of most major cities. Now known as 'International Style,' it is characterized by simplistic, minimalist design and expansive open spaces.
Influence on Furniture Design
A core tenant of the Bauhaus movement teaches "truth in materials," meaning materials should be used in the most honest form possible. This influence can be seen in the transformation of modern furniture design, with the introduction of exposed steel tubular frames on tables, chairs and sofas. The use of machine-made, mass produced steel tube frames resulted in simple forms that required little handcrafting or upholstery.
Iconic Wassily and Barcelona Chairs
According to the Metropolitan Museum of Art, the cabinetmaking workshop, which was under the direction of Marcel Breuer, was one of the most popular workshops at Bauhaus. Breuer liked to experiment with metal furniture, drawing inspiration from the extruded steel tubes of his bicycle. Some of the mass-produced, lightweight metal chairs Breuer designed were used in the theater of the Dessau school. The most iconic design by Breuer is the Wasilly chair, made from tubular steel and leather. This comfortable chair is still used in homes today.
An inspiring look for Midcentury modern furniture came from the sleek and simplistic Barcelona chair, designed in 1929 by Ludwig Mies van der Rohe and associate Lily Reich. Mies later succeeded Hannes Meyer, successor to Walter Gropius, as director of Bauhaus in 1930.
Mies became a friend and mentor to Florence Knoll upon meeting at the Illinois Institute of Technology. Mies formally granted Knoll's company the production rights to the Barcelona chair and stool in 1953. Both Florence and her husband, Hans Knoll, were big proponents of Bauhaus design and the Knoll company continues to be a faithful distributor of Bauhaus influenced furniture.
A Big Impact
The modernist philosophies of the Bauhaus movement inspired what became known as Midcentury modern design. Furniture, lighting and accessories made from modern materials such as fiberglass, new plastics like Bakelight and Lucite, molded plywood, foam rubber, aluminum and laminate were crafted into simple yet functional designs. Many of these products are still being made today. Famous Bauhaus influenced Midcentury designers and some of their most notable designs include:
Charles Eames - Conforming to the body for ultimate comfort, The Eames Lounge Chair was designed as an improved version of the traditional club chair, exemplifying the Bauhaus theory of form following function.
George Nelson - Artistically sculpted into numerous simplistic forms, George Nelson Bubble Lamps are a prime example of unified art and design.
Eero Saarinen - Inspired by a drop of high velocity liquid, the sleek pedestal-style Saarinen Dining Table is another example of the Bauhaus tenent of form following function, eliminating extra legs and supports with an artistically sculped, minimalist form.
Another notable influence on functional furniture design comes from the Bauhaus Nesting Tables, designed by Josef Albers while serving as artistic director of the furniture workshop. Graduating from large to small, the tabletops appear similar to the nested squares of color in Alber's "Homage to a Square." The tables were constructed from solid oak and featured acrylic glass tops in colors of green, yellow, orange and blue.
Influential Typography
With the help of graphic designers Laszlo Moholy-Nagly and Herbert Bayer and an increased connection to corporate identity and advertising, typography became an increasingly important design element at Bauhaus. Moholy-Nagly's bold use of the color red and experimental layouts of typography going vertically or diagonally on the page set strong design trends for future advertising. The simplistic, visual clarity of Bayer's "Universal" font provided the basis for future sans serif inspired, modernist geometric typeface devoid of unneccessary decorative elements.
An Enduring Legacy
The early demise of the Bauhaus school was caused by Nazi writers who labeled it as "un-German," calling the school a front for communists, Russians and social liberals. Political pressure from the Nazis forced the Bauhaus to close in April of 1933.
Many of the key staff members of the Bauhaus fled Germany and emigrated to the United States, bringing their modernistic teaching philosophies to a new generation of young architects and designers. The legacy of the Bauhaus movement is carried on through modern furniture, modern architecture, modern typography and the principles of modern design, with a mantra of "less is more," an emphasis on open, uncluttered spaces and where form always follows function.