With their exquisite detail and gorgeous depictions of flowers and plants, vintage botanical prints offer a chance to collect something lovely and also beautify your home. These illustrations, which appeared in seed catalogs, natural history publications, and herbal medicine books, became popular in the 18th and 19th centuries. Whether you are planning a collection or simply want a few examples to decorate your walls, it's important to understand the basics of this collectible art form.
Understanding Vintage Botanical Art
Prior to the invention of the portable camera, illustrations served an essential role in preserving the appearance and details of plant species from around the world. According to the American Society of Botanical Artists, the period between 1750 and 1850 is considered the "golden age" for this type of art. Professional botanical illustrators, such as Pierre-Joseph Redoute and Ferdinand and Franz Bauer, created thousands of representational depictions of plant life during this period.
Over the next century, as photographic methods improved and art became more abstract, the popularity of realistic botanical illustrations declined dramatically. However, because this type of art offers greater focus and detail than the best photography, it still has an important role in scientific publications. Today, vintage botanical prints are hot with collectors of scientific ephemera and artwork.
Types of Plants
Although depictions of beautiful flowers are what many people think of when they hear about botanical illustrations, these works of art actually cover a wide variety of plant types. You'll see botanical art showing the following plants:
Vegetables, often including cross-sections to show the interior
Fruits, frequently attached to the branch
Leaves of various plants, complete with delicate veining and detailed coloration
Ferns and grasses, usually shown growing in the wild
Herbs with medicinal properties
Cacti, often with a close-up view of the spines
Trees and bushes, sometimes in the form of a landscape view
Moss and lichen, shown in magnified detail
Fungi, often with cross-sections
Common Characteristics
Each botanical artist has his or her own style; however, there are some common characteristics in this type of art.
Many pieces focus on a single specimen, although detailed cross-sections and magnified portions of the plant may grace the margins of the art.
Most illustrations are clearly labeled with the scientific name of the plant species. Some also include labels of the various parts of the plant.
Accuracy is extremely important in this type of art, which is usually drawn to scale and in painstaking detail.
Size of the illustration can vary, although many were part of a folio and are about eight inches by 10 inches.
Most illustrations are done on heavy white or ivory paper and hand-colored with watercolor paints.
Tips for Collecting
Although the golden age of botanical illustrations is long past, these works are popular with collectors. They offer a gorgeous way to decorate your home and look fantastic framed in a gallery-style grouping. If you're considering starting or adding to a collection, keep the following tips in mind.
Know Where to Shop
You can find vintage artwork of this type in local antique shops and rare book stores, as well as online. If you're looking for a great selection, consider shopping at a retailer that specializes in this area:
Fine Rare Prints - This retailer has a huge array of botanical prints from all eras, featuring everything from fruits to fungi. Many are folio-sized and sell for about $45 - $85.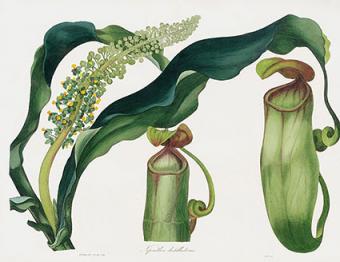 Panteek - Offering botanical prints from folios dating back to the 1700s, this retailer has a wide selection of lovely options. Many retail for about $65, although some of the rarest examples cost much more.
Prints with a Past - This Internet retailer offers many different types of original botanical prints, ranging from the flowers of Shakespeare to detailed drawings of ferns and mushrooms. Prices start out around $35.
Understand the Term "Vintage"
In many cases, "vintage" can mean anything that isn't quite antique but is at least a couple of decades old. In the case of an item like botanical prints, it typically refers to the period when these items were most popular.
As you shop, you may see vintage botanical illustrations from the golden age or this art form. You may also see reproductions from the mid-20th century.
Consider a Focus
There are so many options out there that many collectors choose to focus on a specific type of plant, a dominant color, a favorite artist, or a certain folio. This allows you to display your collection as a cohesive group and gives you a goal when you're hunting for new items.
Avoid Prints With Condition Issues
According to Country Living, you should pass on illustrations with condition issues that could affect their beauty and value. Specifically, avoid any piece with brown spots or stains, evidence of trimming, or residue from glue or other adhesives.
Marriage of Art and Science
Whether you're an avid collector or you just want to decorate your walls with a piece or two, you'll love the beauty of vintage botanical art. These illustrations provide the perfect marriage between art and science.