Whether you're shopping for a new table or considering selling one you already have, it helps to know a bit about antique drop-leaf table values. Most of these tables sell for hundreds of dollars, but there's a lot of variation in how much a drop-leaf table is worth. Understanding the factors affecting value can help you get a more accurate sense of what you have.
How to Identify Antique Drop-Leaf Tables
A drop-leaf table is one that has a mechanism allowing you to lower the outer leaves of the table. This allows for more room in a smaller space, since you can put the leaves down when you are not using the table or when you are seating fewer people around it. This style of table has been around for centuries, and these are some tricks you can use to determine whether a drop-leave table is an antique:
Look at the finish of the table to determine whether it has a patina of age. Even if it is in beautiful shape, it should not look new.
You can identify antique furniture by looking for saw marks, especially on the tabletop. Up until the early 1800s, saw marks will be straight, and after that, they may be circular.
Look at the antique furniture hardware used in the construction of the table. Square nails, screws with slots that are off center, and handmade hinges can indicate an antique piece.
Also look for labels, signatures, stamps, and other antique furniture marks that can indicate a specific manufacturer or craftsman. These can help you identify your table.
Factors Affecting Antique Drop-Leaf Table Values
There are several factors that can have an effect on the value of antique drop-leaf tables. If you're trying to find out how much your table is worth, take some time to examine it carefully.
Condition of the Table
Condition is always important when it comes to antique furniture values, but it can be especially significant with drop-leaf tables. Because these tables have moving parts, they need to function properly to be worth the most. Do the leaves raise and lower as they should? Do they stay up securely when they are raised? Is the hardware original and in good shape? In addition, examine the table for the following condition issues that apply to all antique furniture:
Check for refinishing. Restoration can affect the value of antique furniture, and tables with an original finish in good condition are worth the most. The finish should show signs of age.
Deep scratches and gouges will detract from the value, as will cracks, splits, and broken pieces. Water stains or lost finish can also cause a table to be worth less. Check for repairs too, since even neat repairs can sometimes make a piece of furniture less valuable to collectors.
Make sure the table is solid, not loose or wobbly. It needs to be a functional piece of furniture to have the most value.
Special Features and Details
Look for things that make an antique drop-leaf table special, such as the following:
Beautiful woods like mahogany, cherry, and others can add to the value of a table. This is especially true for fine furniture woods and for woods that are difficult to find today, such as quarter-sawn oak, American chestnut, and figured maple.
Hand carving can enhance the value of a drop-leaf table, especially if the carving is very high quality and is well preserved.
Antique drop-leaf tables with claw feet and other decorations can be worth more than plainer options.
Hand painting or inlaid decoration can make a table more valuable.
Size of the Table
In general, larger drop-leaf tables are more valuable, although other factors can be more important than size. An antique drop-leaf dining table is usually more valuable than a side table.
Manufacturer of the Table
Certain designers and manufacturers can add to the value of the table. Look for labels under the table top to see if you can find any indication about who made it. Vintage Duncan Phyfe and Ethan Allen styles can be valuable, as can tables created by famous cabinet makers.
Date the Table Was Manufactured
In general, older tables will be worth more than newer examples. Learning how to date an antique drop-leaf table is about examining the construction and hardware used in it. You can also get some clues from the style of the table, since certain styles were popular at specific times in history.
Value of Different Antique Drop-Leaf Table Styles
Antique drop-leaf table styles vary from dining tables to special purpose styles like game tables. The value of a table is dependent on its size and style, so it's important to know what kind you have.
Antique Drop-Leaf Pedestal Tables
It's quite common for antique drop-leaf dining tables to have pedestal bases. That's because the pedestal base takes up minimal space on the floor. When you drop the leaves, the table is even more space efficient. These sell for a range of prices, but they are often in the range of $300 to $900. One example from about 1900 sold for $435 on eBay.
Vintage Gateleg Drop-Leaf Tables
A gateleg drop-leaf table has legs that fold out to support the top. Although this style has been around for centuries, it was especially popular during the 1900s for use in smaller dining rooms and apartments. You can find mid-century modern examples that work well in today's homes, and they can be worth hundreds of dollars. For example, a mid-century modern gateleg drop-leaf table and four chairs sold for about $650.
Antique Drop-Leaf Side Tables
Side table can be quite valuable, especially if they have special features like carved legs or rare woods. Even though these tables are much smaller than dining tables, they retail their value because they are so useful in modern home. An English tiger oak drop-leaf side table with barley twist legs sold for about $750 on eBay.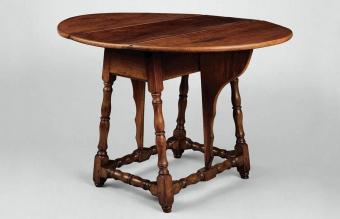 Antique Drop-Leaf Coffee Tables
Drop-leaf coffee tables are characterized by a lower height than dining tables. They work well in today's living rooms, since you can lift the leaves to give you more space for playing games or setting food and drinks or lower the leaves to make your living room feel bigger. You'll see vintage options, as well as antiques. The older pieces with better details tend to be worth the most. For example, an early 1900s drop-leaf coffee table with brass feet sold for about $400.
Drop-Leaf Game Tables
Antique and vintage drop-leaf game tables usually have a checkers or chess board inlaid in the top. Sometimes, there is drawer for holding game pieces. High quality examples can be extremely valuable. For instance, a vintage drop-leaf chess table with two drawers sold on eBay for about $450.
Consider an Appraisal
If you are going to be selling antique furniture that you suspect may be especially valuable, it's a good idea to invest in a professional antique furniture appraisal. That way, you'll know the value of your drop-leaf table and won't settle for less than its worth.