Antique Ironstone Tea and Coffee Pots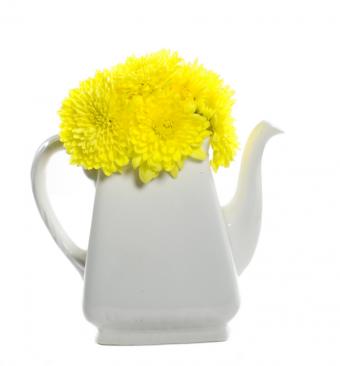 From the time it was first produced in the early 1800s, ironstone has been a popular material for teapots, coffee pots, and other everyday dinnerware. Today, many beautiful examples of this durable china survive, and they are very collectible.
Buying Antique Ironstone Tea and Coffee Pots
Whether you've been collecting ironstone for years or are new to this hobby, you'll find many options for buying tea pots and coffee pots, both online and locally. If you're looking for a specific pattern or style, you may need to look in several shops. Fortunately, the inherent durability of ironstone means that there's no shortage of gorgeous pieces.
Shopping for Ironstone Online
The following websites offer tea and coffee serving pieces crafted from ironstone:
Shopping for Ironstone at Local Stores
If you're looking for a specific pattern, the Internet may be the best way to shop. However, if you're interested in browsing the wares in person, nothing beats local antique shops and estate sales. Shopping locally has a few distinct advantages over online shopping: you can examine the ironstone in person to determine the condition, and you don't have to pay for shipping the piece.
Antique Ironstone Basics
According to the White Ironstone China Association, the first ironstone pieces were produced in 1813. The addition of ground ironstone rock to the china resulted in a very durable product, much stronger than regular china, porcelain, or glass. This durability made ironstone ideal for heavy duty dinner service, such as the dishes used at boarding houses and in the American West. Because tea and coffee pots have delicate spouts and handles, ironstone made them much sturdier for daily use.
Popular Manufacturers
Many English ironstone manufacturers produced dinnerware, teapots, and coffee pots. Popular makers include the following:
Mason
Wedgewood
Spode
Wood & Sons
Ironstone was also popular in the United States, where manufacturers included these companies:
Styles of Teapots and Coffee Pots
According to The Potteries, most ironstone teapots and coffee pots, especially early examples produced in England, are inspired by Asian design. Many featured figural handles with animals, flowers, and even dragons. Typically, antique ironstone serving pieces were simple in shape, leaving the detail to the handles, spouts, and decoration.
Ironstone was decorated in a variety of ways, including the following popular styles:
Whiteware - This is the most common type of ironstone. It is often a simple white with a creamy or bluish cast. It features no decorations.
Hand painted - Many ironstone pieces also feature hand-painted designs, sometimes in cobalt blue. It's also common to see multi-color decorations and sometimes even gilding.
Transferware - A popular item with collectors, ironstone transferware teapots and coffee pots feature scenes and detailed decorations in a single color. You'll see wine red, blue, and other popular shades.
Identifying Your Ironstone Coffee Pot or Tea Pot
If you've just purchased a teapot or coffee pot or you've inherited a piece, you may be able to use the maker's mark to identify it. Early ironstone may have no mark at all, but newer pieces, especially those made in the last half of the 19th century and later, will have a maker's mark on the bottom. Here's how to use it to identify and date your coffee service or teapot:
Flip the piece over and check for a mark. Examine the details of the mark and note any words included, such as "ironstone" or "granite."
Take a photo of the mark for your reference.
Purchase Encyclopedia of Marks on American, English, and European Earthenware, Ironstone, and Stoneware (1780-1980) by Arnold A. Kowalsky and Dorothy E. Kowalsky or borrow a copy from the library. Look up your piece in the book.
Spotting a Fake
Because of ironstone's popularity with collectors, modern reproductions of teapots and coffee pots abound on the market. Use these tips to spot a fake:
In reproductions, the lid of the teapot or coffee pot may be loose or ill-fitting. In a genuine antique piece, the lid will fit well.
Fake ironstone may allow light to pass through its surface. Hold the piece up to a bright light. If it's real, you should not be able to see any light through it.
Reproductions and fakes often feature designs that are applied after the initial firing of the piece. In genuine antiques, the decoration is part of the glaze.
Value of Antique Ironstone
The value of an ironstone teapot or coffee pot can vary dramatically, depending on the age, manufacturer, condition, and desirability of the piece. In general, the following guidelines apply:
Pieces by Mason and other very early manufacturers are some of the most valuable.
Cracks and stains can decrease the value, but crazing may not.
Pieces with elaborate decorations may fetch more than simple whiteware pieces.
To find out the value of a specific piece, have a professional antique appraiser examine the item.
Charming and Practical
Today, ironstone teapots and coffee pots are popular for many of the same reasons people loved them in centuries past. Their durability, simple shapes, and beautiful details make these pieces both pretty and practical. Whether you're an avid collector with a shelf of teapots or you're buying your first antique ironstone coffee pot, it's difficult to escape the charm of these attractive treasures.