Royal typewriter value has stayed rather consistent within the past decade, levelling out to be comparable to that of its competitors like Smith-Corona, Remington, Hermes, and so on. Yet, if you're looking to purchase an antique or vintage typewriter yourself, you might be wondering which of the many Royal typewriters out there best fits within your budget and personal space. Any of the following typewriter models will make a perfect first addition to your growing typewriter collection.
Royal Typewriter Company's History
Thomas Fortunes Ryan and Edward B. Hess founded the Royal Typewriter Company in 1906 in New York City, and they eventually moved their manufacturing plant to Connecticut. The first Royal Machines were released in 1906, and steadily the company's reputation grew. It wasn't until the Model 10 typewriter was launched in 1914 that the company saw its first major success, and this model became the gold standard for desktop typewriters. Royal continued making quality typewriters throughout the 20th century, many of which collectors hunt for today. In fact, the Royal Typewriter Company is still in operation but is now known as Royal Consumer Information Products Inc. which focuses on both health, sports, and office products.
Royal Typewriters Take to the Skies
One of the most interesting aspects of the Royal typewriter story is the company's air mail transportation and advertising campaign. A fleet of 'Royal Air Trucks' dropped crates full of typewriters across the American east coast; supposedly, around 11,000 Royal machines were shipped by air mail. The media and newspaper notoriety that came from this initiative was vital in helping Royal establish its name within the highly competitive typewriter industry.
Royal Typewriter Value by Model
One of the defining aspects of evaluating a typewriter's individual worth is assessing the model's popularity with modern collectors and consumers. Unless the machine is an incredibly rare model or came from the earliest days of typewriter manufacturing, the most significant price estimator is demand. Here are a few of Royal's most valued typewriters based on both their rarity and popularity.
Royal Standard
The Royal Standard model was released in March 1906 and immediately differed from the competition because of its "flatbed" design. Essentially flatbeds are not stacked, front striking, single-shift typewriters, and while they weren't Royal's most beloved design, they did mark a moment in true typewriter innovation. Also, these machines were 'standard' in that they were full-sized and meant to be used in a stationary location. Since these machines are quite old and historically significant, they can be expensive, particularly if they've been refurbished by professional typewriting experts. One of these early standards is listed for a little over $700 and a standard Royal 5 from 1913 that has been fully refurbished is evaluated to be worth nearly $2000.
Model 10
Of this standard line, the Model 10 was the Royal Company's breakout star. It was introduced in 1914 and according to one typewriter enthusiast, "featured everything one could need for writing in America, and was incredibly easy to use, fast, and responsive." Families across the world aspired to have a Royal Model 10 in their home, and they set the standard for desktop typewriters at the time. Due to its historic popularity and age, these machines are worth a good amount of money. For example, an early Model 10 is listed from one seller for $700 and 1921 Model 10 is listed for $775.
Royal Portables
Portable typewriters are designed to be transportable, hence the name. They are generally about 10-15 pounds lighter than their standard counterparts and are made for quick notation. The Royal Typewriter Company actually launched their portable series significantly later than their competitors did, releasing their first portable in 1926. Generally portables from the 1920s-1940s are worth between $500-$800 and portables from the 1950s-1970s are worth anywhere between $200-$600. For instance, a green Model P is listed from an online typewriter seller for about $550, and Sotheby's has a 1930s portable listed for $600.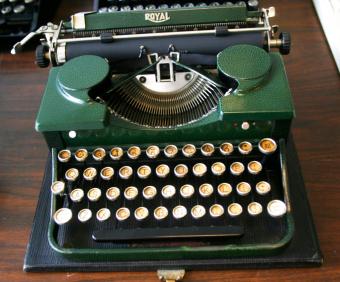 Royal Quiet Deluxe
Of Royal portables, the Royal Quiet Deluxe gained a lot of fame during its tenure. It sported features like a 'magic margin,' rapid ribbon changers, and paper lock scale. The Royal Quiet Deluxe was first released in 1939 and ran until 1948, and was then re-released in 1955 with a new line of bright, bold colors. Despite the many typewriters at Ernest Hemmingway's disposal, the Royal Quiet Deluxe was considered his favorite. These machines, when fully functioning, are worth between $500-$700; for instance, Sotheby's has one listed at auction for $700.
Where to Buy Your Typewriter
Perhaps the most stressful step of buying an antique or vintage typewriter is figuring out where to find one. Although it doesn't happen very often, if there are any typewriter repair stores in your area, you can check and see if they have any for sale. If not, looking at local antique stores and from independent online sellers can help you narrow down your search. You'll often find the highest quality restorations being sold by independent retailers that you can find online or through social media. Once you think you've found the perfect machine, be sure to confirm with your seller that it's fully functional; if you find listings for machines that are sold 'as is' know that is code for them not being in working condition.
Even Damaged Typewriters Have Value
Most importantly, every typewriter has some value. If you happen to have a rusted or 'broken' typewriter in your possession, you can always sell the individual parts from the machine to typewriter repair specialists, or you can do a little DIY yourself and incorporate the machines into unique jewelry, decorations, and so on. Thus, whether you decide to invest in a machine for yourself or want to breathe new life into an old machine, turn to the most reliable brands, like Royal to make your dreams come true. Next, learn about vintage Underwood typewriters.