Myths and legends surrounding antique dentistry and the painful procedures that once took place continue to fit right in with the Halloween-loving crowd. Yet, only more niche collectors know that you can actually sell old dental equipment, and you can make a pretty penny while doing it, too.
Types of Antique Dental Equipment to Sell
There's a seemingly inexhaustible amount of antique dental tools and paraphernalia that've made their way onto the market in the past few hundred years, so it's important to familiarize yourself with a few of the most common tools and pieces of equipment out there:
Dental chairs - Dental chairs, with their multiple points of adjustment, are a big hit with collectors because of their versatility.
Pliers - Pliers are a mainstay of the dental world, having been used for thousands of years. While very collectible, they're not altogether that valuable.
Dental presses - Old-school dental presses that created crowns are harder to find and more valuable than your regular pair of hand-tools.
Dental key - Tooth keys were metal instruments used to extract decaying teeth. They have a distinctive hook at the end and are pretty valuable today.
Drills - Mechanical drills--though not power tools--used pulley and treadle systems to function, and examples of these completely intact can sell for a ton of money.
Molds - Dental molds were used to better repair lost and broken teeth, and they're quite a common collectible to find today.
Fake teeth - Occasionally, you can even find fake teeth for sale, and depending on how old they are, you can sometimes sell them for more than a couple dollars thanks to their metallurgical value (based on the price of gold and silver).
Advertising goods - A super fun and colorful collectible doesn't have to be a conventional dental tool, but since goods with advertisements on it were frequently used to promote new at-home brands, techniques, and products, they make for a good sell.
How Valuable Are Antique Dental Tools and Equipment?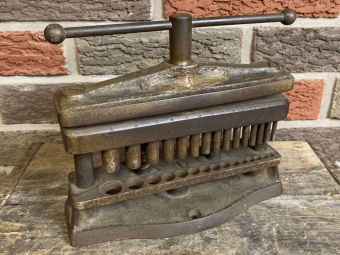 On the whole, antique dental equipment is a low to mid-priced category of collectibles. Common hand tools, containers of medicines and products, and at-home promotional goods all can sell for anywhere between $5-$50. Condition doesn't really have much of an impact on how these items sell, since they're either bought for their novelty value or by seasoned collectors that know they're not all that rare.
For instance, here are a few common pieces of dental equipment from the 19th century that've recently sold at auction:
Antique dental equipment from the 19th century is definitely more worthwhile than vintage pieces, particularly if they're in fine condition and were well-taken care of. Similarly, entire travel cases, promotional chests, and organizing boxes of a set of dental tools are worth far more than the individual pieces themselves.
Antique mechanical tools are rare to find; especially if you can find them still in working order. Thus, these are a type of antique that'll bring in higher profits and also more interest at auction than the more common pieces will.
For example, these are how valuable some antique dental tools that recently came to auction were described as:
Price Guides and Monographs for First-Time Sellers
If you've never listed any antiques and you're not sure how to even start, checking out a few price guides on the subject, or books discussing identification and history, can help you get an idea of what appraisers and collectors value these items at. A few of the standard texts for antique dental equipment include:
Places to Sell Your Antique Dental Equipment
Although you can sell your antique dental equipment to antique dealers and thrift shops yourself, you're never going to get the item's full potential value. So, if you want to get the most out of your items by reaching the target audience, then you should sell your antiques online as you've got a wider breadth of people looking at your listings.
Unfortunately for first time sellers, there's not a single place that's best suited for each type of antique, but there are some solid places you can list your items depending on how fast you want to sell and what price point you're trying to sell them at:
Are There Restrictions for Selling Antique Dental Equipment?
For certain antiques, there are limitations on the items that you can put to sale, such as how antique firearms from after 1899 cannot be sold without documentation and licensing facilitated through the Bureau of Alcohol, Tobacco, Firearms, and Explosives. Medical-related antiques don't often have regional limitations placed on how/what can be sold, but there are restrictions for specific drug paraphernalia.
Not every country has the same restrictions on drugs and pharmaceuticals being transported and sold, so it's important that you check with your local legislation to see what their rules are. However, the United States does restrict the sale or purchase of illicit pharmaceuticals, such as cocaine, and this extends to leftover drugs in bottles, tins, and tinctures, from the past. Generally, there aren't that many of these kinds of pharmaceuticals leftover with antique dental equipment, but if you were to come across an ether, cocaine, or amphetamine substance, you should not purchase or sell it without double-checking with the authorities.
Open Wide for These Incoming Sales
There's an art to selling any kind of antique; you need patience, an understanding of the market, and an interest in the subject. The better prepared you are, the more likely you are to have a profitable and fast sale, and this extends not only to antique dental equipment but to collectibles of all kinds.