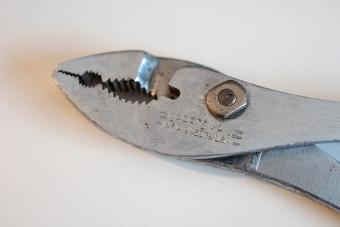 If you've rummaged through a grandparent's toolbox, you've probably been tasked with sifting through piles of vintage Craftsman tools for a really specific screwdriver or wrench that your grandparent can only vaguely describe. Since Craftsman reigned supreme for most everyday fixers and jack-of-all-trades of the 20th century, it's no surprise that you can find errant Craftsman hand tools in attics, closets, cabinets, and sheds across the United States. Yet, these mid-tier alternatives to contemporarily expensive brands are now one of the most collectible and iconic tool brands out there.
How Valuable Are Vintage Craftsman Tools?
While the Sears & Roebuck Co. had been selling tools under the Craftsman moniker since 1927, these post-war tools of Craftsman's "=V=" period (approximately 1946-1967) are considered the most collectible of the brand's entire historic catalog. Among them were both manual and power tools, though collectors do run a risk with using electrical equipment from decades ago without having them properly assessed. The last thing you want to do with a vintage electric circular saw is accidentally electrocute yourself.
Ultimately, the most important characteristic for collecting vintage Craftsman tools is their ability to be used in a modern context. Most Craftsman collectors are trade workers or hobbyists who need to use their tools for a practical reason, and so want to add pieces to their collection that're in good working condition. Thus, the tools most likely to sell at auction are those people can regularly use, such as screwdrivers and wrenches.
Given their working person's expense tier, even the most valuable Craftsman tools don't really exceed $100 at market, and the ones that can usually do so because they're a collection of tools rather than an individual one. Although this may be a blow if you're trying to sell a grandparent's old toolbox full of vintage tools, it can be a great way for beginner collectors to amass a sizable collection of sturdy and reliable tools for cheap.
These vintage Craftsman tools that recently sold at auction represent how much these tools typically go for:
Collectible Vintage Craftsman Tools to Look For
Where there's a bolt that needs to be tightened, there's a tool just waiting to be used, and this limitless need means that there are a countless number of tools from the Craftsman brand that you could collect. Some of the more popular items that you can find for sale in antique store and online from this 20th century brand are:
Toolboxes
Wrenches & wrench sets
Screwdrivers & screwdriver sets
Socket wrenches and socket sets
Ratchets
Where Can You Buy and Sell Vintage Craftsman Tools?
Since just about every average American household owned a few Craftsman tools, they're a really common item to find in thrift stores, consignment shops, and antique stores alike. Because these stores are largely ruled by the owners' evaluations, you can find tools in a wide range of prices. Typically, the most expensive items are either larger collections (such as multi-piece matching sets) and the massive tool boxes that housed them.
Yet, you're not limited by whatever you can find in a local thrift shop or estate sale. In fact, there're a few specialized locations online where you can hunt down some great deals:
How to Find a Vintage Craftsman Tool's Age and Manufacturer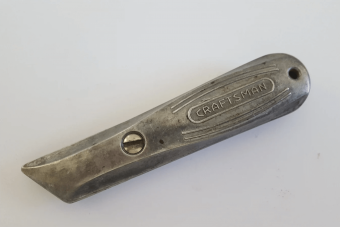 Generally, you can identify a Craftsman tool by the logo or the name that's printed/embossed into the tools themselves. Craftsman as a brand hasn't changed its name since Sears & Roebuck introduced it in 1927, so each tool should bear either the name or logo (usually somewhere on the handle). However, collectors don't tend to struggle with identifying vintage Craftsman tools by their brand, but rather by their manufacturing date and/or by the actual manufacturing company. Interestingly, Sears & Roebuck's house brand--Craftsman--was outsourced to many other manufacturers, so that for decades, Sears's famous product wasn't made by the company selling it, but rather by other manufacturers around the world.
With so many different manufacturers having created products under the Craftsman name, determining which created your tools can be a laborious project. Thankfully, some toolheads across the internet have created quick reference pages to help you learn more about the vintage Craftsman tools in your possession:
Garage Journal Forum - On this forum hosted by Garage Journal, seasoned tool enthusiasts have provided a breakdown of the different labels you can find on a vintage Craftsman tool and the corresponding manufacturer plus the approximate date. For example, the code C8 indicates a tool manufactured by JP Danielson in the early 1930s.
Date Codes and Stampings Forum - This forum, hosted on Tools in Action, also breaks down these manufacturing codes and their corresponding dates in a clear format.
Date Vintage Craftsman Toolboxes - One article on RX Mechanic specifically outlines the process for figuring out how old a vintage Craftsman toolbox is.
If the Screwdriver Fits
If you're interested in adding a few collectibles to your possessions but you're not a maximalist, vintage Craftsman tools are a great place to start. Affordable, well-known, and super useful, there's a reason these tools are still being made nearly 100 years after they were first introduced.