100+ Most Fun & Interesting Things to Collect
If you're looking for new things to collect, there's something for everyone. From antique buttons to vintage toys, these are more than 100 collections you can start today.
Unique Things to Collect
When it comes to things people collect, these are some unique and fun options to consider:
Antique fashion engravings - Before photographs became easy to reproduce, magazines would show the latest fashions in engravings. These come in black and white or are hand-colored, and there are thousands to choose from. Specialize in an era, a color, a size, a particular style, or something else.
Vintage samplers - Samplers are embroidered panels designed to show off a specific design or to practice embroidery skills. Girls made them during the 18th and 19th century as they learned new stitches. You'll find these with specific motifs like the US map, birds, the alphabet, and more.
Typewriters - Whether you go for vintage candy-colored models or the antiques of the Art Deco era, there are plenty of gorgeous old typewriters out there to collect.
Silhouettes - These cut-out portraits come in all sizes, and they look amazing displayed together on a feature wall. You can find them from any time period.
Equestrian paintings - Collecting any framed art is great, but specializing in horse paintings is even better. These have lasting appeal and look beautiful in today's homes.
Belt buckles - From sterling silver examples to novelty items, belt buckles make a great collectible that doesn't take up a lot of space.
Dollhouse furniture - As long as there have been dollhouses, there has been furniture to go in them. Collect a specific type of item, like dollhouse chairs, or collect furniture for all rooms.
Doorstops - Cast iron doorstops are especially valuable, with Hubley taking the top of the list. However, even lesser known brands can be adorable and fun to collect.
Vintage calendars - Many companies gave away free calendars as promotions and collecting vintage and antique calendars is a fun and affordable hobby.
Antique lighters - Long before Zippo became a popular collectible, there were sterling silver lighters with elaborate designs. These are beautiful to collect.
Chatelaines - Like a wearable toolbox for the housewife or ladies maid, a chatelaine allowed a woman to carry everything from little scissors to smelling salts attached to her belt or to a necklace. These tiny tools are beautiful.
Compasses - Antique and vintage compasses are gorgeous, even if you aren't trying to find your way anywhere.
Letters - Handwritten letters offer a glimpse at a life of the past, and they are also a charming collectible.
Ticket stubs - Often, ticket stubs include information about the event for which they gave admission, so you can specialize in movies or concerts or theater events.
Vintage harmonicas - Harmonicas have their place in musical history, and they make a great collectible too.
Perfume bottles - Perfume bottles came in all shapes and sizes, and many are downright gorgeous. You can start a collection with just a few and add to it over time.
Alarm clocks - Vintage and antique alarm clocks offer an example of the decor of the era without being large and unwieldy. You can collect Art Deco ones, mid-century modern examples, or others.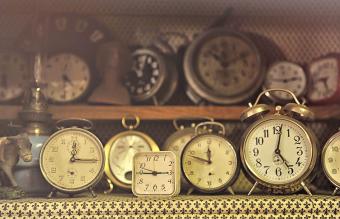 Oyster plates - With individual spaces for each oyster, these plates have a unique look and make a great collectible.
Tennis rackets - Old tennis rackets look great displayed on a wall together, and you can specialize in a certain brand or time period.
Hatpins - From rhinestone models to those made of sterling silver and precious gems, hatpins are beautiful.
Toy soldiers - Focus on a specific war or army or collect toy soldiers from all eras.
Brass animal figurines - You can unify an animal collection by focusing on one materials, such as brass. Then you can collect all different animals.
Egg cups - These cups hold an egg upright at the table, and they come in all different styles and motifs.
Cameos - Carved shell cameos can be gorgeous collectibles, whether you choose to wear them or not.
Barrettes and hair combs - In Victorian times, ladies often wore hair ornaments, and many of these survive. They make a unique collection.
Useful Things to Collect
You can put your collection to good use if you collect one of these things:
Fiestaware - This colorful china brand has been around for decades, so you can find all its gorgeous colors and unique serving pieces on the vintage market as well as brand new. Choose a certain color, a specific type of piece, or any other specialization. This is a collection you can use every day.
Vintage kitchen tins - It's always fun to collect something that's pretty and also practical. Tins come in all different colors, shapes, and sizes, and you can use them to store items in your kitchen and throughout your home.
Ironstone - Just as sturdy today as it was in past centuries, ironstone pottery makes a useful and neutral collectible. Look for a specific kind of items like pitchers or platters, or choose a variety of useful pieces to supplement your regular dinnerware.
Vintage scarves - Whether you choose designers scarves or simply ones you think are pretty, this is a collection you can wear.
Bakelite jewelry - Another wearable collection, bakelite jewelry is fun to find in antique shops and vintage stores.
Corkscrews and can openers - Whether you focus on openers with advertising on them or choose a certain motif or style, there are lots of interesting ones to collect. You can use them at your next party.
Hand tools - Old hand tools are beautiful and still very useful. They make a great collection.
Pocket knives - Pocket knives have been around for a long time, and they come in many styles.
Kitchen tools - Collect a specific tool, such as wooden spoons, or collect a variety of kitchen tools. Either way, this is a collectible you can use.
Antique and vintage purses - Amp up your personal style with purses of the past. You can wear this collection, whether you pick a specific era or collect from a variety of time periods.
Quilts - Antique and vintage quilts are beautiful and warm at the same time. Even if you don't want to use a quilt as bedding, you can use them for display.
Watering cans - Watering cans are useful, and they come in such unique and lovely styles.
Wooden crates - Wooden crates are fascinating, especially if they have advertising or vintage labels. You can also use them for storage.
Vases - Collect antique and vintage vases in all different styles, sizes, and colors.
Vintage cameras - You can still shoot most vintage cameras, especially if they take modern film.
Scissors - Scissors are a practical collectible, and many vintage pairs work just as well as modern options.
Baskets - Display baskets on the wall or use them to collect and store items in your home.
Antique earrings - Collect earrings from your favorite eras or in materials you like. It's a collection you can wear.
Copper pots - You can stylishly display vintage copper pots in your kitchen, and you can also use them for cooking.
Inexpensive Things to Collect
There are many affordable things to collect, some for five dollars or less. Start with one of these ideas:
Costume jewelry brooches - Affordable and full of infinite variety, you can collect costume jewelry brooches for only a few dollars each.
Vintage cookie cutters - Choose a specific shape or theme or collect cookie cutters in general.
Cosmetic compacts - Mirrored compacts can be inexpensive and very lovely, and they make a great collection.
Political buttons - Campaign buttons from current and past elections are fun and affordable.
Citrus reamers - Often available for only a few dollars each, citrus reamers come in many styles and materials.
Playing cards - Vintage playing cards are a fun collectible, and you can often find them for very little money.
Salt and pepper shakers - Vintage salt and pepper shakers are great because they come in many different styles and don't take up much space. They are also very affordable.
Sewing notions - Sewing notions, such as trims, zippers, and other little items, are inexpensive and full of vintage charm.
Spools of thread - Old wooden spools of thread offer a fun and affordable collection opportunity.
Old family photos - Even if they don't show people in your own family, old family photos offer a fun and inexpensive item to collect.
Vintage handkerchiefs - Handkerchiefs used to be an essential part of daily life, so there are lots of fun options out there for very little.
Tape measures - Fabric tape measures used to be given away as advertising, and you can still find them for next to nothing.
Thimbles - Sewing thimbles are a fun and inexpensive collectible. Choose a theme or collect anything you like.
Christmas ornaments - Vintage Christmas ornaments are beautiful, and you can often find them very affordably at antique shops and flea markets.
Yardsticks - Once given away by hardware stores and other businesses, yardsticks are still affordable.
Post cards - Although some antique post cards are very valuable, this is a collection you can start on a budget.
Vintage merit badges - Merit badges from Girl Scouts or Boy Scouts offer a unique and inexpensive opportunity to make a great collection.
Matchbooks - Another item once given away for free, vintage matchbooks are charming, fun, and still cheap to collect.
Bookmarks - From cardboard and paper options to metal bookmarks, there are lots of affordable vintage and antique options.
Skeleton keys - Most skeleton keys sell for under five dollars, and there are tons of different styles.
Marbles - Once a treasured childhood toy, some antique marbles are still affordable and easy to collect.
Vintage wallpaper samples - Wallpaper companies give out samples, and they always have. Vintage wallpaper is a great and affordable collectible.
Pin cushions - Vintage and antique pin cushions can be inexpensive and fun to collect.
Other Cool Things to Collect
These are some things to collect that offer lots of possibility for fun:
Vintage license plates - Collect license plates from vintage cars and trucks from around the country. You can group them in a display on the wall for a fun and colorful decoration. You can specialize in an era, a state, or a color, or you can simply collect license plates you like.
Depression glass - Depression glass comes in lots of beautiful colors and patterns, making it a fun and pretty collectible.
Antique milk glass - Like Depression glass, milk glass comes in lots of different patterns and colors. There's plenty of variety for collecting.
Hand mirrors - Available in many different materials including silver, wood, and early plastics, hand mirrors are fun to collect.
Sewing machines - Antique sewing machines offer a beautiful glimpse at sewing history.
Button hooks - Back when people buttoned their shoes instead of tying them, they used button hooks to put them on. You can still find button hooks in antique stores.
Duck decoys - Duck decoys offer a fun hunting collectible that can sometimes be very valuable.
Crewelwork embroidery - A popular pastime during the 1960s and 1970s, crewelwork uses bright colors and bold designs to create pillows, samplers, and more. Frame these fun pieces for a lovely vintage display, or toss a few pillows on your sofa for some extra cheer.
Postage stamps - Stamp collecting is a fun hobby, and it's easy to get started. You can specialize in a specific type of stamp, or you can simply choose stamps you like. Either way, this is a great collection that doesn't take up much space.
Antique buttons - Antique buttons are fun to collect, and you can find them in every material from bone to precious metals.
Painted trays - You can collect painted trays, many of which are tole-painted or done by hand.
McCoy pottery - This famous pottery brand is highly collectible.
Trinket boxes - Tiny jewelry boxes and trinket boxes make a great collection.
Mason jars - Canning jars and Mason jars from names like Ball and Atlas are fun to collect.
Beer cans - You can start a beer can collection with vintage and antique examples.
Collector plates - Many collector plates have lost their value over time, but some are still quite valuable. Choose a style you like.
Fishing lures - Brand-name fishing lures and other fishing tools make great collectibles, especially if you display them together in a shadow box.
Letter openers - Letter openers come in all different styles and shapes, as well as a variety of materials.
Maps - Road maps and atlases from years gone by are a great way to celebrate the American tradition of the road trip.
Antique mirrors - Collect antique mirrors in all shapes and sizes and display them throughout your home or in a grouping.
Paper weights - Paper weights, which can be made of glass, metal, and other materials, make a fun collection.
Snow globes - Whether you want to collect holiday decorations or simply enjoy the magic of these globes, they are beautiful in a grouping.
Candle holders - This is a practical collectible, since you can group candle holders together and use them for decoration in your home.
Vintage suitcases - Vintage suitcases are charming, and they come in many styles.
Enamelware - This metal kitchenware is popular with campers and makes a fun, rustic collectible.
Best Things to Collect as an Investment
There are certain valuable antiques and collectibles that are worth a lot of money. If you want your collection to be an investment, one of these ideas may be good:
Coins - Collecting coins is a fun hobby, and rare coins can be worth a fortune.
First edition books - Any first edition book has the potential to increase in value, and rare books can be worth a lot.
Vintage toys - Not all vintage toys are valuable, but some are. Collect toys you like, and you may find you've made a good investment.
Fine jewelry - Because the materials used in fine jewelry are inherently valuable, collecting jewelry is a good investment.
Watches - You can collect antique and vintage watches, which often gain value over time.
Silver flatware - Sterling silver flatware has value for the metal content, as well as for its antique nature.
Fountain pens - Many people collect fountain pens, and great examples only go up in value.
Show Off Your Collection
Once you've started your collection, show it off. Learn how to use collectibles in your decor to add personality to your home and allow others to see what you are collecting.