Nearly all antique shop's shelves are lined with multitudes of porcelain artworks that come in every shape, color, and size with those being manufactured by German companies, like Goebel's figurines were, to be considered among the highest in quality. Goebel's centuries-old business has a catalog of collectible pieces that includes all manner of subjects and styles. Anyone who takes a closer look into all the figurines Goebels has to offer can find a line or series that they just have to own themselves.
Goebel Figurines Series
Given the company's storied history among the porcelain artistic community, they have quite an extensive catalog for interested people to investigate. Goebel often partnered with talented artists and designers to craft their popular products, meaning that their series reflect a sense of true creative and cultural diversity. Here are some of the different series for which Goebels is best known.
Goebel's Hummel Figurines
Certainly, the best known of Goebel's figurine series is its Hummel figurines; Franz Goebel collaborated with the Bavarian nun, Maria Innocentia Hummel, to create small ceramics of her idyllic, cherubic children's illustrations. Starting production in 1935, these figurines helped solidify Goebel as a leading competitor in the luxury porcelain market, with some specific pieces from the line - like the Adventure Bound figurine - to have estimated values reaching close to $5,000.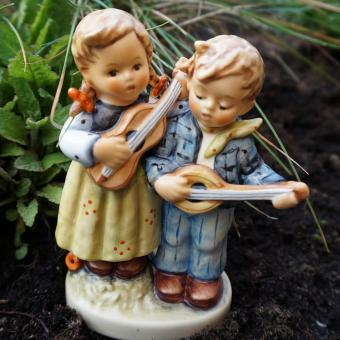 Goebel Unites With Walt Disney
In the post-war period, Goebel rose to stardom because of how popular its Hummel figurines were becoming. This success directly contributed to making Goebel's 'wish upon a star' come true. In 1950, Walt Disney granted Goebel the rights to sell porcelain figurines of Bambi and her woodland friends. This would expand to include other iconic Disney characters including those from Snow White and the Seven Dwarves, Alice in Wonderland, 101 Dalmatians, and Disney's own mascot, Mickey Mouse. In fact, the company went so far as to release its own Mickey Mouse version of the Hummel figurine "Apple Tree Boy." One Disney fanatic even compiled his own digital compilation of many of Goebel's Disney figurines, which you can view on his website.
Goebel Acquires Schaubach Kunst's Designs
Perhaps the most elegant vintage Goebel figurines you can find, the Schaubach Kunst designs, were first launched in the mid-1950s after Franz Goebel was gifted the historic Wallendorf Porcelain Company's blueprints in 1953. While this line only lasted until 1975, so many delicate, beautiful pieces were created using female dancers and athletes as inspiration for their flowing models.
Goebel's Animal Figurines
Although the manufacturer was well versed in creating human figurines, their various animal series shows how well-acquainted they were with fashioning animal likenesses into porcelain. While the company did create an ark's worth of animal figurines, some of their most expansive lines includes their birds series and their dogs series. Here, the company experimented with size and scope, making some figurines reach a foot tall or taller. The clock did eventually run out on these lines, but the company does have contemporary iterations of both: Bird of the Year and Special Dogs.
Identifying a Goebel Figurine
Thankfully, Goebel's stamping system is both well-documented and consistent. Located on the bottom of any Goebel figurine should be a backstamp associated with Goebel's marking system, which includes eight separate trademarks depending on the year in which the figurine was made. In addition to these stamps, you'll find a one-four digit number which corroborates to the company's design catalog. Appraisers reference these catalogs to ensure that a potential Goebel is authentic. Similarly, you can find some figurines with designer's backstamps located on their bases as well to give credit to the partnerships at play.
Evaluating Goebel Figurines
Unfortunately, Goebel figurine's values are rather difficult to generalize given the extreme number of different vintage series associated with the company's long production history. For example, a rare Hummel-inspired Mickey Mouse figurine has an estimated value of about $250 while a 1968 Goebel black throated jay is worth a little over a $100. No matter these steeper prices, you can still find affordable pieces listed for under $50 at auction. Ultimately, many different characteristics are considered when these pieces are evaluated and here are a few consistent elements that affect these estimates:
Rarity - Figurines that were produced in small quantities, like the "Picture Perfect" Hummel figurine, are more desired by collectors and are therefore worth more at market.
Condition - Figurines in mint condition with their packaging intact are going to have higher values than those with pieces missing or those with scratches and glaze/paint deterioration.
Age - Figurines dating from the late 19th-century are harder to come by and are worth more to collectors than modern examples.
Figurine Series - A figurine that is attached to a popular series will bring in significantly more money than obscure ones will, with Hummel figurines leading the pack in terms of monetary value.
Collecting Vintage Goebel Figurines
The best advantage to collecting vintage (and modern) Goebel figurines is the endless variety of subjects and styles available. Whether you're a fan of the natural world, rosy cheeked-children, Disney movies, or something in between, the Goebel Porcelain Company has the perfect figurine for you. Now, find out more about antique figurines worth money.