The first step that experts take in appraising dinnerware is looking for any identifying backstamps or engravings, and discovering one of the Royal Doulton marks on the back of a set of plates, teacups, and figurines is considered to be an incredibly lucky find. This beloved English tableware manufacturer has been producing beautiful pieces since the 19th century, and determining what marks correlate to which production years can help you better asses your porcelain and china's worth as well as determine which future pieces you might want to add to your collection.
Royal Doulton Company's History
In 1815, John Doulton took a significant risk in investing his entire savings on a pottery house in Lambeth, London. Soon, enlisting his son, Henry, into his professional machinations, John was able to build his pottery endeavor into a household name. Under his son's leadership, Lambeth Pottery became Royal Doulton after being awarded a Royal Warrant for their services to the crown by the English monarchy in 1901. For the next 100 years, the company would continue to work towards making high-quality, luxury dinnerware accessible to the public and towards optimizing their brand for the unique digital age of the 21st century.
Official Royal Doulton Marks
Starting in the late-19th century, Royal Doulton began marking all of their pieces with an official, inked backstamp. These maker's marks are one of the easiest ways to identify and authenticate antique and vintage dinnerware, with Royal Doulton's official marks being slightly altered over the course of its long history. Use this breakdown of the company's different backstamps to date your own Royal Doulton pieces from home.
1882-1901
These early backstamps include the common quadruple, interlocking D mark (which vaguely resembles a four-leaf clover) encircled by the words Doulton and Burslem. Some pieces with iconic patterns were printed with the name of the pattern and the name Doulton underneath this core logo during this time.
1886
Marks that show this foundational interlocking D mark with a crown on top were only printed in 1886 to commemorate Doulton's appointment as one of the potters for His Royal Highness, Edward VII, the Prince of Wales.
1901-1922; 1927-1936
The Doulton mark shifts during the early 20th century to include a lion; here, a lion sits atop the crown and quadruple D logo, which was added to honor the company being granted the Royal Warrant by the English monarchy. In addition to this mark, the manufacturer created a new standard mark which includes the new name, Royal Doulton, on the top of the interlocking Ds with the location of origin, England, on the bottom.
1922-1927
While the new Royal Doulton standards are still seen during this Jazz Age era, there is evidence of pieces being printed with marks which don't include the crown.
1928-1936
While the crown, lion, and interlocking standard mark is reintroduced during this period, the company adds a number system to their backstamps. Accompanying the company's unique mark is a series of numbers printed to the marks' right which indicates which year the piece was produced in. For example, 1 = 1927, 2 = 1928, continuing on until 1957.
1930-1993
The company's backstamp design shifts again in the early 1930s, with the new mark adding "Made in England" in a half-moon shape that appears on either side of the previous lion, crown, and interlocking D standard.
1993-Present
In the 1990s, the company's mark transitioned into something more akin to a minimalist style, with the profile of a lion bearing a crown featured above the "Royal Doulton" title and the manufacturing information printed underneath.
Unique Royal Doulton Marks
Although these aforementioned standard marks are the ones that your most likely to find on extant Royal Doulton artifacts, a few of the company's unique and/or limited series were backstamped with unique maker's marks. Here are a few of the different series that had special stamps made specifically for them.
Morrisian
Titanian
Charles Noke Signature Pieces
The Gallant Fishers
Under the Greenwood Tree
Bunnykins
Inspect Your Marks Closely
Although Royal Doulton works take incredible skill to craft, there are some daring artisans who take a stab at recreating their own pieces and selling them under the Royal Doulton brand. Thankfully, most of these pieces are easily determined as inauthentic because their maker's marks are visibly smudged and unclear. Most often, this smudging centers on the location of the product's origin since deliberately marking a piece as being made in a specific country like "England" or "China" makes it legally representative of that country of origin and creates a complicated legality issue for their rogue distributors.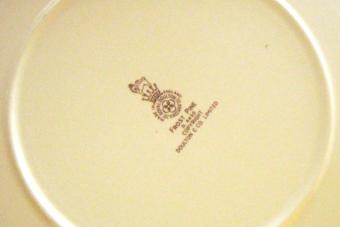 Practice Authentication Using Royal Doulton Marks
You can easily start practicing your appraisal skills by authenticating and dating these fine English porcelain and china sets using Royal Doulton's clearly marked series of identifying backstamps. In no time, you'll be ready to start authenticating your family's and friends' pieces all on your own.