Unexpectedly coming across your home state's quarter in a pile of loose change can make it feel like it's going to be your lucky day. Although state quarters feel like a hallmark of U.S. currency, they haven't always been around. The U.S. Mint produced the 50 state quarters from 1999 to 2008 to get people interested in collecting coins again. While not many of these old state quarters are worth more than 25 cents today, if you have high-quality examples of these five most valuable state quarters, you can turn that 25 cents into $25 or more.
Five of the Most Valuable State Quarters
| | |
| --- | --- |
| Most Valuable State Quarters | Estimated Value |
| Arizona Die Break Error | $100 |
| Wisconsin "Extra Leaf" Effor | $40-$150 |
| Nevada Die Break Error | $10-$20 |
| Connecticut Broadstrike Error | $10-$20 |
| Colorado Die Cud Error | $20-$30 |
| 1999-2008 Silver Proof Sets | $20-$50 |
The state quarter plan was a genius ploy by the U.S. mint that ran for 10 years around the turn of the 21st century. Each year starting in 1999, a new group of states was given their own quarter, with custom imagery stamped into the back that reflected each state's unique industries, notable achievements, and culture. They were a massive success, and 34,797,600,000 quarters were minted throughout the decade. Few of these quarters are worth more than their face value today; even entire collections rarely sell for more than $50. However, collectors keep an eye out for a few special examples.
Arizona Die Break Error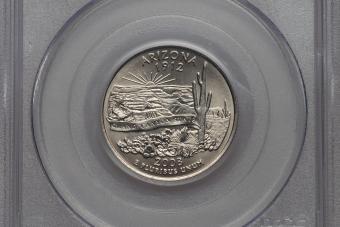 The Arizona coin was in the last batch of state coins to get minted in 2008. As we all know, just because the technology exists doesn't mean it always works right. So, despite advancing technology, the minting process went awry for a number of Arizona coins. The result was die breaks (a defect on the stamped images from broken sections of the die). Typically, you can find Arizona quarters with a cut in the cactus leaves and, less commonly, some with cuts covering the 2 or first 0 in the '2008.' Once upon a time, these quarters in mint condition could sell for $100 or so, but nowadays you'll be hard-pressed to find any going for more than $20. Still, it's a pretty good return on a 25 cent investment.
Wisconsin 'Extra Leaf' Error
Perhaps the most infamous state quarter with a mistake is the 2004 Wisconsin 'extra leaf' coin. The quarter was a product of a faux pas that'd be right at home in an episode of I Love Lucy. A mint technician noticed that a bunch of coins were being shot out of the die (the stamp with the artwork on it that's used to press the picture into the metal) with an extra leaf on every corn husk. Because he forgot to turn off the machine before heading to lunch, 50,000 misprinted coins later entered circulation.
According to the USA Coin Book, the extra leaf coins are worth about $39 in very fine condition and go up to $148 in a brilliant, uncirculated condition. Since many of these coins got mixed up with the regular batches sent out to the public, most of the circulated quarters you receive as change aren't worth that much.
Nevada Die Break Error
Although people have found a ton of state quarters over the years with die breaks on them, one of the funniest and most valuable is often called the 'pooping horse' error. There's a random blob between the horse's back legs on the Nevada state quarter that, with a quick glance, makes the horse look likes it's fertilizing the soil like a champ. Minted in 2006 in Pennsylvania, this quarter can fetch anywhere between $10 and $20. For example, one is currently listed on eBay for $13.
Connecticut Broadstrike Error
In minting, broadstriking is a type of stamping error that happens when the blank coins (planchets) aren't struck dead on, leaving the design off-set from the center and with one curved edge raised above the other. These coins are pretty rare and yet the easiest to pick out because they're so visually distinctive. One of these Connecticut error coins sold at Heritage Auctions for $18 in 2004 - an average price that hasn't really changed for decades.
Colorado Die Cud Error
A die cud error is an accidental bump in the metal of the coin caused by a dent in the die. The 2006-P Colorado coin is just one of the multiple die cud errors that twist or obscure parts of the state's beautiful Rocky Mountain scenery. Given that so many Colorado coins have die cud errors and were pushed through circulation, they're not considered particularly rare. Most of them are worth $2-$5, though severely obscured and mint condition ones will sell for closer to $20-$30. For instance, one of these mint Colorado error coins sold in an online auction for $33.
1999-2008 Silver Proof Set
Coin collectors love a proof set. For the untrained eye, these sets are prettier than regularly minted coins. They feature deeper reliefs, mirror backgrounds, and a distinctive cameo effect that makes them perfect for displaying. When it comes to state quarters, the most money you'll ever make from them comes from having these proofs in mint condition. On top of their visual value, the state quarter proofs minted in San Francisco were made out of silver instead of a copper blend, making them worth at least their weight in pure silver.
Generally, these proof sets come in groups of coins minted in the same year. For instance, there's a 5-piece set for the state quarters minted in 1999. On the whole, even the proof sets won't usually sell for more than $20-$50 apiece. They're also not too hard to find online; for instance, you can buy the entire 50-piece proof collection for about $130 on GovMint.
State Quarters Are More Common Than You Think
If you managed to keep your kid-self's short attention span focused for long enough to see your 50 state quarter collection completed, then you have a fun set of pocket change, but it's probably not super valuable. Unlike other rare coins, a state quarter isn't likely to magically transform into a college fund anytime soon, but their circulation made money interesting and fun for the years they were released. Because so many of these quarters were minted, they mostly have nostalgic value. We're also currently too close to when they were minted for them to be valuable based on age. But, you can look over your quarters for unique characteristics to see if you might find the needle in a haystack that's actually worth selling.
Flip a Coin for Profit on State Quarters
Ninety-nine percent of state quarters are worth keeping for sentimental value alone. They have a novelty factor that keeps people collecting them despite only being worth 25 cents. And while you can't make a fortune off of your old collection right now, there's no telling if in 50 years, a full collection won't give you a nice retirement fund. So, as with most coins, you can't go wrong with holding onto them for just a little while longer and seeing what the future holds.