Give your home a sense of history and style with these gorgeous antique wall decor ideas. You're not limited to standard wall decor like paintings. Antiques offer plenty of ways to bring personality to your home.
Display Small Etchings and Engravings
In the early days of book and magazine printing, most pictures were printed using engravings or etchings. These small etchings and engravings can be affordable to purchase, often for around $25 apiece. Although some are hand-colored, most are neutral in color. They go with any decor, and they come in all different themes. You'll find portraits, landscapes, botanical drawings, animals, major news events of the time, and much more. You can even find fantastic pictures from books of fairy tales. Framing several small etchings and engravings together makes for gorgeous antique wall decor, especially if you use antique picture frames to tie the look together.
Show Off Several Antique Mirrors
Antique mirrors come in all different shapes and sizes, from huge ornate floor mirrors to smaller hand mirrors. Collect several mirrors and create a mirror gallery wall in your home to show them off. An added bonus of this type of installation is that it will reflect light and make your room feel bigger. In addition, mirrors only reflect the colors they see, making them perfect if you're looking for neutral farmhouse wall decor.
Mount Architectural Antiques on the Wall
As old homes are torn down, salvage companies often work to save the special architectural details they contain. These can be everything from carved doors to fireplaces and stained glass windows. Door pediments, or special moulding that went over doorways, can work especially well as antique farmhouse wall art to provide a sense of history in a modern home. There are no rules when it comes to antique wooden wall decor; if you like it, it's a good fit.
Use Framed Embroidery to Add Character
Embroidery samplers and other special pieces of needlework are a great way to add vintage charm and unique character. For Victorian wall decor, frame pieces of needlework from the 1800s. You'll find these available at flea markets and auction sites, often for under $30. Even a small sampler, when matted and framed, makes a big statement.
Show Off Antique China
Antique china makes great wall decor too. You can display your favorite antique china patterns in your dining room, kitchen, or any other room in your home. A lot of antique china is hand-painted, so it can be very decorative and read as artwork when hung on the wall.
Hang Antique Metal Trays on the Wall
If you collect antique trays, you can display your collection on the wall. Whether you collect copper trays or silver-plated platters, the reflective surface acts like a mirror without a clear reflection. The shiny trays can maximize the light in any room, and they are a neutral choice that goes with any interior.
Frame Antique Fans
Fans were once an important part of ladies' ensembles, and you can still find them in antique stores. They make a great vintage item to collect, especially if you want to show them off. One antique wall decor idea is to frame fans in special shadow boxes and then hang the shadow boxes together on a wall. This is wonderful in a bedroom or living room.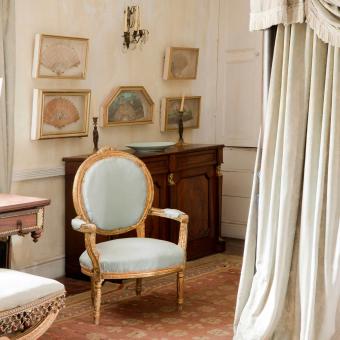 Mount Antique Tools
Antique hand tools, such as saws or hammers, can create a rustic wall display in a cabin or farmhouse. Because the tools tend to be neutral in color, they work with any interior patterns or shades you are using. To mount them, simply arrange them in a grouping and use nails or pegs to securely support them.
Display Kitchen Collections
If you collect vintage kitchen items, such as teapots or antique Jello molds, you can give your kitchen some vintage charm by displaying your collection on the wall. Use shelves to show off items like pitchers, teapots, and other freestanding pieces. For things you can hang on the wall, group the items together for maximum impact.
Hang Old Family Photographs
Another antique wall decor idea is to hang your old family photographs. There's no sense keeping these beautiful pieces of family history in a box. Instead, frame them and hang them as a group. They look beautiful in a gallery wall by your stairs or in your foyer. If you are concerned about fading, mount the photos behind UV-resistent glass.
Put Antique Clothing on Your Wall
Clothing makes a unique and lovely antique wall decor option, especially when you hang a group of several items together. You can find everything from antique children's clothing to aprons in thrift stores and antique shops. Hang several pieces on a large wall, suspending them from wooden hangers. This is a lovely choice in a bedroom or bathroom.
Cover Your Wall in Antique Textiles
If you have antique rugs, wall hangings, quilts, or other textiles, you can use them as wall art. Simply suspend the textiles from a bar or rod to distribute the weight evenly across the piece. Then hang the bar on the wall. This is a perfect way to add high impact antique wall decorations to any room, since these pieces tend to be large and statement-making.
The Right Frame Can Help
In many cases, you can create an antique wall display out of any type of collectible if you display it in the right frame. Learn about different styles of antique picture frames you can use to turn anything from a collection of skeleton keys to antique postcards into a gorgeous wall display.