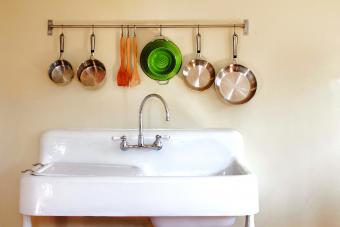 Many people take modern day conveniences for granted, never thinking about what would historically be considered a luxury, like the differences between antique kitchen sinks and their contemporary counterparts. These staples of the domestic culinary world quickly transitioned from being wash basins filled with well water to the sturdy, stainless steel counter-top sinks in kitchens today.
Sinks as Centerpieces of the Historic Kitchen
Historic kitchens would be bereft without a wash sink of some kind, one large enough to handle a person hand-washing multiple loads of dishes as well as large enough to prepare meat and ingredients which were then cooked into scrumptious meals. Early 'dry sinks' were unable to be drained and were lined with lead or zinc. Yet, once the development of a more permanent, 'wet sink' appeared at the turn of the twentieth century, people began adapting their kitchens to fit these plumbed centerpieces. Many of these early sinks were highly customized, set to fit one's height so as to ensure that washing would not be an arduous process.
Types of Antique Kitchen Sinks
Overall, antique kitchen sinks generally have a catch-all term in popular culture: farmhouse sinks. Mass-produced, drop-in, countertop sinks that are included in most modern homes were not introduced until the mid-20th century, and so they aren't actually considered antique, despite many of them including antique characteristics in their designs. However, these unique antique sinks could be personalized with features, materials, and designs to fit anyone's individual taste, and this variety appeals to contemporary collectors and makes them rather lucrative collectibles.
Farmhouse Kitchen Sinks
Farmhouse kitchen sinks are rather large, often trough-shaped sinks that were fit into homes during the early 20th century. Considering their size, these sinks were usually their own distinct appliance within the kitchen and could accommodate large culinary preparation and/or canning and preserving food for future consumption. This sink style has seen a resurgence in popularity among interior designers, so you can expect market prices to be rather high for these antique items.
Materials Used to Craft Antique Kitchen Sinks
These sinks, and their faucets, were made out a variety of materials which include the following.
Porcelain
Cast Iron
Enamel
Copper
Nickle
Iron
Brass
Antique Kitchen Sinks' Customizable Features
One large draw of antique kitchen sinks is how often they were customized to fit the homeowner's needs. These are a few of the different features that people were able to add-on to their antique kitchen sinks.
Single vs. Double Bowl - People could choose to have either a single basin or have two basins divided down the middle added into their sinks.
Drop-in Style - Drop-in bowls removed much of the covetable counter space that came with large trough sinks and were better fit for people with lots of already positioned counterspace.
Troughs - Trough sinks are named in honor of animal troughs because of their long, deep appearance; these sinks normally feature one basin with multiple washing stations and faucets.
Drainboards - Drainboards were historic drying racks that could be built into the sides of the sink's bowl(s) where people could leave wet utensils and plates to dry.
Apron-Front - Apron-front sinks exposed the front-face of the kitchen sink to the kitchen's interior in an attempt to blend the area with the rest of the space.
Backsplash - Some people had built-in backsplashes molded into their antique sinks to protect their walls from errant water droplets.
Faucet Soap Dish - Metal soap dishes, which could rest on top of a sink's faucets, could also be added to antique kitchen sinks.
Evaluating Antique Kitchen Sinks
First and foremost, antique kitchen sinks that have been refinished or refurbished are going to cost more than unaltered ones will. This is due, in some part, to the fact that this alteration means they can actually be used in the modern home. Additionally, antique kitchen sinks featuring drainboards are some of the most valuable on the market. Seemingly, this comes from the recent popularity of this style among contemporary interior designers.
Antique Kitchen Sinks at Auction
Interestingly, most sinks you find listed at auction are typically white and made out porcelain or cast iron. These sinks sell for anywhere between $200 and $750 depending on their quality, size, and condition. Unsurprisingly, rare antique kitchen sinks which boast unique characteristics, such as color, can be sold for much higher values. For instance, an antique jadeite kitchen sink is currently listed for about $2,000 in one online auction. In addition, antique kitchen sinks made out of cast iron are particularly desirable because of their durability and the likelihood that they can be sanded down and refinished to be used again. For example, this antique cast iron sink is listed for almost $1,000. You might even come across sinks equipped with whole cabinetry. Depending on the cabinet's condition, these can be worth anywhere between $1,000 to $2,000, such as this porcelain sink with an attached metal cabinet that is priced at almost $1,500.
Having Your Antique Kitchen Sink Refinished
The thing that will significantly increase your antique kitchen sink's value is having it refinished and equipped with modern plumbing. Since this can be a difficult task for beginners to take on, you should invest in having a professional refinish your antique sink. Look for restoration companies in your area that specialize in antique kitchen sinks or antique plumbing - like Dennie's Resurfacing LLC, which services the American Northeast - to ensure you get the best results.
Revitalizing Your Kitchen With an Antique Sink
If you've found yourself bitten by the redecorating bug, then an easy way to revitalize your kitchen area is to replace your modern sink with an antique. These large sinks will make perfect additions to those who love to cook, have finnicky dishwashers, or let their dishes pile high before getting around to cleaning them. With the rise of farmhouse chic in contemporary interior design, taking the plunge to put in a refurbished antique kitchen sink may just get you featured in your favorite home goods magazine or tv show.