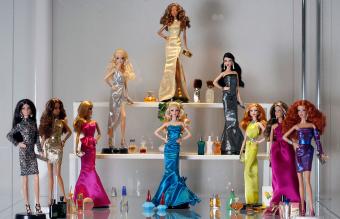 Since some of the most coveted and valuable Barbies can go for thousands of dollars at auction, it's important to understand vintage Barbie doll values if you're considering buying or selling old Barbies. Learn about the clues that can help you identify a potentially collectible Barbie and how you can tell whether it makes sense to get her professionally appraised. Armed with the right information, you can have a better indication of what a classic Barbie might be worth.
How Can You Tell if a Barbie Doll's Worth Anything?
Most of the Barbie collectibles and Barbie dolls in people's attics aren't worth a fortune, but there are a few that are truly valuable. In some cases, it'll be worth scouring your mom's or grandmother's attic for these beloved childhood toys since vintage Barbie doll values are increasing every year. Look for the following for clues on how to tell if a Barbie doll is worth any money:
She's From the 1950s or 1960s
According to Invaluable, the earliest Barbie dolls, which were made through the late 1960s, are among the most collectible Barbies. From the time of Barbie's debut in 1959, she has been beloved for her beauty and style. A mint condition Barbie from this era can be worth around $25,000 to collectors, so she's a valuable doll. Here are a few clues to help you tell if your classic Barbies are from this era:
Dolls before 1972 have "Made in Japan" stamped on the bottom of one foot.
Barbies from before 1968 often have divided fingers, since the mold at that time produced this level of detail.
The earliest Barbies have "Barbie" stamped on one hip.
Older Barbies have slim faces, as opposed to newer ones with rounded facial features.
Many older Barbies have the iconic high ponytail hairstyle.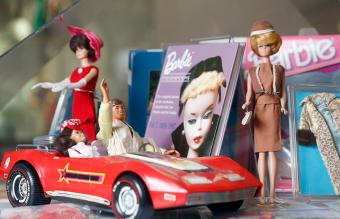 People sometimes refer to these vintage favorites as antique Barbie dolls; however this term isn't actually correct - generally, something's only antique if it's at least 100 years old, and only those produced before 1930 are considered antique dolls. Since Barbies began being produced in 1959, she doesn't qualify as an antique yet.
She's Still in the Box
Because the vast majority of vintage Barbies have been played with, Considerable reports that collectors love a rare Barbie that's still in the box. In-box Barbies are in mint condition with all their accessories and the original packaging intact. Because this is so uncommon, these coveted dolls fetch top dollar.
She's in Great Shape for Her Age
In 2019, Barbie turned 60. Some vintage examples, however, haven't fared so well. It's common to see Barbies that were well-loved but maybe not so well cared for. It's important to identify their condition since even the most valuable Barbie dolls' worth will increase and decrease according to how well-maintained she is. If you have one in excellent condition, she'll have these features, and be worth more money than her well-loved sisters:
Smooth hair
Skin free from marks
Facial features bright and clear
All accessories present
Clothing clean and in good condition
No bad odor
She's One of the Rare Ones
According to Reader's Digest, some collectible Barbie dolls are especially rare. These models are hard to find, so if you have one of these exclusive Barbies, she may be worth a lot of money:
Lorainne Schwartz Barbie - This Barbie was made in 2010, so she isn't vintage. The key is that there were only 12 produced, and her limited run makes her incredibly collectible.
City Smart Barbie - Made in 2003, this vintage-inspired Barbie is a very limited edition. There were only 600 made.
Pink Splendor Barbie - Featuring a stunning pink gown, this Barbie from 1997 is prized by collectors. There were only 10,000 made, and it's hard to find one in great condition.
Calvin Klein Barbie - This Barbie from 1996 is especially tough to find in mint condition; almost all of these models were unboxed and played with.
Barbie Collector's Price Guide Per Decade
Since the mid-20th century, Mattel's Barbie and her group of friends have captivated young and old fashionistas alike. Keeping her relevant to match the ever-changing culture, Mattel has released hundreds of different dolls over the course of the past 63 years, but not everything in a given collection of Barbies is a collectible doll worth more than their childhood sentimental value.
As is the case for many vintage toys, from beanie babies to Funko Pops, there are many factors impacting their value. When it comes to America's favorite mass-produced dolls, a Barbie collector price guide by decade can give you some value indicators before you have your specific doll appraised for her worth. Take a look at some of the most popular Barbies across five decades, and see just how valuable Barbie dolls really are today.
Popular Barbie Doll Values: 1960s
Since Barbie first debuted in 1959, it's easiest to lump the initial versions of the doll with the 1960s as that's when the mold for the quintessential Barbie really started to take shape. Among these Barbies, a few stand-outs include the original Barbie, the many different colored ponytail Barbies, the 'swirl' Barbie, Twist 'n Turn Barbie, and 'flip hair' Barbie. Boxed Barbie dolls from this period, complete with their accessories, are highly collectible and frequently sell for a few hundred dollars at market. Examples of Barbie doll prices from this time period include the following:
When it comes to vintage Barbies, collectors love nothing more than a boxed, unopened Barbie, and it shows in the winning bid of $250 for this boxed 1960s ponytail Barbie.
In addition to being boxed, Barbies from the 1960s with their original cardboard casing, and any accessories or instruction kits can be big ticket items. Take this lightly worn 1962 'Bubble Cut' Barbie that comes in the original box, for example: it's currently listed for $225 on Etsy.
Popular Barbie Doll Values: 1970s
By the 1970s, Barbie had transitioned from her prim and proper wardrobe into one that was much more relaxed. Letting her hair down proverbially and literally, Barbies of the '70s were more diverse than the decade prior, embodying a sense of freedom and experimentation that came with the times. For instance, the iconic Sunset Malibu Barbie debuted in 1971, and her long blonde hair and bright swimsuit would be emulated for many years to come.
This sunset Malibu Barbie gets most of its value from still being boxed; produced in 1971, this collection of Barbies was one of the most famous to come out of the decade, making it all the more popular to Barbie collectors.
Barbie dolls with novelty mechanical functions can also be a big collector's item for Barbie fans. For instance, this boxed and unopened 'Growing Up' Skipper doll from 1975 is listed for $299 on eBay.
Popular Barbie Doll Values: 1980s
In the 1980s, Mattel began branching out with their Barbie line, introducing the first of the inaugural "Happy Holidays" Barbie series and a pop culture spin-off in its "Rockers" line-up. Barbies from this period still evoke a certain nostalgia among collectors, and specific, rarer dolls can fetch in the low hundreds at auction. However, the many mass-marketed Barbies from the totally tubular decade will only sell for about $20-$50 at auction in the best conditions.
Recently, this 1986 "Rockers" Barbie still in her box sold for only $26 at auction. These easy-to-find mass-marketed Barbies from the decade don't bring in high dollar because of how common they are.
One way to increase your profit with Barbies from the 1980s is to find multiple ones in a set that are in mint (or near mint) condition. For example, this Barbie and Ken Ice Capades duo sold for $84.99 together but would've brought in less money separately.
Popular Barbie Doll Values: 1990s
By the 1990s, Mattel had turned Barbie into a well-oiled machine. There were new dolls being released practically by the week, and each one had its own delightful schtick. Brightly colored and heavily accessorized, Barbies made in the 1990s - while beloved by Millennials, aren't that valuable to collectors and tend to fetch lower prices. These dolls tend to be really easy to find (even boxed and unopened), and they were mass-produced enough that there isn't any real scarcity with them. Thus, you can expect to find these dolls selling for anywhere between $10-$30 each.
Barbie had really branched out by the 1990s, featuring dolls modeled in partnerships with sporting events, cosmetic brands, production companies, and so much more. Despite how iconic they feel today, these dolls that you've been keeping for decades won't bring in much more than you bought them for originally. Take this boxed "Olympic Gymnast" Barbie from 1996 that only sold for $15.99 at auction.
Another claim to Barbie fame in the 1990s was the continuation of her occupation series. Having been an astronaut many years before, the late '90s saw Barbie taking on many other roles, such as the dubious title of "Working Woman." One of these boxed Barbies from 1999 only sold for $19.99.
Popular Barbie Doll Values: 2000s
By the millennium, Barbies were becoming a toy of the past, eclipsed by the growing number of tech toys listed in Christmas catalogs across the world. Although dolls from the 2000s aren't considered all that collectible, there are a few particular dolls that can be worth selling at auction, such as:
If you were a parent during the early 2000s, you might remember the news scandal that came out of the 'Happy Family' Midge doll that came with a detachable pregnant belly and baby that kids could simulate childbirth with. Despite the slightly creepy end result, thanks to the news coverage it received, these dolls can sell for around $100 each. For instance, this boxed Midge + Baby recently sold for $105.
"Jewel Girl Barbie" was a doll that kick-started the millennium for Barbie and company. Featuring a new body shape with wider hips and a flexible rubber tummy, this doll ushered in a new era for the fashion empire. Boxed Barbies from this line, particularly ones of color, can sell for anywhere between $50-$100. For example, this "Jewel Girl Christie" doll sold for $78 at auction.
Most Valuable Vintage Barbie Dolls
Some Barbie dolls are incredibly valuable. Now, which Barbie dolls are worth money comes down to a myriad of factors, but if you're lucky enough to have one of the models in the Barbie collector price guide below in your collection, you could be holding a fashionable fortune:
Original Barbie - The original first edition Barbie from 1959 is very rare. Money, Inc. reports that even in played-with condition, she is worth $8,000. In pristine condition, she could be worth more than $27,000.
Stefano Canturi Barbie - This 2010 model features vintage looks and a gorgeous black dress and one-carat pink diamond necklace. There was only one made, and she was auctioned off to benefit charity. According to Canturi, she sold for $302,000. Because she's so rare and exclusive, this is considered the most valuable Barbie ever sold and takes the title of the world's most expensive Barbie.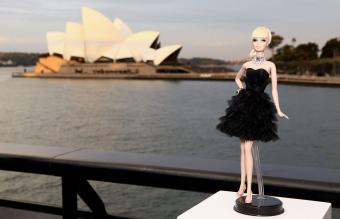 Modern Bride Barbie - Made in 1990, Modern Bride Barbie has a pretty floral box and a gorgeous wedding gown. One of these beauties sold on eBay for $15,000.
Twist N' Turn Barbie - This mod Barbie from 1966 could bend her knees and twist at the waist. One still in the box sold on eBay for almost $1,800.
Millennium Princess Barbie - The Millennium Princess Barbie, which is part of the holiday collection, was made in 2000 to commemorate the new Millenium. One still in the box sold on eBay for about $1,500.
What if You Think Your Barbie Is Valuable?
If you think you might have a valuable Barbie, consider having her professionally appraised. Knowing how to tell if a Barbie doll is worth money can be a challenge for a non-expert. Sometimes, you can find free local appraisals in your area or even online, but more commonly, you'll need to pay a fee. Choose someone with good credentials and experience with appraising vintage toys so you can trust the information you receive to determine if she's actually a Barbie doll worth money and a valuable collectible, or if she'll fetch just an average price and is much less sought-after.
Barbies Have Both Sentimental and Monetary Value
Like many collectible dolls, Barbie sometimes has more sentimental value than monetary value. If your doll was played with and loved, she may be worth more to you as a memento of childhood than as an investment. Either way, it's fun to learn more about what makes collectible Barbies valuable and exciting, and how much your favorite Barbies and Barbie products from childhood are worth today.