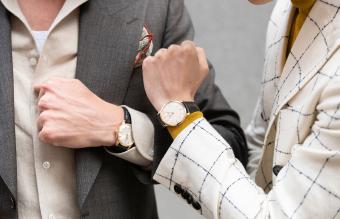 Swiss watches are renowned for their quality and design, and vintage Longines watches exemplify this expertise. A historic Swiss watch manufacturer, Longines has been creating timepieces since the early-19th century meaning you can find a wide variety of watch-styles available for purchase at both jewelry retailers and auction houses. Before you go too deep into your internet browser's search results for vintage Longines watches, you should familiarize yourself with this beloved company's expansive catalog.
A Brief History of Longines
Longines first began as Raiguel Jeune & Cie., a Swiss watch manufacturer in 1832. By 1867, the company had traded leadership a few times and under the direction of Ernest Francillon the watch manufacturer eventually settled on the name Longines in honor of the "long meadows" that surrounded their new facility in Saint-Imier, Switzerland. Quickly, the manufacturer became associated with producing superior stopwatches, and by 1880 they were manufacturing all of their mechanism pieces themselves. In addition to their stopwatches, their centuries long connection with aviation helped make them a best-seller among pilots and aviation enthusiasts.
Vintage Longines Watches
Considering Longines' lengthy history, it can be a bit difficult to become well-acquainted with their entire catalog; however, there are a few notable watches that stand out among the list and would add real value to anyone's collection.
Pocket Watches
Interestingly, Longines was in the business of making calibre and chronograph pocket watches long before they began transitioning to wristwatch production. Their 1868 Calibre 20H was the company's first chronograph (a timepiece with both a timekeeping and stopwatch function). By World War Two, Longines had advanced their chronographs to be able to measure "elapsed time to 1/100th second." However, pocket watches faded out of fashion by the beginning of the post-war period and Longines watch production turned to investing in the more profitable wristwatch.
Longines Weems & Lindbergh Hours-Angle
The Weems was one of Longines first aviation watches, and famed aviator Charles Lindbergh took one of these with him on his 1927 transoceanic fight. After assessing the watch's performance, Lindbergh partnered with the company to devise a better flight wristwatch. Using his reports, the company created the Lindbergh Hours-Angle watch which was made to be used in conjunction with both a sextant and a nautical almanac to help pilots calculate longitude while in the air.
Longines Flagship
Longines' Flagship series was first released in 1957, and marked the direction the company was heading in during the post-war period. This more traditional wristwatch often featured a simple white dial with elegant gold, silver, and steel cases. They're sleek design and easy-to-read dials make them quite a popular, but sometimes pricey, collector's items. For instance, a 1958 Longines Flagship has been listed for £989.
Longines Mystery Watches
Although mystery watches, with their free-floating hands that seem to suspend on top of their dials, have been around for a few centuries, Longines' reinterpretation of this style captured a global audience in the mid-20th century. Their Longines Comet departed from their traditionally styled watches and included a disproportionately large pointer arrow to indicate the time. Their unique design makes these mystery watches still quite popular with buyers today.
Vintage Longines Watch Values
As with most vintage jewelry, Longines watches are often valued based on their age, design, rarity, condition, and the desirability of the materials used to make them. Given that Longines watches have the benefits of Swiss manufacturing, they generally are worth a bit more than other European or American manufacturers' watches are. For example, a Longines Weems watch from 1943 is listed for £2275 (around $3,025), and a 14K Mystery Watch from 1957 is listed for £1275 (about $1,700). Whereas a more recent vintage, the Longines Calibre 990 from 1984, is listed for only £585 (about $775).
The Curious Case of the Longines-Wittnauer Watch Company
Sources contest whether the Longines-Wittnauer Watch Company was ever actually connected to the Swiss manufacturer, but novice watch collectors would do well to steer clear of vintage watches listed as Longines-Wittnauer because of their unclear connections to the historic Longines company. Although some of these vintage watches resemble Longines in style, they are not considered authentic Longines by avid collectors.
The Longines Heritage Collection
Longines has invested in curating a sizable collection of heritage' watches, each inspired by a previous popular Longines series or style. These watches generally retail between $2,000-$4,000 and encompass the best of Longines significant history. Other than indicating that there is a growing market for vintage Longines watches, this heritage series can give novice collectors a visual starting point for picking out the perfect vintage Longines to hunt down.
Taking History Home With Vintage Longines Watches
Longines is but one of the many Swiss watch manufacturers that creates watches with incredible performance and longevity, but what makes them so collectible is their connection to history. Many vintage Longines watches exude nostalgia and the classical elegance of a time long passed. Thus, if you're wanting a vintage watch that will last many decades to come and one that references the style of decades before, than you should certainly invest in bringing a vintage Longines home. Next up, learn about Waltham watch values and see how they compare.