Holidays, birthdays, and family get-togethers always seem to conclude with some friendly competition spent battling against one another over the different vintage board games that normally live in your parent's dusty attic. While board games have been a popular form of recreation since antiquity, some classic titles have remained just as popular today as they were when they were first released. In fact, among your parent's vintage board games there might be a rare first edition that can be worth a fortune to game collectors.
Evaluating Your Vintage Board Games
Considering all consignment shops and antique stores seem to have the same massive stacks of dust covered board games piled high in their buildings, it can be quite a daunting task for someone to wade through the stacks in order to find these stores' hidden gems. However, there are a few distinctive characteristics that collectors and appraisers use to evaluate any vintage board games that come across their desks, which you can also use when trying to expand your own collection.
Rarity
Contrary to popular belief, one of the most important elements to valuing vintage board games is actually not their ages, but rather how rare these sets of games are. This is determined by the number of copies that were released of a specific edition of an individual board game; the fewer number of copies that were released, the rarer a board game is going to be. Because of this, board games printed in the 1990s can be worth significantly more than those printed in the 1930s or 1940s so long as they are one of a few hundred copies in existence.
Condition
Determining a vintage board game's condition is integral in the valuing process. Not only does the physical state of the board game's box and pieces increase or decrease its value, the degree in which the game is considered 'complete' can be the difference between $100 and $1,000. Many of the rarest vintage board games are considered highly collectible not only because of how few copies of them exist, but also for how each of their small pieces have remained intact. Think about how difficult it is to keep up with all of your Scrabble tiles and Monopoly hotels and multiply that improbability by sixty+ years.
Popularity
In addition to rarity and condition, a board game's cultural popularity can determine how interested collector's might be in owning it. Board games which connect to fandom (sports, television, film, music, and so on) continually draw interest at auction. Take the cult, Sci-Fi television series from the 1960s, Lost in Space, and it's tie-in board game, Lost in Space 3D Action Fun Game. This seemingly average retro game was sold for about $450 in 2013, due in large part to its source material's popularity.
Classic Vintage Board Games to Look Out For
Unfortunately, mass-market industrialization made making board games an almost instantaneous process, meaning that the number of printed board games that can be found in the wild is staggeringly high. Yet, there are a few notable vintage board games to keep your eyes peeled for because of their rarity, condition, and popularity. And while each of the titles on this vintage board game list have sold for impressive amounts, only a small number of them have been bought for eye-bulging sums of money.
Charles Darrow's Handmade Monopoly Sets
Charles Darrow took inspiration from Lizzie J. Magie's 1904, The Landlord's Game, to create his first editions of Monopoly in 1933. Prior to selling his concept to the Parker Brothers, Darrow hand made several copies of his prototype each of which featured properties from in and around Atlantic City. In 2011, this round-board edition of Monopoly was sold by Sotheby's for $120,000.
Fortune
Fortune was a pre-Monopoly game issued by the Parker Brothers that was removed from production once the company's flagship concept, Monopoly, received all necessary patents. The company only created about 5,000 units of the game, making owning one of these 5,000 a priority for any game loving collector.
The Checkered Game of Life
Another beloved classic board game is The Game of Life. However, the game's origins stretch back into the 19th century before its designer, Milton Bradley, was well known around the world. In 1860, Bradley simulated the triumphs and pitfalls of life in his board game, The Checkered Game of Life. In it, players were supposed to race past each other and land on boxes which bore either positive or negative consequences. Although Bradley's 1960 redesign of the game, which elongated the game's board and shortened the name to The Game of Life, far surpassed the original in popularity, first editions are usually valued for a few hundred dollars.
Dark Tower
Dark Tower is an uncommon, but covetable, vintage board game that was released in 1981. Not to be confused with Steven King's best-selling novel, Dark Tower tapped into the fantasy phenomenon of the 1980s that was spearheaded by the beloved game, Dungeons & Dragons. Dark Tower's gameplay integrated electronic components to keep track of a player's progress, and children of the '80s marveled at its futuristic abilities. The game developed a cult following, and quality vintage editions are estimated to be worth between $200-$400.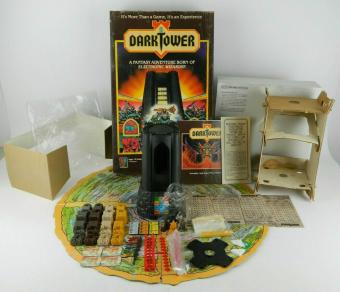 Swift Meats Major League Baseball Game
Unsurprisingly, sports fans from around the world clamor at the opportunity to find complete editions of the 1957 Swift Meats Major League Baseball Game. Since the gameplay involved player's punching baseball player's body parts out of cards and assembling their own teams, it is incredibly difficult to find sets of the game with each of these individual pieces intact. One of these mint condition sets sold for about $2,600 at auction.
The Reality of Selling Your Vintage Board Games
Unfortunately, one of the major risks associated with selling vintage board games is how much the market's demand for them fluctuates. While the nostalgia of vintage board games ensures their popularity with collectors, it can be rather difficult for people to sell them for their full estimated values. Of course, this also means that its a perfect time to start buying vintage board games since you have the chance to negotiate great deals on normally pricey vintage titles.
A Vintage Spin on Family Game Night
Interestingly, a new trend has arisen among game manufacturers in the past few years that has encouraged them to re-release iconic titles from their vintage catalogs. With streaming services bringing retro style back into popularity, classic games like Pay Day, Clue, and Battleship, designed in their retro formats, can easily be found in stores and online for around $20-$30 each. Thus, even if you can't find a genuine vintage copy of that board game you remember from your childhood, you can probably find a near identical version of it in the games aisle of any local retailers.