Zippo lighters and their mirror-like, silver cases are considered by many to be the most iconic lighters available. People fascinated with the mid-century aesthetic love to come across vintage Zippo lighters in their local antique shops. Despite being well-known for its simplistic design, vintage Zippo lighters boast beautiful cases with examples of personalized engravings and corporate advertising, all of which makes these artifacts both a practical and explosive addition to your collection.
Zippo Lighters Production Throughout History
George G. Blaisdell is the famous businessman behind the Zippo Company, which he began in Bradford, Pennsylvania in 1932 after reconstructing an Austrian lighter that a friend of his owned and modifying its design to be more wind-resistant and have a longer-lasting flame. His first patent for the Zippo lighter, as he named it, was sent to the US patent office in 1934. World War II had a substantial impact on his sales as the company ceased domestic production and turned towards supporting the war effort; thus, the Zippo lighter became the number one choice for these young GIs. By the 1950s, the company had applied for a second patent whose design is practically identical to the Zippo lighters you can buy at Tobacco stores today, but the company's lasting success can be attributed to its blank cases, which encouraged businesses to make lucrative advertising partnerships with Zippo.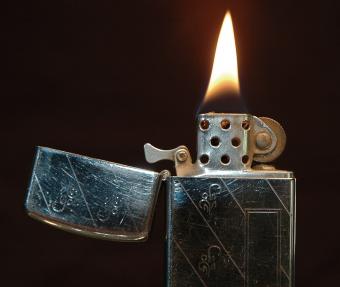 Dating Vintage Zippo Lighters
Thankfully, the Zippo company began stamping date codes on the bottom of each of their lighters beginning in the mid-1950s. While this was originally started in an effort to maximize quality control, the date codes are incredibly useful for modern appraisers and collectors, as they help them trace exactly when a Zippo in their collection was made. If you're concerned about the authenticity of Zippo lighters from the 1930s-1940s, you can contact a local appraiser or visit archival websites like the Lighter Gallery to verify your Art Deco lighters.
Collecting Vintage Zippo Lighters
No matter if you love the open lighting of industrial design or the grungey feeling of 1970s punk, there is a vintage Zippo lighter for you. Here are a few of the most iconic vintage Zippo lighters ever made.
1934 Patent Zippo Lighters
It's not very often that you'll find the earliest Zippo lighters for sale, particularly because they're highly collectible due to their original patent design. These models' appearances are a bit thinner and more elongated than the classical Zippo lighter that most people envision. They came in a variety of case styles including gunmetal, chrome, and brass. These Zippos are prefect for fans of the streamlined, Art Deco design.
World War II Black Crackle Zippo Lighters
The Black Crackle Zippo lighter resembles the modern Zippo much more closely than its 1930s counterparts do, and it was the model that helped launch Zippo into the iconic American brand that it's considered today. These more rounded, stouter lighters were finished with either chrome or nickel and were covered with an eponymous black crackle paint that was used to not attract the attention of enemy snipers. As with the 1934 Patent Zippo lighters, these vintage lighters are definitely hard to come by because of how collectible World War II ephemera is. If you do happen to find one of these lighters for sale, it will probably cost you between $100-$200, such as this WWII black crackle that costs around $150, seeing as they are one of the more expensive vintage lighters available.
Mid-Century Advertising Zippo Lighters
Once Zippo lighters had become a mainstay of American culture, many businesses sought to make advertising partnerships with the company in order to drum up new clients or customers. Two of the most sought after lighters from these partnerships include Harley Davidson and Playboy. Unlike the earlier Zippo models, these models are much more cost-effective and are generally listed between $15-$50, such as this 1950s Zippo Lighter, which is advertising Cooper Tires of Findlay, Ohio. It is listed for about $50.
Vietnam War Zippo Lighters
By far the most collectible and visually diverse group of vintage Zippo lighters are those bought by soldiers during the Vietnam War. You can find examples of these in museums and archives across the United States sporting engravings of military units, maps, peace signs, biblical scriptures, and pin-up girls. Given their connection to such a heightened cultural period in Cold War history, collectors are willing to pay a significant amount of money for low-quality pieces.
Vintage Zippo Lighter Values
While Zippo lighters are highly collectible, the fact that they're still being produced in numerous quantities with unique designs and limited-edition models hurts the collector's market a bit. However, this does mean that new collectors will be able to purchase vintage Zippos for under their estimated values. For example, a set of six pristine vintage Zippo lighters from the mid-century sold for only about $40 - about $6 a piece. Yet, rare or commemorative Zippo lighters still have significantly higher values; for instance, this Zippo Lighter commemorating the moon landing is listed for nearly $700 in one online auction.
The Zippo Lighter Legacy Lives On
Whether seen in stadium arenas or folk festival venues, the Zippo lighter is here to stay. Fortunately, so many of these vintage lighters are still in operating condition and when you head to your next rock concert and get ready to raise your light to the band's big ballad, you can do so in true rock 'n roll style with a vintage Zippo lighter.